SHSU Update For Week Of Nov. 9
Nov. 6, 2015
SHSU Media Contact: Tammy Parrett
Job Fair To Connect Students, Potential Employers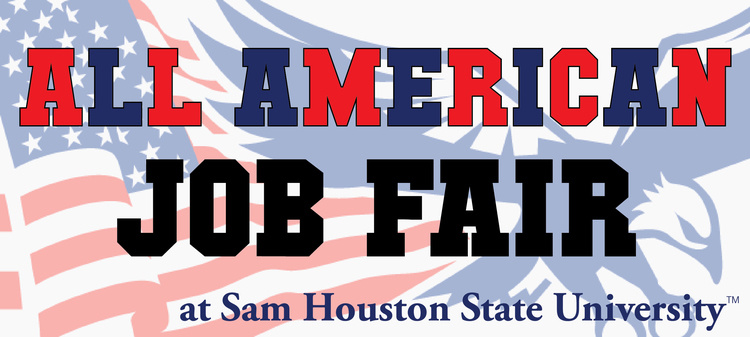 With graduation right around the corner, many students are beginning their job searches early, in hopes of setting themselves apart and landing the perfect job.
In order to help connect students with prospective employers, Career Services will host its inaugural All American Job Fair on Tuesday (Nov. 10) from 9:30 a.m. to 12:30 p.m. in the Lowman Student Center Ballroom.
In an effort to celebrate Veteran's Day and thank veteran students for their service, those who have served will be given "VIP access" to the employers from 9:30-10:30 a.m.
"With Veteran's Day being the day after the job fair, we wanted to say thanks to our veteran students by giving them early access to the event, before any other students are allowed in," said Mitch Parker, marketing and events coordinator for Career Services.
There will be a variety of employers in attendance, with organizations representing industries such as education, healthcare, law enforcement, and business services, as well as manufacturing, architecture, real estate, retail, and transportation.
Students are encouraged to bring multiple copies of their resume and dress professionally.
A list of attending organizations can be found at bit.ly/1OtM5gX.
For more information, contact Career Services at 936.294.1713.
'Penny Pinching' Workshop To Teach Budgeting Skills
For many students, their first year of college is often the first time they are fully responsible for their own finances.
Whether there's a new video game coming out, or a group of friends planning to go out to dinner, planning a budget and learning how to save money can seem like an impossible task.
SHSU's Student Money Management Center will help teach students different methods of saving money in their "Penny Pinching" presentation on Wednesday (Nov. 11) at 6 p.m. in the Lowman Student Center Room 320.
The presentation will show students clever ways to save money, as well as ways to make money without even leaving the house.
Students who attend three or more SMMC events will be entered into a drawing for one of two $400 scholarships.
Pizza and refreshments will be available on a first-come, first-served basis.
Admission to the event is free with an active Bearkat OneCard.
For more information, contact the SMMC at 936.294.2600 or smmc@shsu.edu.
Fraternity To Kick Off 'Movember' With Awareness Events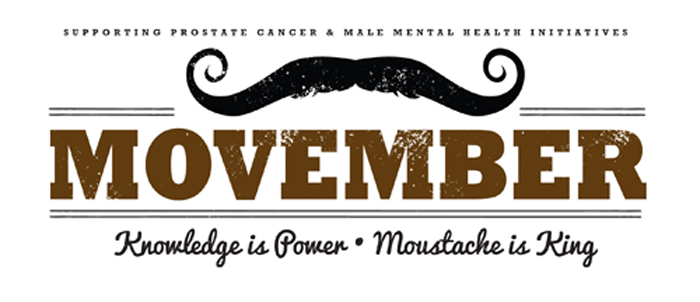 Many men look forward to "No Shave November," or "Movember," each year as an opportunity to show off their facial hair; but some people may be unaware of the true reason behind the movement.
The Movember Foundation was established in 2003 to create awareness of prostate and testicular cancer, as well as mental and physical health in men. The foundation's goal is to help men live happier, healthier and longer lives.
Sam Houston State University's chapter of Delta Tau Delta will host a series of events throughout the month of November in support of the Movember Foundation.
The month's events will kick off with "Gents For Rent Bachelor Auction," which will take place on Tuesday (Nov. 10) at 7 p.m. in the Visitor Center Theater, where chapter members will be up for auction.
Admission for the bachelor auction is $2 per person.
In addition to the auction, Delta Tau Delta will also begin selling T-shirts on Nov. 10 outside of the Lowman Student Center for $10 each.
The events will continue with the "Lights Out, 'Stache Out–Glow In The Dark Kickball Tournament" on Friday (Nov. 13) at 7 p.m. at the Intramural Field 1.
Teams of 10 players, with a minimum of three female players, can register to play for $100. Glow in the dark bracelets and necklaces will be provided, and participants are encouraged to wear fluorescent clothing.
Movember events will conclude with a free speaker and awards ceremony on Dec. 1 from 4:30-6:45 p.m. in the Lowman Student Center Theater.
The presentation will inform students about some of the different issues on which the Movember Foundation focuses.
"Movember is such an important movement because there are so many different aspects that are threatening men's health and no one knows about them," said Michael Brents, Delta Tau Delta philanthropy chair. "We hope these events are able to not only create awareness about this issues, but also encourage more men to focus on their own health a little more."
All of the proceeds from Delta Tau Delta's events will benefit the Movember Foundation.
Delta Tau Delta will also use their social media accounts to spread awareness of these issues throughout the month of November.
For more information on the Movember Foundation, visit their website at us.movember.com.
For more information, visit Delta Tau Delta's Twitter or Instagram at @SHSU_DELTS, or contact Brents at mmb055@shsu.edu.
Faculty To Perform International Repertoire
Sam Houston State University's School of Music faculty will present a number of works by German, French and American composers on Monday (Nov. 9) at 5 p.m. in the Gaertner Performing Arts Center Recital Hall.
Faculty performing at the concert include trumpet professors Randy Adams and Steve Warkentin, adjunct instructor of trombone Ben Osborne; adjunct instructor of tuba Robert Daniel; and associate professor of horn Peggy DeMers.
Works performed at the concert will include Centone No. 5, by German composer Samuel Scheidt; "Fanfare from the Ballet La Peri," by French composer Paul Dukas; "Colchester Fantasy," by American composer Eric Ewazen; and "Ain't Misbehavin," by American jazz composer Thomas Fats Waller.
In honor of Veteran's Day, the group also will perform "The All Service Medley," a combination of "The Army Goes Rolling Along," "Anchor's Aweigh," "The Marine's Hymn," and "Semper Paratus."
The event is free and open to the public.
For more information, contact the School of Music at 936.294.1316.
Career Workshop To Give Advice To CHSS Students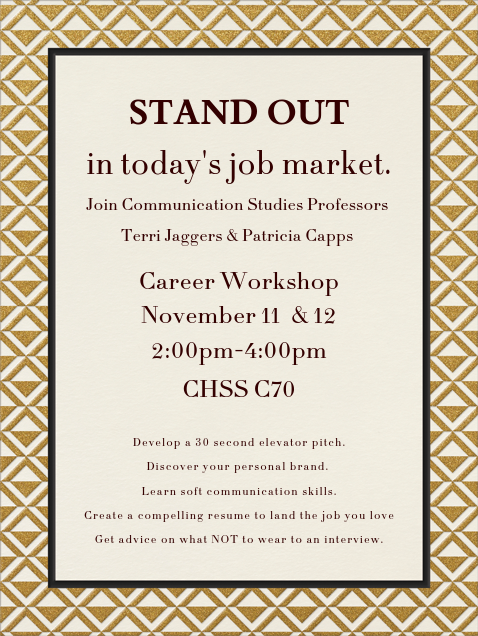 SHSU's Department of Communication Studies will host a career workshop for students in the College of Humanities and Social Sciences on Wednesday and Thursday (Nov. 11-12) from 2-4 p.m. in the College of Humanities and Social Sciences Building Room C070.
Terri Jaggers, clinical assistant professor of communication studies, and Patricia Capps, lecturer of speech communication, will lead the workshop, during which they will share tips to help students stand out in the job market.
During the workshop, students will learn how to develop a 30-second elevator pitch, discover their personal brand, learn soft communication skills, and create a compelling resume to land the job of their dreams. They also will receive advice on what to wear and what not to wear to an interview.
"Historically, liberal arts majors have had difficulty selling themselves on the job market," said Terry Thibodeaux, chair of the communications studies department. "We want students to be able to sell themselves when they hit the job market. We want them to understand what it takes to stand out from the crowd, and what employers are looking for in prospective employees."
Light refreshments will be available, as well as door prizes.
For more information, contact the CHSS at 936.294.2200.
Organizations To Provide Thanksgiving Meal To Students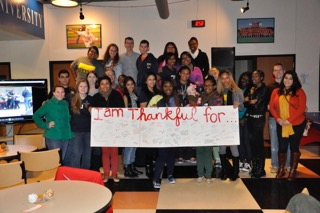 Student organizations Cru and Bridges are teaming up to offer students an opportunity to "Gobble Till You Wobble" on Monday (Nov. 16) in the Kat Klub.
The fourth annual Thanksgiving feast will take place from 7-9 p.m. and will include a number of activities, such as "Minute To Win It" games, door prizes and a turkey bowling competition, during which participants will bowl with a frozen turkey.
The feast also will include a free traditional turkey dinner.
"Bridges is a new organization at SHSU, specifically designed to help international students at Sam," said Maddison Reid, who has been involved with Cru since 2013. "The event has always been, in part, an opportunity for international students who are unable to go home for Thanksgiving and may not be aware of the traditions associated with the holiday. When Bridges became an official student organization, we were so excited to get them involved with the celebration as well."
Now in its fourth year, the Thanksgiving feast has had a "spectacular" turnout and has grown exponentially, according to Reid.
"It first started out in a living room of a house not too far from campus," she said. "It was such a success; we realized that we squeezed 67 people into that house and knew that it was time to move to campus, as we were busting at the seams. We've hosted it in the Kat Klub for four years now, and the response has been amazing."
The event is free and open to all students, faculty and staff.
For more information, contact Reid at rmaddison2012@hotmail.com.
Ensemble To Showcase Talent In Piano Recital
Sam Houston State University's piano ensemble will show off their talent in a recital on Wednesday (Nov. 11) at 7:30 p.m. in the Gaertner Performing Arts Center Recital Hall.
The ensemble comprises four students currently enrolled in SHSU's piano studio, taught by assistant professor of piano Josu De Solaun.
The students will perform advanced, adventurous, difficult, and interesting repertoire in different combinations, according to Solaun.
The recital will include repertoire by American composers Aaron Copland and John Adams, Igor Stravinsky, Franz Schubert, Felix Mendelssohn, and Camille Saint Saëns.
"This is a celebration of the piano in its myriad of faces and voices," said De Solaun. "The celebration also features four extremely gifted SHSU students that are on their way to performing careers."
The event is free and open to the public.
For more information, contact the School of Music at 936.294.1316.
Alumni Club To Host Lunch Benefit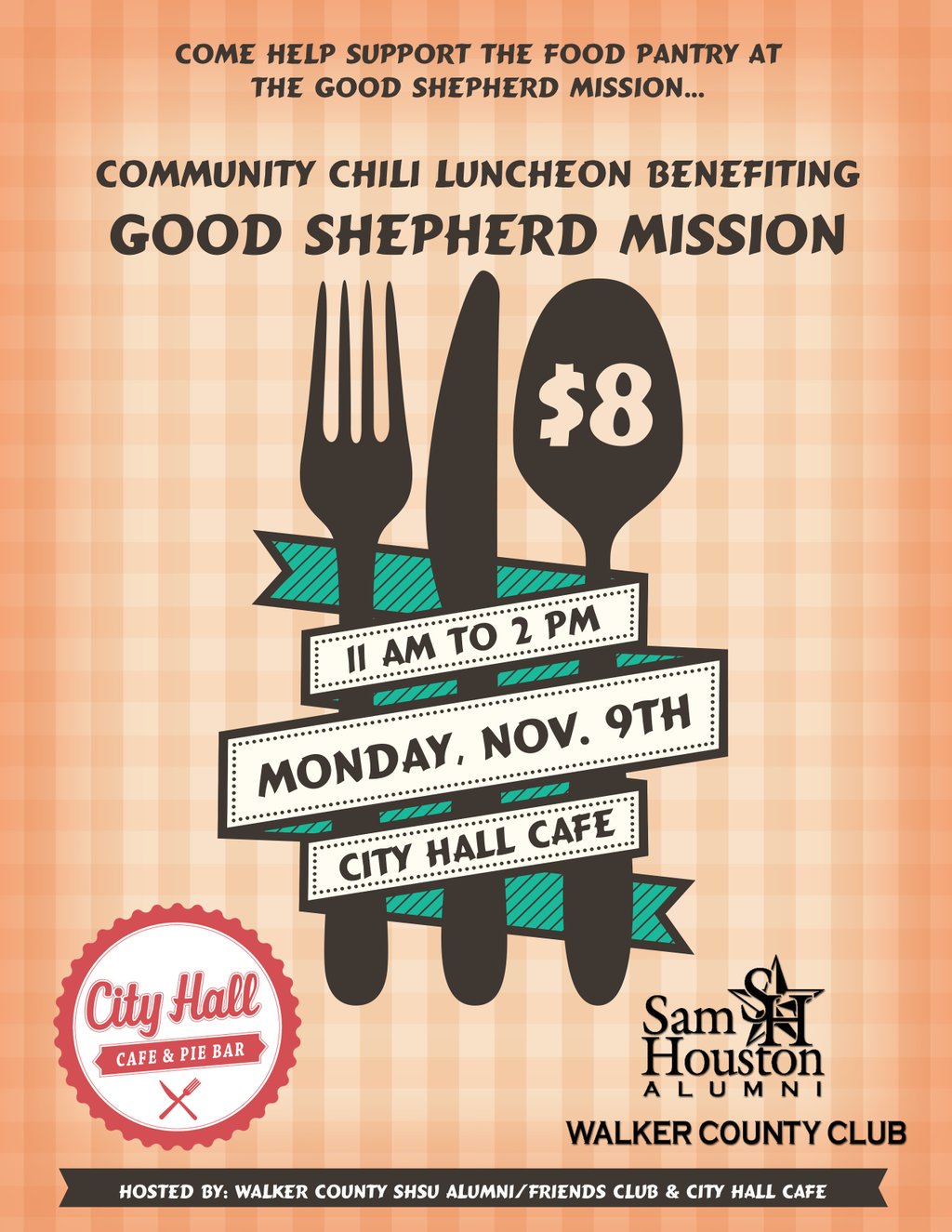 SHSU's Walker County Alumni Club will host a chili lunch benefit to support the Good Shepherd Mission on Monday (Nov. 9) from 11 a.m. to 2 p.m. at City Hall Café.
"Walker County is a very poor county with many needs," said Walker County Alumni Club treasurer Sandra Hanscomb. "The people are what make this town great, so we always strive to keep up the tradition of serving our local organizations."
In addition to providing a venue to host the benefit, City Hall Café also will prepare the food.
"We are planning to sell more than 400 bowls, and anyone who would like to help support this awesome organization is welcome to come out and enjoy some food and fellowship," Hanscomb said. "For those who need to grab lunch on the go, we will also offer a take-out option."
Proceeds from the event will help the Good Shepherd Mission complete their kitchen remodel, bringing it up to code and allowing them to provide better service to the community.
Bowls will be available for a donation of $8 or more and will include a drink.
For more information, contact Toni Bruner, project chairman for the event, at 936.295.5892
Guest To Channel 'The Force' In Recital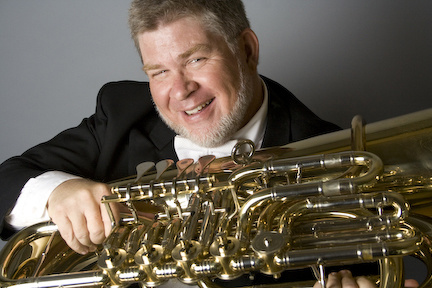 SHSU's School of Music will conclude its OcTUBAfest events with a performance by guest artist David Kirk, principal tuba player with the Houston Symphony, on Thursday (Nov. 12) at 7:30 p.m. in the Gaertner Performing Arts Center Recital Hall.
In addition to performing with the Houston Symphony, Kirk also serves as associate professor of tuba at Rice University.
His program will consist of a variety of works arranged for the tuba, in addition to original works, and he will be assisted by SHSU assistant professor of piano Josu De Solaun.
Kirk will perform "Variations on a theme of 'Judas Maccabeus,'" "Capriccio," "Willow Echoes," and "Suite Italienne." The recital will close with a special arrangement of "Jabba the Hutt" from Return of the Jedi.
"It's a fun and interesting arrangement featuring Kirk's flexibility and facility on the tuba," said Robert Daniel, adjunct professor of tuba at SHSU. "We are very excited to be able to bring him back to perform on campus."
Tickets are $15 for general admission, $12 for senior citizens and free for SHSU students with an active Bearkat OneCard.
For more information, contact the School of Music at 936.294.1360.
Student Organizations Face Off In Spirit Competition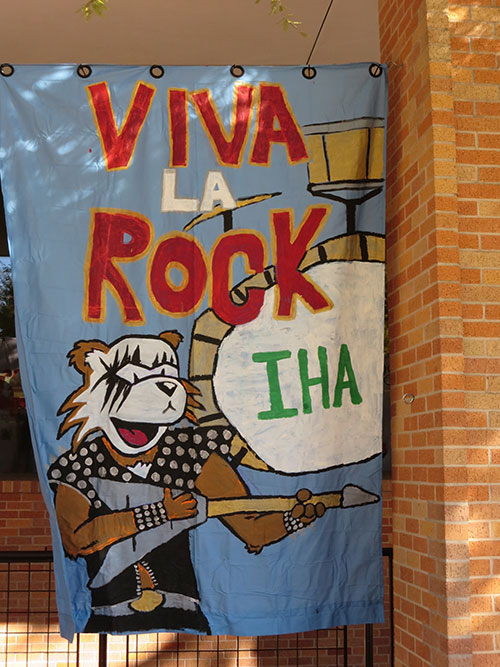 Student organizations at SHSU recently went head-to-head in the annual Homecoming Spirit Competition, during which they competed in a variety of events.
Twenty-four organizations participated in events such as "Stock The Pantry," where more than 1,000 non-perishable food items were collected for the SHSU Food Pantry; the Kick-Off Rally Organization Fair, where organization representatives met with students to tell them about the organization; a banner competition to promote the homecoming theme; a service project, during which representatives collected donations to the Food Pantry from across campus and processed them; and the homecoming parade, with points being awarded for the creativity of the float and number of members participating.
In addition, organizations also received points for the number of members present at movie night, as well as at the football game.
Alpha Tau Omega received the first place prize of $1,000, Kappa Delta Chi came in second place and received $500, and the International Hispanic Association received the third place prize of $250.
"The Homecoming Spirit Competition brings registered organizations together to promote spirit and tradition at SHSU," said Meredith Conrey, director of Leadership Initiatives. "Each event hosted during the week fosters organizational collaboration to work toward a common goal, and the competition aspect is a great motivator because Student Activities is able to award prize money for the top three placing organizations."
Classic Foreign Film To Be Presented At Old Town Theatre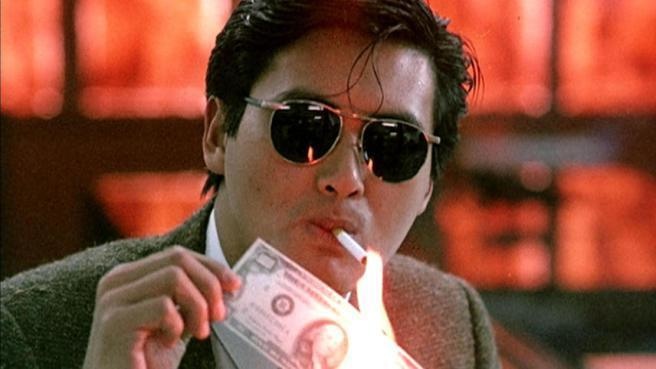 Sam Houston State University's Department of Mass Communication will continue their free classic film screening series at the Old Town Theatre with "A Better Tomorrow" on Friday (Nov. 13) at 6 p.m.
The 1986 classic tells the story of two brothers–a police officer and a counterfeiting ex-mobster–who strive to reconcile their differences amidst gang-violence in Hong Kong. The foreign film, which is originally titled "Ying Hung Boon Sik," was directed by John Woo and is a remake of the 1967 Cantonese film called "Story of a Discharged Prisoner."
"'A Better Tomorrow' was John Woo's breakout feature film, launching a career that took him to Hollywood," assistant professor of mass communication Grant Wiedenfeld said. "It is a landmark film for Hong Kong action cinema."
Upon its release in China's epicenter nearly 30 years ago, "A Better Tomorrow" became the top-grossing film in Hong Kong's history and held that place for several years. The movie was so popular that many kids began wearing long coats and the iconic Ray-Bans featured in the film in hopes of copying the characters' looks.
Following the screening, Wiedenfeld will host a brief discussion regarding the history and style of Hong Kong cinema.
The event is free and open to the public.
For more information, contact the College of Fine Arts and Mass Communication at 936.294.2777.
Today@Sam Seeks Experts, Story Ideas
Are you an expert in a topic might be of interest to reporters? Or even a unique topic? Would you like to have your research interests highlighted or discuss your expertise with reporters seeking interviewees?
The university Communications Office is collecting information and story ideas for its ongoing projects, including the online SHSU Experts Guide, the SHSU home page and Today@Sam.
The SHSU Experts Guide was established as a resource for the media, who turn to university experts lists for potential interviewees for news stories. Faculty who are interested in being a part of the university's database of experts can submit their biographical and personal information, as well as their areas of expertise, through the Experts Guide Submission Form available online at shsu.edu/dept/marketing/experts/submit-info.html.
Other story ideas, both news and features on faculty or student research and accomplishments can be sent to today@sam.edu or jenniferg@shsu.edu. For news stories, please include the date, location and time of the event, as well as a brief description and a contact person.
All information, including news story ideas and update items for Today@Sam, should be sent a minimum of a week in advance of the event in order to make necessary contacts and write a story. Feature story ideas for the SHSU home page ("sliders") should be sent a minimum of two months in advance.
To see a full list of the Today@Sam submission guidelines, or to access submission forms for news and feature stories or hometown releases, visit shsu.edu/~pin_www/guidelines.html.
For more information, call 936.294.1836.
- END -
This page maintained by SHSU's Communications Office:
Director of Content Communications: Emily Binetti
Communications Manager: Mikah Boyd
Telephone: 936.294.1837
Communications Specialist: Campbell Atkins
Telephone: 936.294.2638
Please send comments, corrections, news tips to Today@Sam.edu