SHSU Update For Week Of Nov. 2
October 29, 2015
SHSU Media Contact: Tammy Parrett
Professionals To Share 'Story' In Panels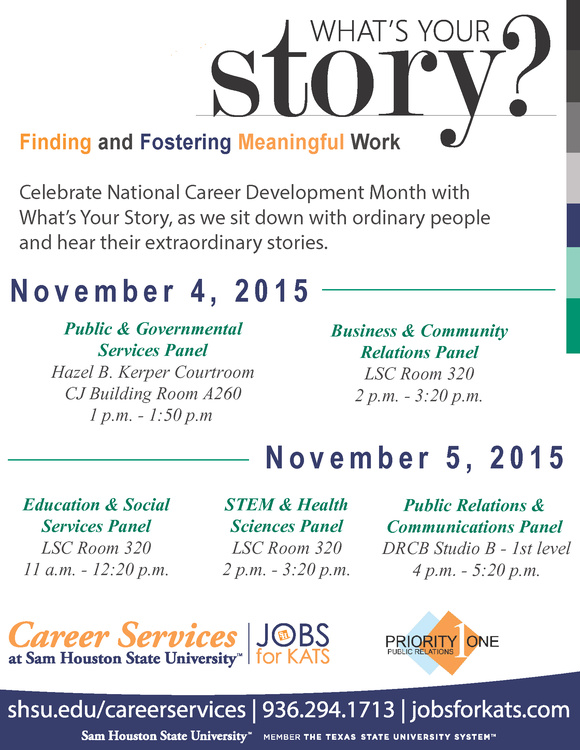 Students interested in pursuing careers in business and communications, public service, education, health sciences, and STEM fields will have an opportunity to hear from professionals in those fields who have achieved their own success in a number of "What's Your Story" panels on Wednesday and Thursday (Nov. 4-5).
Wednesday's panels will include the business and community relations panel, which will be held at 2 p.m. in the Lowman Student Center Room 320, and the public and governmental service panel, which will be held at 1 p.m. in the Criminal Justice Center's Hazel B. Kerper Courtroom.
The panels will continue Thursday with the education and social services panel, which will be held at 11 a.m. in the Lowman Student Center Room 320, as well as the STEM and health sciences panel, which will be held at 2 p.m. in the same room. Thursday's panels will end with the public relations and communications panel at 4 p.m. in Dan Rather Communications Building Studio B.
The panels, sponsored by Career Services and SHSU's student-run public relations firm Priority One, will focus on speakers sharing their stories about how they found their profession and the lessons they learned along the way.
At the conclusion of the panel, there will be a short question-and-answer session.
For more information, contact Career Services at 936.294.1713.
Dance Recital To Have 'Momentum'
The SHSU Department of Dance will present its Master of Fine Arts dance candidate fall choreography concert, "ROYGBIV: Momentum," on Thursday and Friday (Nov. 4-5) at 8 p.m. in the Gaertner Performing Arts Center Dance Theatre.
The concert comprises seven new and original works choreographed by graduate candidates Alexis Anderson, Michelle Cantua, Robert Clark, Ashley Clos, Jaime Fruge, Cynthia Garcia, and Margaret Leary. The works will be performed by undergraduate students.
"ROYGBIV" is an independently produced show hosted by graduate students once a semester that provides candidates with an outlet to display their works for the community.
The show also will feature a guest work, titled "All Other Ground," choreographed by SHSU alumna Jamie Williams and performed by the San Jacinto Community College's Department of Dance students.
Tickets are $15 for the public, $5 for students, and $12 for senior citizens and can be purchased through the GPAC Box Office at 936.294.2339.
For more information, call the dance department at 936.294.1875.
SHSU To 'Grow' For Texas Arbor Day
Students looking for another opportunity to leave their legacy at Sam Houston State University can join Landscape Services and Leadership Initiatives on Thursday (Nov. 5) from 2-4 p.m. to celebrate Texas Arbor Day by volunteering to plant trees on campus.
Volunteers will assist Landscape Services and Texas A&M Forest Service staff by planting 17 different species of trees along the green space between Bobby K. Marks Drive and the new Colony Park parking lot. Volunteers will learn how to properly plant a tree, in addition to learning about the important role that trees play in our lives and communities, according to SHSU arborist Evan Anderson.
"Our Arbor Day events serve as a platform to educate people in the SHSU community about trees," Anderson said. "Trees play an important role but are rarely given credit for everything they do. After participating in Arbor Day, our volunteers will have a better understanding of how trees improve our lives and will be able to go out and correctly plant their own trees."
Those interested in volunteering must submit a completed registration form to the Center for Leadership and Service, located in the Lowman Student Center Room 324A by Monday (Nov. 2) at noon.
All volunteers will receive a free SHSU Arbor Day shirt.
The registration form can be accessed at shsu.edu/dotAsset/1cac1a19-bd6e-41ce-9620-2c3a063eff09.pdf.
For more information, contact the CLS at 936.294.3567.
Forum To Examine Love Letters
Helena Halmari, professor of English at Sam Houston State University, will present a talk titled "The Correspondence Between Jean and Aino Sibelius: Bilingualism in Love" on Friday (Nov. 6) at 3 p.m. in Evans Building Room 212 as part of the English department's Friday Forum series.
The presentation will analyze letters between the celebrated Finnish composer Jean Sibelius and his wife Aino, examining the sociolinguistic issues in language choices made by the couple in their correspondence.
"What is specifically interesting is that Jean wrote almost exclusively in Swedish, while Aino wrote in Finnish," said Halmari. "Both Jean and Aino Sibelius were polyglots and used both Finnish and Swedish on a regular basis. Both came from upper-class circles; however, in terms of their approach to language, their backgrounds were quite different."
Other sociolinguistic issues that Halmari will discuss include the way and the context in which the couple used each language within their letters.
"Aino, even though she writes in Finnish, mixes some Swedish into her letters, but mostly for direct quotations or when she deliberately picks up a Swedish word from Jean's letter to elaborate on the topic initiated by him," Halmari said. "While Jean writes in Swedish and mixes some German and French into his letters, he rarely switches to Finnish. When he does, he is concerned about the correctness of his Finnish, and Aino gently points out some misspelling in her next letter.
"Anyone who loves Sibelius's music will probably enjoy getting a personal glimpse into the life of this great composer," Halmari said.
The event is free and open to the public.
For more information, contact Halmari at 936.294.2146.
Distinguished Alumna Shares Career Advice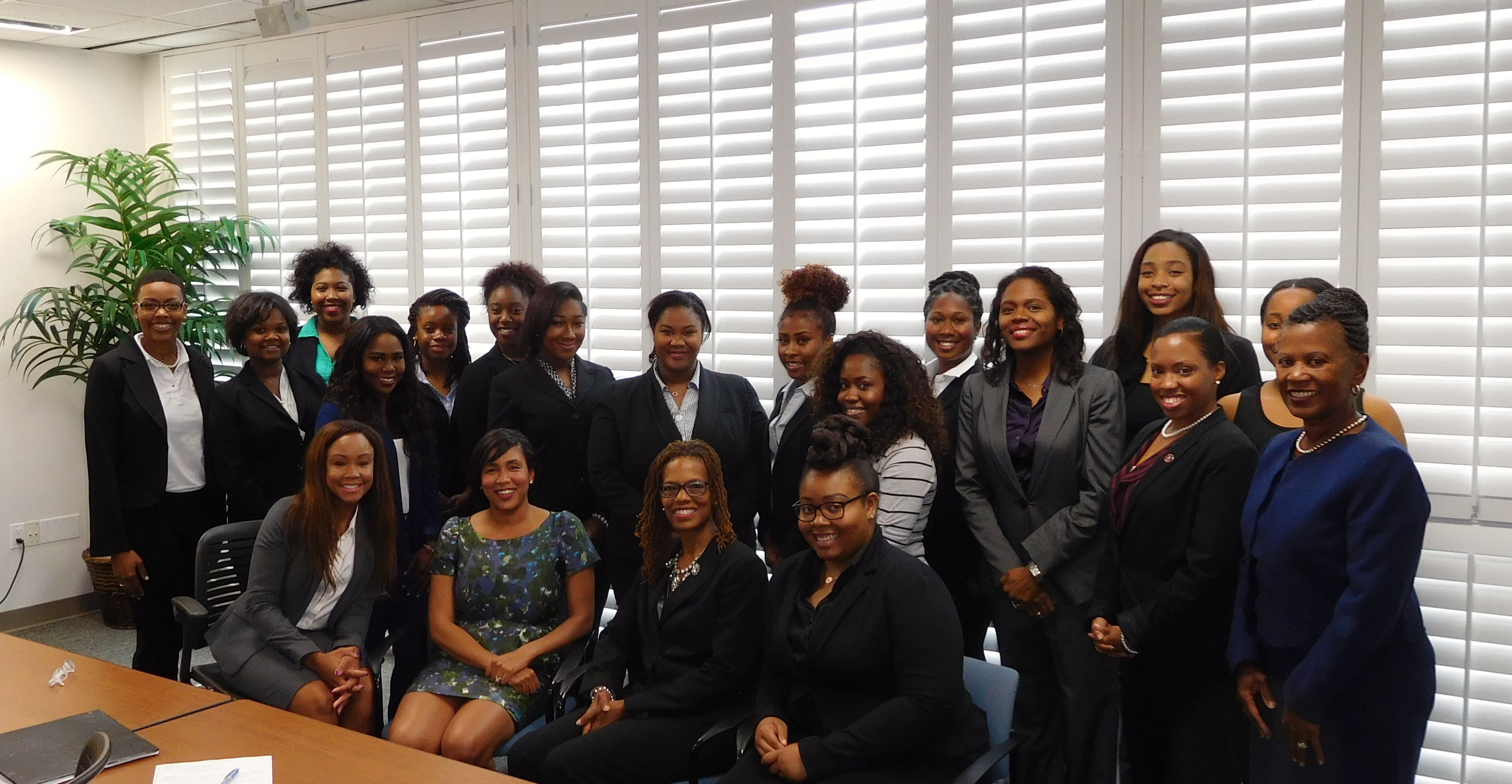 Ashley Stephens, special assistant to President Obama and White House communications director for the cabinet, recently spoke with The Women of 1520, a student organization whose mission is to foster professional development for women as they prepare to enter their careers.
The Women of 1520 staged a talk show environment that provided Stephens with an opportunity to respond to a variety of questions ranging from her fondest memories at SHSU to her experiences in the White House, according to Carla Jones, assistant professor of management and faculty adviser for the organization.
During the event, Stephens, who also was named 2015 Outstanding Young Alumna at SHSU, encouraged students to utilize four main pieces of advice when networking and landing their first job–find your own compass; identify your most important goals and pursue the relentlessly; take calculated risks to reach your goals; and put yourself in the center of the action.
"People are always watching, so position yourself where you will be seen or noticed," Stephens said during the talk.
In her role as communications director for the cabinet, she coordinates press operations and media outreach among the White House, federal agencies and departments and the people who run them, as well as keeps tabs on news stories or developments coming out of the departments that the White House might consider embarrassing or troublesome, according to Washington Post writer Ed O'Keefe.
Lecture To Explore Works of Land Art Pioneer

Leigh Arnold, assistant curator for the Nasher Sculpture Center in Dallas, will hold a lecture titled "Texas as a Non-Site: Robert Smithson's Unfinished Works in the Lone Star State" on Thursday (Nov. 5) at 5 p.m. in Art Building E Room 108.
Arnold was a guest curator of "Robert Smithson in Texas" and co-curator for "DallasSITES: Charting Contemporary Art, 1963 to Present," both of which were exhibitions at the Dallas Museum of Art.
Smithson was best known for creating large-scale earthworks and visited the state of Texas many times, conceiving works that utilized the Texas land as his medium. He created the Amarillo Ramp in 1973, his only realized work in Texas before his death that year.
The event is free and open to the public.
For more information, contact Melissa Mednicov, assistant professor of art history, at 936.294.4572.
Today@Sam Seeks Experts, Story Ideas
Are you an expert in a topic might be of interest to reporters? Or even a unique topic? Would you like to have your research interests highlighted or discuss your expertise with reporters seeking interviewees?
The university Communications Office is collecting information and story ideas for its ongoing projects, including the online SHSU Experts Guide, the SHSU home page and Today@Sam.
The SHSU Experts Guide was established as a resource for the media, who turn to university experts lists for potential interviewees for news stories. Faculty who are interested in being a part of the university's database of experts can submit their biographical and personal information, as well as their areas of expertise, through the Experts Guide Submission Form available online at shsu.edu/dept/marketing/experts/submit-info.html.
Other story ideas, both news and features on faculty or student research and accomplishments can be sent to today@sam.edu or jenniferg@shsu.edu. For news stories, please include the date, location and time of the event, as well as a brief description and a contact person.
All information, including news story ideas and update items for Today@Sam, should be sent a minimum of a week in advance of the event in order to make necessary contacts and write a story. Feature story ideas for the SHSU home page ("sliders") should be sent a minimum of two months in advance.
To see a full list of the Today@Sam submission guidelines, or to access submission forms for news and feature stories or hometown releases, visit shsu.edu/~pin_www/guidelines.html.
For more information, call 936.294.1836.
- END -
This page maintained by SHSU's Communications Office:
Director of Content Communications: Emily Binetti
Communications Manager: Mikah Boyd
Telephone: 936.294.1837
Communications Specialist: Campbell Atkins
Telephone: 936.294.2638
Please send comments, corrections, news tips to Today@Sam.edu