SHSU Update November
Nov. 20, 2015
SHSU Media Contact: Tammy Parrett
Tree Ceremony To Light Up Campus For Holiday Season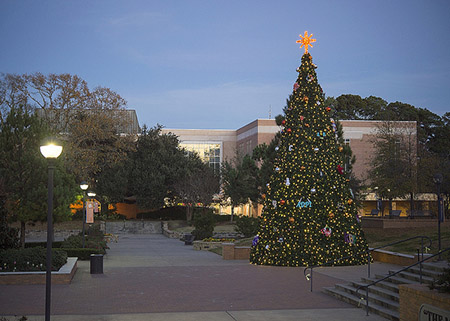 Sam Houston State University will kick off the holiday season by lighting up Bearkat Plaza during the 95th Annual Tree of Light Ceremony on Tuesday (Dec. 1).
Students, faculty and staff can celebrate the spirit of the season with hot chocolate, wassail and cookies as university president Dana Hoyt lights the official SHSU tree, beginning at 6 p.m.
During the ceremony, several university groups will perform, including the SHSU Choir and the Orange Pride Dance Team.
In celebrating the season of giving, the Department of Student Activities will collect canned goods during the event for a drive that will benefit Huntsville's Good Shepherd Mission.
Students who bring at least four canned good items will receive a free T-shirt, while supplies last.
Students, faculty and staff, and organizations are encouraged to bring one ornament to decorate the tree before or during the ceremony.
For more information, contact Student Activities at 936.294.3861 or studentactivities@shsu.edu.
Workshop To Share Tips For Shopping On A 'Merry' Budget
The holidays are typically a challenge for anyone who has to find gifts for their loved ones while not exceeding their monthly budget. This is especially true for college students, who oftentimes have a stricter budget.
SHSU's Student Money Management Center will share holiday shopping tips with students to remind them to be practical on a student budget, during the "Holiday Spending on a Merry Little Budget" workshop, which will begin at 6 p.m. on Wednesday (Dec. 2) in the Lowman Student Center Theater.
"We have a culture that accepts and encourages irresponsible spending habits during the holidays," said SMMC program coordinator Andrea Rabon. "We're not trying to turn people into the Grinch and make you not spend anything; however, we don't want students to turn into Buddy the Elf and spend every penny they have to spread holiday cheer."
The workshop will show students how to plan and budget for the season of giving and how to put together an inexpensive gift, as well as address learning your personal financial limits by suggested amounts a person should spend based on their annual income, where to look for coupons and deals when preparing for shopping trips, and how to adjust for unexpected costs.
"Taking time to search for coupons, online deals, or sales ads on gifts that you are looking for will save you money for little time investment," Rabon said.
Students who attend three or more SMMC events will be entered into a drawing for one of two $400 scholarships.
Pizza and refreshments will be available on a first-come, first-served basis before the presentation, as food and drink are not allowed into the theater.
Admission to the event is free with an active Bearkat OneCard.
For more information, contact the SMMC at 936.294.2600 or smmc@shsu.edu.
Program To Encourage Students To Be A 'SAMentor'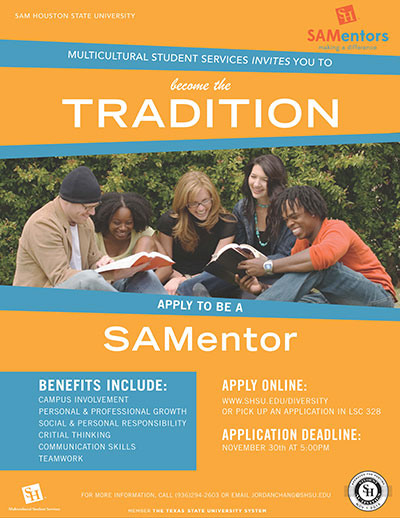 The transition into college can be difficult if a student doesn't have a support system to help them through the tough times and help them acclimate to a new environment.
To help combat these issues, Multicultural Student Services will bring first-year and transfer students together with upperclassmen with the "SAMentors" program.
SAMentors is a mentoring and leadership organization dedicated to helping the social and academic transitions of new students into college life at Sam Houston State University, according to Multicultural Student Services coordinator Jordan Chang.
Within the program, incoming and transfer students are paired with upperclassman students who guide them through their first year through various programming events.
"We want students to get involved in different organizations on campus, and we thought this program would be beneficial for those students who may not have a friend to bring with them," Chang said.
Those interested in becoming a SAMentor or a protégé can pick up an application in Lowman Student Center Room 328 or apply online at shsu.edu/diversity.
Applications are due on Nov. 30 by 5 p.m.
For more information, contact Chang at jordanchang@shsu.edu or 936.294.2603.
Recital To Showcase Classical, Contemporary Tunes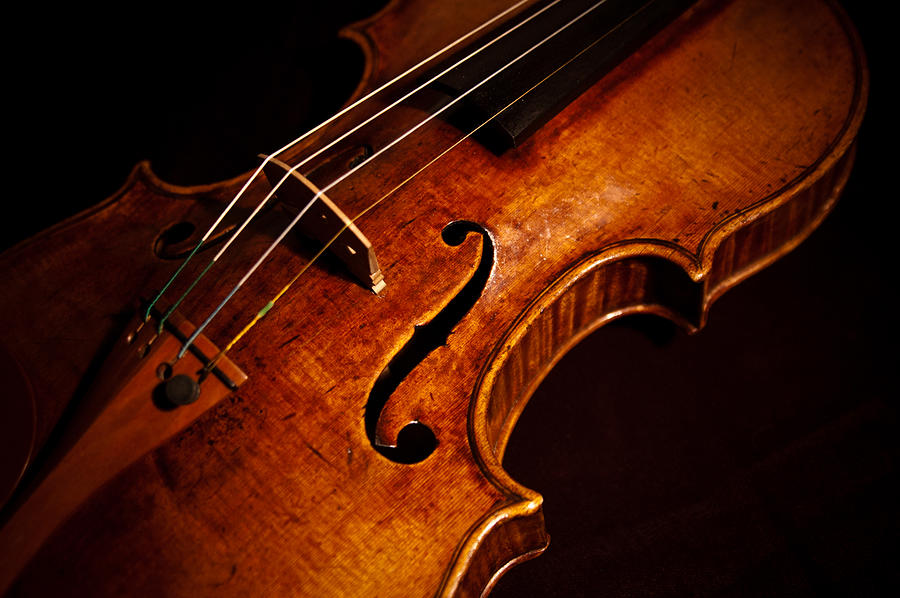 Students enrolled in associate professor of violin Javier Pinell's chamber music class will showcase their talent in a recital on Monday (Nov. 23) in the Gaertner Performing Arts Center Recital Hall.
The recital, beginning at 7:30 p.m., will feature a variety of masterworks written or string and woodwind combinations, ranging from classical to contemporary periods.
Students will perform in small ensembles consisting of two or four players.
"This is an excellent opportunity to enjoy the wonderful repertoire written for this genre," said Pinell. "We had a very strong chamber class this semester, and we are excited to showcase their talent in this recital."
Admission to the recital is free and open to the public.
For more information, contact the School of Music at 936.294.1360.
Project To Give Children 'Hope' For Holidays
The SHSU Center for Leadership and Service is gearing up to make the holidays a little brighter for 10 Walker County children with its fifth annual "Tree of Hope" service project.
With "Tree of Hope," the Center for Leadership and Service works to ensure that children at the Boys and Girls Club of Walker County have a good holiday season by encouraging Bearkats to stop by the CLS office and selecting an ornament from the tree.
Each ornament contains information about a child and their holiday wish, which participants will then fulfill by purchasing and returning the listed item to the center.
"People are welcome to select one, or as many ornaments as they would like," said Sarah Hagler, graduate assistant for service programs. "We separate items from each child's wish list into individual ornaments so no one feels obligated to provide everything for one child and allows people the opportunity to choose a gift that fits their own budget."
Items should be returned, unwrapped, to the CLS office by 5 p.m. on Dec. 7.
"Many of us remember the joy of waking up on Christmas morning to see what gifts were left under the tree, and it's a memory that can easily be taken for granted," Hagler said. "There are children in our own communities who don't have this opportunity during the holiday season. To be able to provide a joyful Christmas memory to a child and their family who might not otherwise experience it is nothing short of heartwarming."
The Center for Leadership and Service is located in Lowman Student Center Suite 324A.
For more information, contact Hagler at 936.294.1976.
Drive To Collect People, Pet Food
Sam Houston State University's Staff Council and Faculty Senate will ring in the holiday season by hosting its sixth annual People and Pets Food Drive benefitting the SHSU Food Pantry and the Rita B. Huff Animal Shelter on Wednesday (Dec. 2) from 10 a.m. to 2 p.m. in the Lowman Student Center Mall Area.
Each year, departments are encouraged to come together to support the community with some friendly competition. The department responsible for donating the most food will receive a muffin breakfast.
"We are doubling the weight of all people food this year, in hopes to get more food for the Food Pantry," said Melissa Asbury, event coordinator. "If your department donates 12 cans of people food, it will count as 24 pounds.
"SHSU's motto is 'The measure of a Life is its Service,' and it's something that we try to encourage across campus," she said. "This is just one of the ways we encourage Bearkats to give back."
For more information, contact Asbury at 936.294.3409.
Exhibit To Show Seniors' Art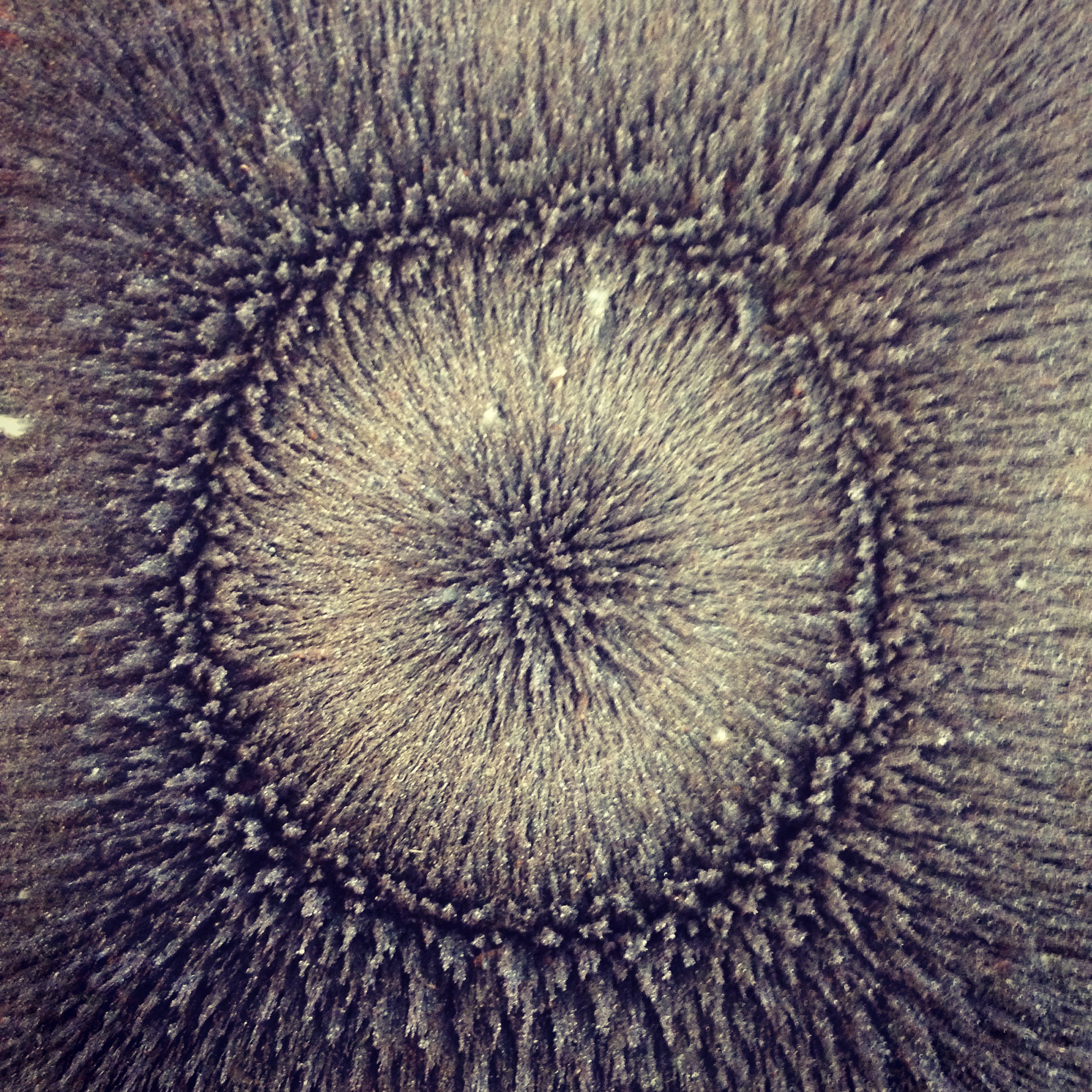 Seventeen seniors will showcase their hard work during the Graduating Senior Exhibition Dec. 7-12 in the Gaddis Geeslin Gallery.
"The Senior Exhibition is a capstone experience for students completing the Bachelor of Fine Arts and Bachelor of Arts degree in studio art, photography and animation," said Rebecca Finley, associate professor of photography.
A reception for the exhibit will follow Dec. 12 commencement for the College of Fine Arts and Mass Communication, which begins at 2:30 p.m.
The range of student work includes animation, drawing, ceramics, installation, painting, photography, and sculpture.
Featured students include studio artists Erika Aguirre, Kayleigh Bosley, Ashley Bynum, Corinne Goyette, Haden Henderson, Caroline Long, Letty Perez, Taylor Ramsey, Rebecca Rogers, and Gilisa Walls; computer animators Lindsay Chaloupka, Zhe Cui, Robert Jennings, Kazaria Morgan, and Nnenna Okeke; and photographers Gabriela Cruz and Matthew McEver.
For more information, contact Finley at 936.264.3418.
Museum To Celebrate Holidays With 'Houston' Christmas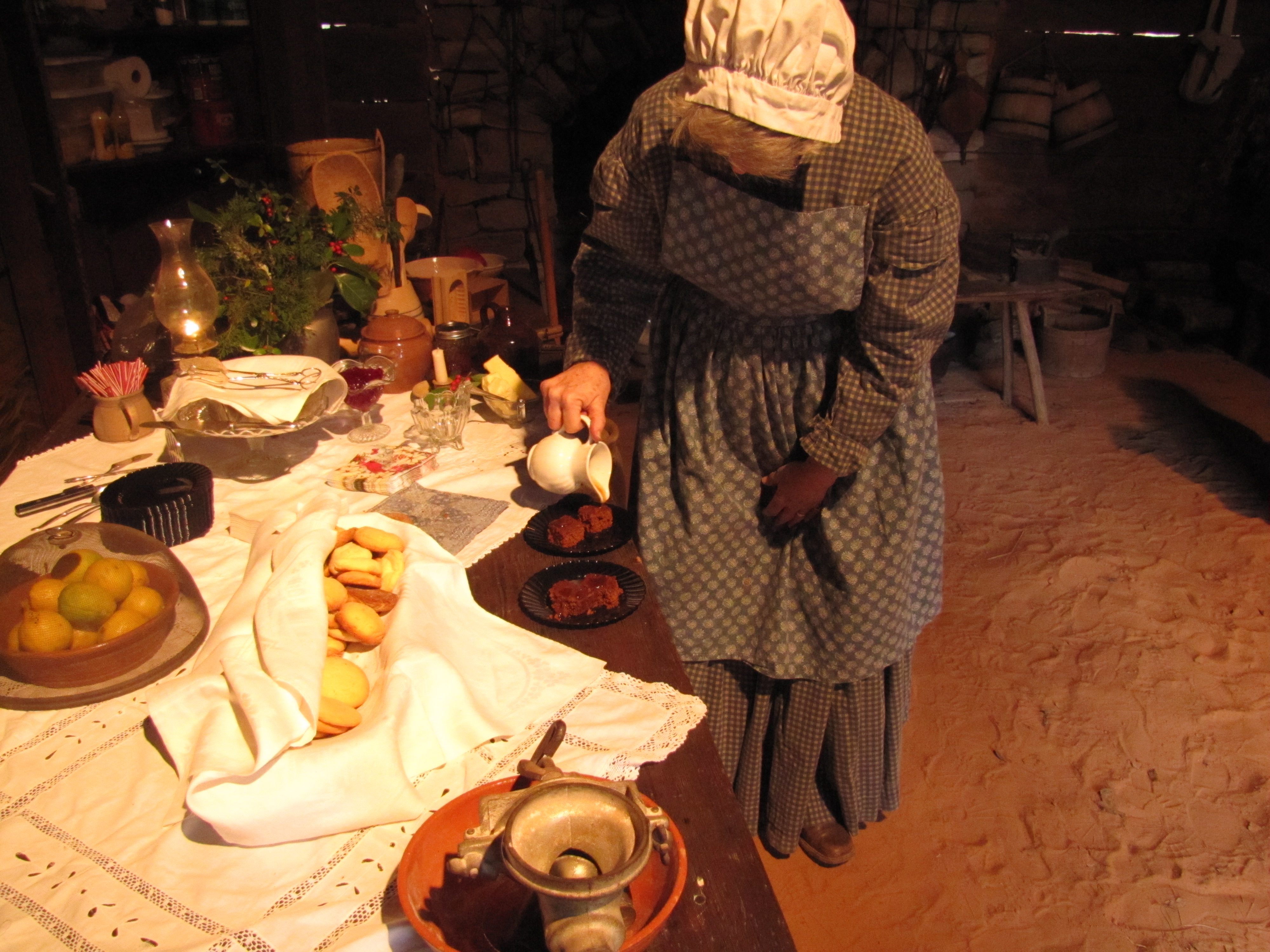 The Sam Houston Memorial Museum will once again celebrate the holidays the "Houston" way with its Houston Family Christmas on Saturday (Dec. 5).
Baked goods, demonstrations and Santa Claus will help kick off the season and keep families merry from 10 a.m. to 2 p.m. on the Sam Houston Memorial Museum Grounds and main rotunda.
Guests of all ages can also participate in a craft project, visit Eliza's kitchen for some holiday goodies, or head over to the rotunda, where they can pose for photos with Santa.
Those interested in taking photos with Santa should bring their own camera.
"Houston Family Christmas is a great event for the entire family because it has something for everybody, young and old," Buro said. "The event brings the past and present together, giving families a chance to spend some time together and take pictures with Santa but also learn about Sam and Margaret Houston, the Houston family, and experience some of the crafts from the 19th century.
"We welcome everyone to come join the museum staff and volunteers to start the holiday season," she said.
After checking out some of the historical demonstrations—including spinning and weaving, kick wheel pottery, blacksmithing, and woodworking—families can head over to the Katy and E. Don Walker Sr. Education Center, where the Angel Show will be held from 10 a.m. to 4 p.m. in the President Houston Room of the W. S. Gibbs Conference Hall, on the lower level of the education center.
Admission is free to Houston Family Christmas.
For more information, contact Buro at 936.294.3839 or "like" the museum on Facebook.
Students 'Perform' At Regional Auditions
Several SHSU voice students and instructors recently traveled to Oklahoma City for the Texoma National Association of Teachers of Singing auditions.
Of the 19 students who auditioned, nine advanced to the semi-finals, and two students advanced to the final round of auditions.
Students who advanced to the semi-finals include Crystal Haynes, Brea Marshall, Adriana Brent, Gieselle Burris, Myah Lerch, Cristian Ruiz, John Jermain, Isabella Pallavicini, and Ella Weedon.
Chasiti Walker advanced to the finals in the junior women's division, where she received second place.
Fredrico Flores received first place in the graduate men's division, as well as the Grady Harlan Certificate, which is awarded to the most promising professional voice selected by a panel of judges from first place winners in upper divisions.
More than 550 students competed at the Texoma NATS auditions, representing 150 teachers from universities across Texas, Oklahoma and New Mexico.
Today@Sam Seeks Experts, Story Ideas
Are you an expert in a topic might be of interest to reporters? Or even a unique topic? Would you like to have your research interests highlighted or discuss your expertise with reporters seeking interviewees?
The university Communications Office is collecting information and story ideas for its ongoing projects, including the online SHSU Experts Guide, the SHSU home page and Today@Sam.
The SHSU Experts Guide was established as a resource for the media, who turn to university experts lists for potential interviewees for news stories. Faculty who are interested in being a part of the university's database of experts can submit their biographical and personal information, as well as their areas of expertise, through the Experts Guide Submission Form available online at shsu.edu/dept/marketing/experts/submit-info.html.
Other story ideas, both news and features on faculty or student research and accomplishments can be sent to today@sam.edu or jenniferg@shsu.edu. For news stories, please include the date, location and time of the event, as well as a brief description and a contact person.
All information, including news story ideas and update items for Today@Sam, should be sent a minimum of a week in advance of the event in order to make necessary contacts and write a story. Feature story ideas for the SHSU home page ("sliders") should be sent a minimum of two months in advance.
To see a full list of the Today@Sam submission guidelines, or to access submission forms for news and feature stories or hometown releases, visit shsu.edu/~pin_www/guidelines.html.
For more information, call 936.294.1836.
- END -
This page maintained by SHSU's Communications Office:
Director of Content Communications: Emily Binetti
Communications Manager: Mikah Boyd
Telephone: 936.294.1837
Communications Specialist: Campbell Atkins
Telephone: 936.294.2638
Please send comments, corrections, news tips to Today@Sam.edu