SHSU Update For Month Of May
May 1, 2015
SHSU Media Contact: Tammy Parrett
Exhibit To Show Graduating Senior Art
Thirty-three students graduating with Bachelor of Fine Arts and Bachelor of Arts degrees in studio art, photography and animation will showcase their work in the spring 2015 senior exhibition May 4-9 in the Gaddis Geeslin Gallery.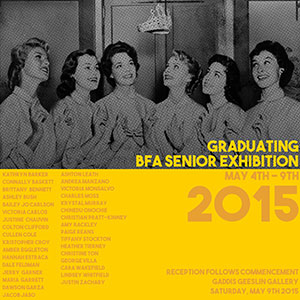 A reception will be held Saturday (May 9) at 4 p.m. following the 2:30 p.m. commencement ceremony.
Studio and photography students will explore a variety of topics ranging from family histories, nostalgia and dreams, to pop culture, fungus and birds.
These artists include Brittany Bennett, Ashley Bush, Bailey Jo Carlson, Justine Chauvin, Amber Eggleton, Jerry Garner, Maria Garrett, Jacob Jaso, Ashton Leath, Krystal Murray, Chinedu Onochie, Amy Rackley, Christene Ton, Colton Clifford, Colton Clifford, Victoria Monsalvo, Tiffany Stockton, and Justin Zachary.
Animation students have been working diligently toward specific areas of concentration, including storyboarding, character design, visual development, character performance, organic and hard surface 3-D modeling, and various elements of CG animation, according to Melissa Mednicov, assistant professor of contemporary art.
These artists include Kathryn Baker, Connally Baskett, Victoria Carlos, Cullen Cole, Kristopher Croy, Hannah Estraca, Dave Feldman, Dawson Garza, Andrea Manzano, Charles Moss, Christian Pratt-Kinney, Paige Reans, Healther Tierney, George Villa, Cara Wakefield, and Lindsey Whitfield.
For more information on the exhibit, contact Mednicov at 936.294.4572.
Staff Council Spotlights Senior Human Resources Manager
The Sam Houston State University Staff Council selected Cindy Balusek, senior human resources manager, for its April "Spotlight on Staff."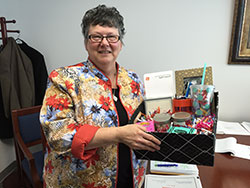 Balusek worked as a student assistant from 1979 to 1981, when she graduated with a bachelor's degree in general business administration, and has worked in the SHSU Department of Human Resources since 2010.
Prior to her return to SHSU, she worked for the Texas Department of Criminal Justice, where she gained experience in ERS, working with retirement, deferred compensation and insurance programs.
She currently lives in Conroe with her husband Dennis, '80, who teaches industrial arts at York Junior High in Conroe. Her daughter Connie, '09, is a kindergarten teacher at John C. Webb Elementary in Navasota, and son Curtis, '12, is a graduate research assistant at Georgia Institute of Technology in Atlanta, where he is working toward his doctorate in physics.
A firm believer in the Golden Rule, Cindy always strives to treat other people as she would have them treat her, and is always there to lend a helping hand when her team needs her.
"I try to motivate others by always maintaining a positive attitude," she said. "Our lives are reflections of what we give to others, and I always strive to make a difference in someone's life, or at least their day."
Graduate Student Awarded Counseling Fellowship
The National Board for Certified Counselors Foundation recently selected SHSU student Marisol Salgado for the NBCC Minority Fellowship Program-Youth.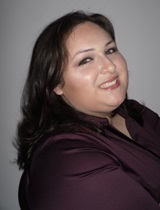 As a NBCC MFP Fellow, Salgado, who is pursuing a master's degree in clinical mental health counseling, will receive funding and training to support her education and facilitate her service to underserved minority populations, with a focus on transition age youth.
The NBCC will distribute $5,000 to Salgado and 39 other graduate counseling students who were selected to receive the fellowship award.
Salgado has an immense passion to serve the Latino community, specifically adolescents and young adults. As a young bilingual Latina, she believes she has a lot to offer an underserved minority community.
Aside from offering counseling services, she strongly believes that "we must educate this community on the importance of seeking mental health services."
Her goal after graduation is to work within the community, educating this population on mental health. She would also like to offer workshops targeted at adolescents and young adults for the prevention of domestic violence.
SHSU Online Earns High Affordability Ranking
Many students want an affordable education but don't have the time or resources to commute to a physical campus. For those students, Sam Houston State University offers many fully online programs that won't break the bank. In fact, SHSU has been selected as one of the Most Affordable Online Colleges in Texas by OnlineColleges.Net for 2015.
The website ranks SHSU as No. 14 in Texas in terms of affordability.
College rankings are compiled using data from the National Center for Education Statistics. Schools are ranked by affordability, and tuition rates reflect the annual cost of enrolling full-time as an in-state student, according to the company's website.
With an annual tuition of $7,294, SHSU offers more than 30 fully online degree programs–including five bachelor's programs, 25 graduate programs and two doctorate– as well as dozens of professional certifications and graduate certificates in a fully online format.
"SHSU Online is proud to receive this recognition from OnlineColleges.Net, which reflects the university's continuing commitment to provide outstanding online degree programs at the most affordable prices possible," said John Holder, web content specialist for SHSU Online.
Other schools listed in the top 22 were Lamar University (No. 17) and the University of Houston (No. 20).
The full list of Most Affordable Online Colleges in Texas is available at http://www.onlinecolleges.net/texas/.
Staff Recognized For Completing Management Academy
Staff members at Sam Houston State University are encouraged to expand their professional skills through a number of opportunities provided by the university.
John Christ, Jeff Vienneau, and Kim Baechtel were three of five staff members recognized for completion of all nine courses in the Management Academy in 2014. — Photo by Brian Blalock
The Department of Human Resources founded The Learning Academies @ SHSU in 2014 to offer staff and managers opportunities to earn credits counting toward their yearly professional development requirements. The Learning Academies are made up of Training University, Management Academy, and the Skillsoft E-Learning Library.
Several participants of the Management Academy were recently honored with a certificate of achievement for completing all nine courses in the track in 2014, including Kim Baechtel, Jeff Vinneau, John Christ and Kathryne Pelton, all of whom work in Residence Life. Pamela Haven, director of the Testing Center was also honored.
Training University is aimed at "maximizing employee potential" and is available to all staff members. Management Academy exists to "enhance effecting leadership" for managers of staff, including department chairs.
Staff members may also be nominated by their supervisors to attend select Management Academy courses in the "So You Want To Be A Manager" track. Courses can be accessed by logging into Talent Management and clicking on "Browse for Training."
For more information, contact TJ Bittick, professional development coordinator, at 936.294.2328.
Student Lunch Guest Wins Gift Card To Barnes & Noble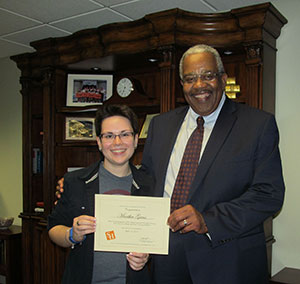 Throughout the fall and spring semesters, Vice President for Student Services Frank Parker hosts luncheons to
give students an opportunity to meet administrators on campus as well as fellow students.
This event also provides them with an opportunity to ask questions and discuss topics of interest related to SHSU.
In appreciation for signing up and attending one of the luncheons, students' names were entered into a drawing for a chance to win a $250 gift card to Barnes & Noble's University Bookstore. Congratulations to Martha Gans for being the winner of the drawing.
Parker thanks those students who took time from their busy schedules to attend the VPSS student luncheons this semester and encourages students who have never attended to sign up for future luncheons.
For more information on the VPSS luncheons, contact the VPSS office at 936.294.1784.
Submit Update Items Here
In order to assist members of the Sam Houston State University community in publicizing events, the SHSU Communications Office (Today@Sam) is now requesting that students, faculty and staff submit information about events, accomplishments or ideas for feature stories online.
Submission criteria and guidelines, including deadlines, have now been placed online, at shsu.edu/~pin_www/guidelines.html. This information is also accessible through the "Submissions" link in the right-hand navigation on Today@Sam.
From there, those submitting ideas can access forms that will allow them to provide detailed information about their idea, as well as attach event calendars, vitas/resumes or photos, depending on the type of submission.
Ideas submitted to the SHSU Communications Office are directly utilized in several ways: as news stories, "slider" or SHSU home page stories, hometown releases, and on the Today@Sam calendar.
If your submission qualifies for distribution, we will either contact you for more detailed information, or we will edit the information using SHSU/journalistic style and forward the final release to the appropriate media.
All information is verified before release, so please provide complete, accurate and timely information. Please type all responses in appropriate upper and lower cases.
For more information, contact the Communications Office at 936.294.1836 or today@sam.edu
- END -
This page maintained by SHSU's Communications Office:
Associate Director, Communications: Emily Binetti
Telephone:936.294.4406
Communications Manager: Mikah Boyd
Telephone: 936.294.1837
Communications Writer: Campbell Atkins
Telephone: 936.294.2638
Thomason Building: Suite 102
Please send comments, corrections, news tips to Today@Sam.edu