Lyons Named Criminal Justice Dean, Director
May 6, 2015
SHSU Media Contact: Julia May, Beth Kuhles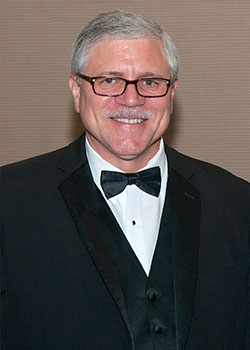 Phillip Lyons
Phillip Lyons, professor of criminal justice at Sam Houston State University, has been named dean of the university's College of Criminal Justice and director of its affiliated Criminal Justice Center, effective Sept. 1.
The announcement was made today by SHSU Provost and Vice President for Academic Affairs Jaimie Hebert.
"As we embark on a new chapter in the college, I am confident that Dr. Lyons will work to ensure the continued success of the college and center and will develop a comprehensive strategy that incorporates the diverse strengths and aspirations of the faculty and staff," he said.

Sam Houston State University is the home of one of the oldest and largest criminal justice programs in the country, serving undergraduate and graduate students, as well as professionals in the field.
Lyons has served as interim dean and director since Vincent Webb stepped down from the position in August 2014. His appointment follows a nationwide search conducted over almost a year.
"I have had the opportunity to work for three different deans during my tenure in the College of Criminal Justice at Sam Houston State University," Lyons said. "Each of them left both a valuable legacy and insights as to how best to lead. I am humbled and excited at having been selected to lead such a great group of people into the second half of our first century as a program. With this accomplished faculty, outstanding staff, wonderful students, supportive university administration, generous alumni, and agencies in the field who are eager to work with us, I am confident that we will continue to do great things."
Lyons joined the faculty of Sam Houston State University in 1995 after completing a year-long, pre-doctoral internship in forensic clinical psychology at the Federal Medical Center in Fort Worth, an institution within the Federal Bureau of Prisons. Coincidentally, the warden of the institution was George Killinger, the son of one of the first directors of the criminal justice program at Sam Houston State.
Before completing his internship, Lyons studied at the law and psychology program of the University of Nebraska-Lincoln, earning Master of Arts, Juris Doctor, and Doctor of Philosophy degrees. He has written or coauthored dozens of scholarly and professional works, including books, book chapters, and journal articles, many of which are published in some of the leading journals in his field.
In 2012, Lyons was named the first recipient of the David Payne Academic Community Engagement Award at SHSU, which recognizes excellence in community engagement through teaching, research and service.
In addition to serving as interim dean and director, his previous posts at SHSU include interim chair of the Department of Security Studies, where he oversaw the reconfiguration of a Master of Science degree in homeland security studies; director of the Division of Professional Justice Studies, where he oversaw the college's academic programs oriented toward practitioners; and executive director for the Center for Policing Innovation, one of about two dozen regional community policing institutes established by the Office of Community Oriented Policing to provide training and technical assistance to agencies on a broad range of community- and problem-oriented policing topics.
He was selected by his peers to serve a three-year term on the American Psychological Association's prestigious Committee on Legal Issues, where he worked with other committee members to craft the voice of the APA to law- and policymakers. He currently serves on the U.S. Department of Justice (Bureau of Justice Assistance) Executive Session on Police Leadership, where he works with some of the leading lights on how best to create an environment to nurture and develop the thought leaders of the future for the field of policing.
He also designed, developed, and implemented a community policing internship program with students in residence at Sam Houston State for a year from the Zhejiang Police College in Hangzhou, China. The program has garnered national acclaim in China where it is regarded as a model program for international exchange efforts.
Before graduate and law school, Lyons spent several years as a law enforcement officer in Hillcrest Village Marshal's Office, the Alvin Community College Police Department, and the Alvin Police Department.
When he left full-time law enforcement he was a detective specializing in crimes involving children. He is the only officer in that agency's history to have received the Officer of the Year Award and the Professionalism Award simultaneously--and after only his first year of service. He is currently a licensed Master Peace Officer.
He lives in Montgomery County with his partner of more than 30 years, Eric Bennett, and their son, Logan Bennett-Lyons.
- END -
This page maintained by SHSU's Communications Office:
Director of Content Communications: Emily Binetti
Communications Manager: Mikah Boyd
Telephone: 936.294.1837
Communications Specialist: Campbell Atkins
Telephone: 936.294.2638
Please send comments, corrections, news tips to Today@Sam.edu