First Female Fighter Pilot To Fly By SHSU
Oct. 5, 2015
SHSU Media Contact: Jennifer Gauntt
Carey Lohrenz knows what it takes to win in one of the most high-pressure, extreme environments imaginable—in the cockpit at Mach 2
Having flown missions worldwide as the first female F-14 Tomcat fighter pilot in the United States Navy, Lohrenz is used to working in fast-moving, dynamic climates, where inconsistent execution can generate catastrophic results.
Lohrenz will discuss some of her experiences on Oct. 22, as the guest speaker for the Sam Houston State University President's Speaker Series, which will be presented from 1:30-2:30 p.m. in the James and Nancy Gaertner Performing Arts Center Payne Concert Hall.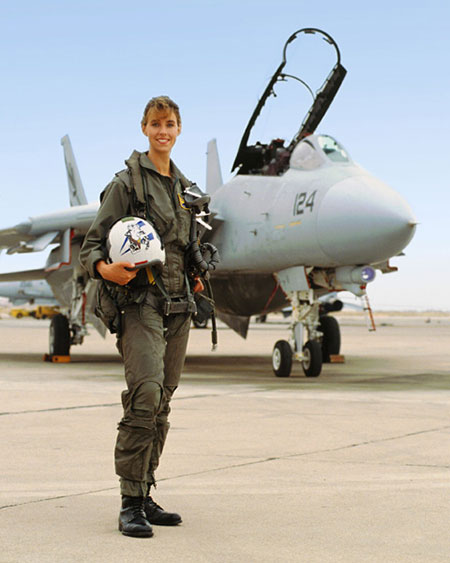 A pioneer in military aviation, Lohrenz was the first fully qualified female Navy aviator in the U.S. military.
Born in Racine, Wisconsin, and raised in Green Bay, she graduated from the University of Wisconsin, where she was a varsity rower who trained at the pre-Olympic level.
After graduation, she attended the Navy's Aviation Officer Candidate School, where she was commissioned as an ensign, and then attended flight school at the Naval Air Station in Corpus Christi and Advanced Jet Training at the Naval Air Station in Kingsville.
During her naval career, she became a pioneer in aviation, leading the way for integration of women into fighter aviation.
She left the Navy in 1999 and began using her experience in the all-male environment of fighter aviation as a professional speaker who presents messages about leadership, team building, reducing errors, and working under pressure.
In 2014, her book "Fearless Leadership: High-Performance Lessons from the Flight Deck," which details her experiences as a female aviator, was published by Greenleaf Book Group.
Since becoming a professional speaker, Lohrenz has appeared on national media, including ABC News, CNN, MSNBC, and NPR, among others.
She also has been requested by name from some of the top Fortune 100 businesses as a consultant and speaker because of her ability to connect with both an audience and on a one- on-one level.
Among the companies for which she has delivered her leadership and strategy experience include Cisco, AT&T, Kimberly Clark, State Farm Insurance, and Sea Ray Boats.
She now resides in Germantown, Tennessee, and is working on her Master of Business Administration degree in strategic leadership.
Following the free presentation, Lohrenz will sign copies of her book "Fearless Leadership: High-Performance Lessons from the Flight Deck" in the GPAC Lobby.
The President's Speaker Series was created in 2002 by SHSU President Emeritus Jim Gaertner and was originally underwritten by the estate of the late Huntsville resident Lu Ellen Gibbs. The series is designed to bring to the SHSU campus prominent leaders who are chosen for their ability to deliver messages of substance and the potential to significantly impact the student body.
For more information, contact the President's Office at 936.294.3415 or events@shsu.edu.
- END -
This page maintained by SHSU's Communications Office:
Associate Director, Communications: Emily Binetti
Telephone: 936.294.1836; Fax: 936.294.1834
Communications Manager: Wes Hamilton
Telephone: 936.294.1837; FAX: 936.294.1834
Communications Writer: Hannah Haney
Telephone: 936.294.2638; FAX: 936.294.1834
Thomason Building: Suite 102
Please send comments, corrections, news tips to Today@Sam.edu
---