Teen Activists To Return To Discuss 'HA-YOU' Movement
April 3, 2015
SHSU Media Contact: Jennifer Gauntt
In the summer of 1965, a group of students from Samuel Walker Houston High School formed the Huntsville Action for Youth group in response to racial segregation and discrimination and began what would become nine days of protests and marches.
These activities culminated with a sit-in at Café Raven, considered the "strongest holdout" against integration in Huntsville. Protesters were arrested, and the fallout didn't end there.
"Linda Broussard, one of the protesters, was kicked in the chest by one of the police officers. The students were taken out of school and sent to reform school. It was a nasty episode," said Jeffrey Littlejohn, associate professor of history.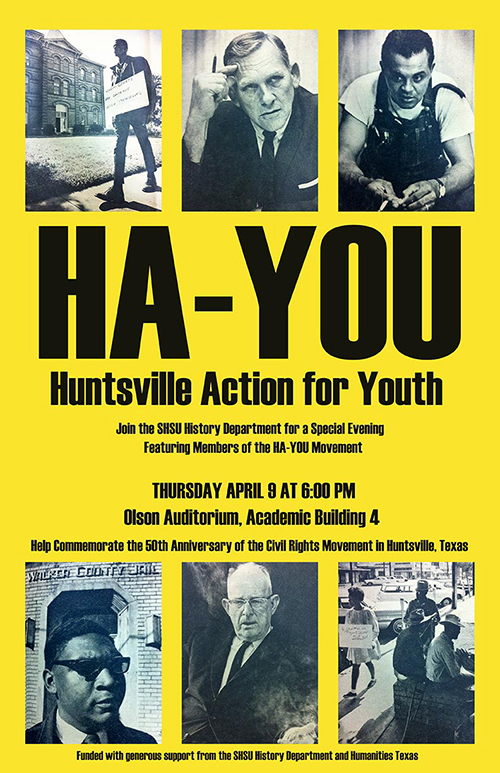 Ultimately, the attempts by HA-YOU were successful; Café Raven eventually did desegregate, as did the school system and other holdouts.
In commemoration of the 50th anniversary of these sit-ins, the Sam Houston State University Department of History will welcome 10 HA-YOU participants to campus to discuss the tumultuous events, their results and their legacy on Thursday (April 9), at 6 p.m. in the Academic Building IV Olson Auditorium.
The discussion, moderated by associate history professor Bernadette Pruitt, is important because it shows the points of view of those who participated in one of Huntsville's most important civil rights efforts, while also highlighting a tendency to "white wash" history.
"By 1965 (when these events occurred), Huntsville was a little bit behind the times. The Civil Rights Act of 1964 had been passed the previous year and that made it federal law that restaurants that served the public had to serve African Americans; yet in July in 1965, they were still not able to get service," Littlejohn said.
Of the event, Texas Observer reporter Larry Goodwyn, who witnessed some of the activities, said he believed the things that were happening could have been occurring in any East Texas town.
"We believed that HA-YOU not only physically and intellectually represented the civil rights movement in Huntsville, it represented the spirit of the overwhelming majority of the entire Negro community," Goodwyn wrote. "The question reduced itself simply to: How can we convince white traditionalists that the old ways have passed?"
This, too, is a question Littlejohn and Pruitt hope their presentation will lead attendees to ponder, especially as it applies to contemporary events.
"Ultimately, HA-YOU won, and I think that's a very compelling story to tell," he said. "I also think it's a very important story for students to hear as we face voter restrictions and changes in the nation's voting laws; as we face religious liberty acts, which I think are trying to discriminate against gays and lesbians; and as we face laws that are going to put guns on our campus.
"These movements for change, in doing what's right, oftentimes have been led by young people, and our students can participate in this dialogue," Littlejohn said. "We're not trying to highlight the ugliness of Huntsville's history but the courage of people who stood up to discrimination and said 'we've had enough and we're going to do what's right.' I think it's putting people who did very courageous things before the students and letting them hear a story that is inspiring."
"We hope this event will lead to more conversations about race relations and the meaning of race," added Bernadette Pruitt, associate professor of history. "It is the customary practice in this country to circumvent open, honest dialogues about the realities of race, racial exclusion, racial identifiers, and race relations. Yet, we as a society face these complexities daily.
"These issues, without question, speak to a larger phenomenon, that of the color line that historian W. E. B. Du Bois discussed over a century ago in 'The Souls of Black Folk:' 'The problem of the 20th century is the problem of the color line.' Regrettably, the problem of the 21st century remains the color line.
"A half century after the desegregation of Huntsville by these magnificent teens and young adults, serious challenges remain unchanged. Yes, these issues are intricately interwoven into the history and historic legacy of HA-YOU," Pruitt said. "Only when we address these issues head-on can we move toward real racial reconciliation and social equality. This panel therefore represents an important step in this direction."
The event is sponsored by a grant from Humanities Texas.
For more information, contact Littlejohn at 936.294.4438 or littlejohn@shsu.edu.
- END -
This page maintained by SHSU's Communications Office:
Associate Director, Communications: Emily Binetti
Telephone: 936.294.1836; Fax: 936.294.1834
Communications Manager: Wes Hamilton
Telephone: 936.294.1837; FAX: 936.294.1834
Communications Writer: Hannah Haney
Telephone: 936.294.2638; FAX: 936.294.1834
Thomason Building: Suite 102
Please send comments, corrections, news tips to Today@Sam.edu
---