Family Weekend Scheduled For Sept. 25-27
July 20, 2015
SHSU Media Contact: Jennifer Gauntt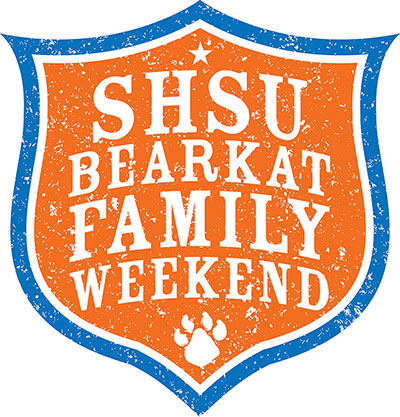 Families of Sam Houston State University's more than 19,000 students are invited to participate in the spirit, pride and tradition of campus life Sept. 25-27 during this year's Bearkat Family Weekend.
The weekend will allow families to experience all that SHSU has to offer through tours, open houses with faculty and administrators, and other activities, showing families what makes SHSU so great, according to Chelsea Smith, assistant dean of students for parent relations and special programs.
"Family Weekend is always a special time for students, families and our campus," Smith said. "It is a time where we all come together to spend quality time with one another, meet new people and have fun. It's also a great way to showcase departments, organizations and highlight all the great things that go on at Sam Houston State."
Those activities will kick off on Friday morning, when families can check in early and tour SHSU's award-winning, "green" campus through the Visitor Center. Afterward, if "game," families can check out one of two sporting events—women's soccer vs. Houston Baptist University, at 6:30 p.m. at Pritchett Field, or women's volleyball vs. Lamar, at 6:30 p.m. at the Bernard G. Johnson Coliseum—or head to Bearkat Plaza for an evening pep rally beginning at 7 p.m.
The pep rally will feature head football coach K.C. Keeler and members of the Bearkat Football Team, as well as the SHSU spirit programs and pep band, and refreshments and music.
After checking in on Saturday morning in the LSC Atrium, families can head over to SHSU's campus landmark—Austin Hall, the oldest continuously used, state-owned higher education facility west of the Mississippi—to mingle and share coffee with some of SHSU's administrators, from 9-10 a.m.
Throughout the day, they can also attend a Parents' Association Meeting, visit the campus bookstore, tour campus, or visit several college open houses before heading to Intramural Field No. 3 for some "Fun on the Field," during which various departments and student organizations will sponsor games, activities for all ages and share information on their day-to-day activities, all from 11:30 a.m. to 2:30 p.m.
After working up an appetite, families will be offered lunch in two different sessions from noon to 2 p.m. in the Bernard G. Johnson Coliseum.
That afternoon, SHSU will begin to get families fired up for the football game as the Bearkats take on Houston Baptist at Bowers Stadium. Activities leading up to the game include the traditional classic car cruise-in and pre-game tailgate party in Bearkat Alley, located in Bowers Stadium parking lot P7.
Bearkat Family Weekend will conclude on Sunday with an interdenominational Christian worship service from 9:30-10:30 a.m. at the Farrington Pit.
Before heading home, though, families can check out SHSU's women's soccer match against Texas A&M—Corpus Christi, which will begin at 1 p.m. at Pritchett Field.
Registration for Bearkat Family Weekend is $10 for SHSU students and $15 per guest, which includes a T-Shirt, a welcome gift, continental breakfast, a catered lunch, tailgating, and the classic car show.
The registration deadline is Aug. 31.
Football tickets must be purchased separately or in advance through the Athletic Department at gobearkats.com.
For more information on Bearkat Family Weekend, Huntsville accommodations, or for the full schedule of events, contact the Dean of Students' Office at 936.294.1785, doso@shsu.edu, visit shsu.edu/~slo_www/weekend, or "like" "Bearkat Family Weekend" on Facebook.
- END -
This page maintained by SHSU's Communications Office:
Director of Content Communications: Emily Binetti
Communications Manager: Mikah Boyd
Telephone: 936.294.1837
Communications Specialist: Campbell Atkins
Telephone: 936.294.2638
Please send comments, corrections, news tips to Today@Sam.edu