Four Honored With Faculty Excellence Awards
June 16, 2015
SHSU Media Contact: Julia May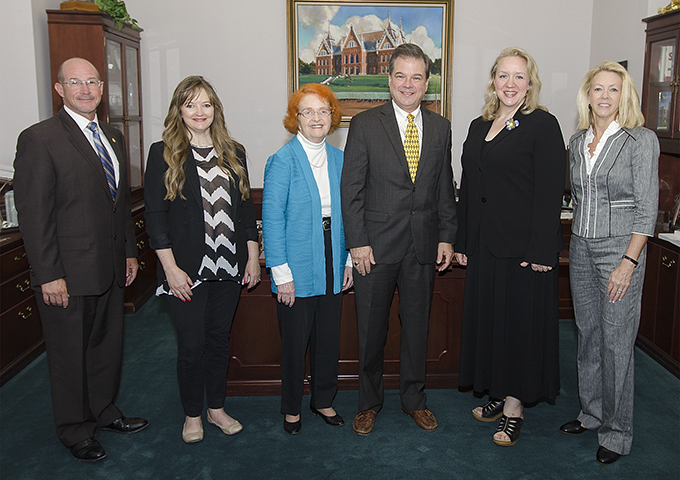 Provost Jaimie Hebert (far left) and President Dana Hoyt (far right) recently recognized the 2015 Faculty Excellence Award recipients. They are (from left) Karen Miller, Mary Alice Conroy, Scott Chapman and Nancy Baker.
Four Sam Houston State University professors whose teaching, scholarly accomplishments, service, and academic engagement stand out among their peers have been honored with SHSU's 2015 Faculty Excellence Awards.
The winners include associate professor of history Nancy E. Baker, Excellence in Teaching; professor of mathematics and scholar-in-residence Scott Chapman, Excellence in Scholarly and Artistic Accomplishment; professor of psychology and director of the SHSU Psychological Services Center Mary Alice Conroy, Excellence in Service; and professor of music and director of the SHSU Music Therapy Program Karen Miller, the David Payne Academic Community Engagement Award.


Nancy Baker, Excellence in Teaching
A graduate of Rutgers, George Washington, and Harvard Universities, Baker was selected for this year's teaching award from 312 faculty nominations.
She is known for being "extremely thoughtful about the assignments she gives, the ones that are in addition to regular exams over the course material, as well as her willingness to adapt and experiment on occasion to ensure the best learning outcome for her students."
"We are very fortunate to have a scholar of Dr. Baker's repute in the department," said Texas State University System Regents Professor of History James Olson.
"She teaches a heavy load of freshman students, and many begin the semester resentful of having to take another history class. However, Dr. Baker loves the discipline and teaches them to appreciate it as well," he said.
"I am also convinced that Dr. Baker's presence has played a key role in the success of the department's online master's degree program, now the largest and most successful in the nation," Olson said. "She is diligent and attentive to student concerns and brings a towering intellect to the online and traditional classroom venues."
Scott Chapman, Excellence in Scholarly and Artistic Accomplishment
In addition to his responsibilities with Sam Houston State University, Chapman serves as editor of The American Mathematical Monthly, a scholarly journal for mathematicians from undergraduates to research professionals. It is the most widely read mathematics magazine in the world, according to JSTOR digital library.
He has produced 102 peer-reviewed articles, with 26 written during the last five years. He has acquired $1.15 million in grant money, worked with and mentored large numbers of graduate and undergraduate students in research, and published often with students.
"He is a recognized contributor in the field, as he has been a keynote speaker at five different meetings and been invited all over the world to speak," said Jennifer Didier, chair of the Excellence in Scholarly and Artistic Accomplishment Committee.
"His work has been cited more than 1,200 times, and he was selected after a national search as the 30th editor for The American Mathematical Monthly, a highly revered journal in his field," she said.
"Dr. Chapman is a mathematician with a large amount of publications in a field where it is difficult to publish at that level," she said.
Mary Alice Conroy, Excellence in Service
After completing a successful career as a forensic psychologist with the Federal Bureau of Prisons, Mary Alice Conroy was brought to SHSU in 1997 to help launch the university's new forensic psychology program.
She was named director of the SHSU Psychological Services Center the following year, a position that she continues to hold, and serves as the director of clinical training in the clinical psychology doctoral program.
"The PSC also offers services to the underserved in the community, as well as local organizations including the Department of Assistive and Rehabilitative Services, Montgomery County Youth Services, Montgomery County Department of Community Supervision and Corrections, Walker County Juvenile Services, and Walker County Community Supervision and Corrections Department," said Frank Fair, professor of philosophy. "The PSC also provides services to lawyers and courts.
"These services are some of the most important and impactful services the university provides for surrounding communities, and because of Dr. Conroy's leadership, the PSC services are highly regarded by a number of government officials in the area," Fair said.
Conroy also volunteers her personal time as a forensic psychological evaluator for the courts, particularly in rural counties, which might not be able to afford those kinds of professional services. Although she is in great demand across the state, she limits her cases to the ones within driving distance so that her students can travel to the locations and participate without missing class.
Karen Miller, the David Payne Award for Academic Community Engagement
Karen Miller brought 10 years of clinical music therapy practice with her when she joined the SHSU faculty.
Her areas of specialization include music therapy in the psychiatric treatment of adolescents and neurologic music therapy in the treatment of patients suffering from strokes, traumatic brain injuries and Parkinson's disease.
"Dr. Miller stood out in a group of strong candidates (for the award) for her years of commitment to academic community engagement in both her teaching and research," said Lee Miller, director of the Center for Community Engagement.
"Her students learn music therapy techniques by working with a wide range of community partners, including children, elderly, abused, physically and mentally disadvantaged, etc.," she said. "She not only teaches students how to make a difference in the community, she also frequently speaks to community, professional and campus audiences on the value of academic community engagement.
"Dr. Miller was selected for the award because she is a model for academic community engagement, who teaches students and colleagues how to support the well-being of many community partners," she said. "She certainly exemplifies our SHSU motto, 'The measure of a Life is its Service.'"
- END -
This page maintained by SHSU's Communications Office:
Director of Content Communications: Emily Binetti
Communications Manager: Mikah Boyd
Telephone: 936.294.1837
Communications Specialist: Campbell Atkins
Telephone: 936.294.2638
Please send comments, corrections, news tips to Today@Sam.edu