Luncheon To Explore Possibilities For Next Common Reader
April 10, 2015
SHSU Media Contact: Jennifer Gauntt
The Bearkats Read to Succeed program will introduce faculty, staff and administrators to its 2015-16 common reader selection on Friday (April 24).
During the 8th annual Faculty Common Reader Preview Luncheon, BRTS committee members will discuss the novel, how it can be incorporated into the classroom and about the events being held in conjunction with this year's program. The event will be from noon to 1:30 p.m. in Lowman Student Center Room 320.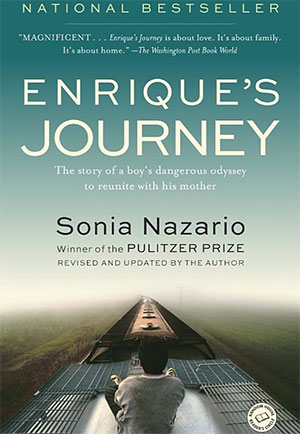 This year's common reader selection is the national bestseller "Enrique's Journey" by Pulitzer Prize-winner Sonia Nazario.
"Enrique's Journey" recounts the unforgettable quest of a Honduran boy looking for his mother 11 years after she is forced to leave her starving family to find work in the United States, according to the book description on Amazon.com.
Braving unimaginable peril, often clinging to the sides and tops of freight trains, Enrique travels through hostile worlds full of thugs, bandits and corrupt cops. But he pushes forward, relying on his wit, courage, hope, and the kindness of strangers, the description concludes.
The book is based on the Los Angeles Times series that won two Pulitzer Prizes, for feature writing and photography.
"'Enrique's Journey' was chosen by a university-wide committee because themes in the book address timely complex and relevant topics affecting our students, specifically in their future careers in the state of Texas," said Kay Angrove, director of the First Year Experience Office. "Importantly, themes in the book offer opportunities for faculty to engage students in discussions across disciplines. Further, this book puts a human face on the ongoing debate about immigration reform and is a story about the power of family.
"The goal of the common reader program is to provide a common intellectual experience for faculty, staff, and students," she said. "Intended outcomes include students having informed and educated perspectives about complex subjects, which is exactly why 'Enrique's Journey' is this year's choice for the SHSU common reading experience."
Those interested in attending should RSVP to the First Year Experience Office by April 22 at 936.294.2227 or fye@shsu.edu. Those who attend will receive a free copy of the book and a curriculum guide.
External Talent Management credit also will be provided.
- END -
This page maintained by SHSU's Communications Office:
Director of Content Communications: Emily Binetti
Communications Manager: Mikah Boyd
Telephone: 936.294.1837
Communications Specialist: Campbell Atkins
Telephone: 936.294.2638
Please send comments, corrections, news tips to Today@Sam.edu