SHSU, UT Tyler Sign Engineering Program Collaboration Agreement
Aug. 18, 2015
SHSU Media Contact: Jennifer Gauntt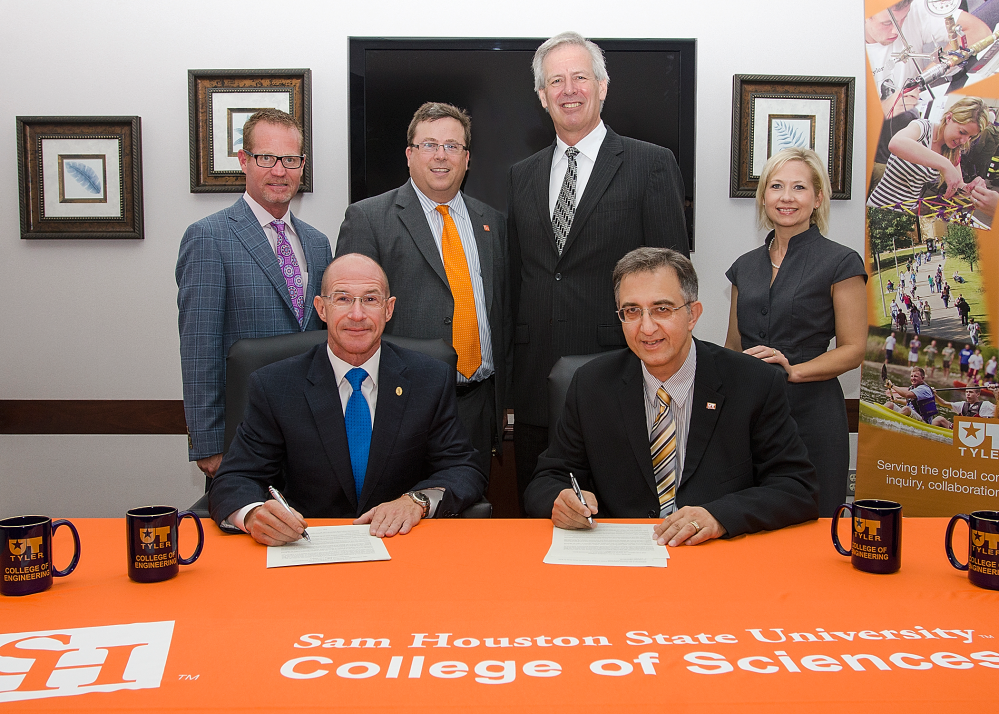 SHSU Provost Jaimie Hebert and University of Texas at Tyler Provost Amir Mirmiran sign the memorandum of understanding on Tuesday morning that established a partnership between the universities that will allow students to begin their degrees in SHSU's engineering technology program and then transition to a bachelor's degree in engineering at UT Tyler. Looking on were (from left) Stanley Kelley, SHSU agricultural sciences and engineering technology department chair; John Pascarella, dean of the SHSU College of Sciences; James Nelson, UT Tyler College of Engineering dean; and Sarah Bowdin, UT Tyler assistant vice president for enrollment management. —Photo by Brian Blalock
Sam Houston State University and The University of Texas at Tyler have opened the doors to provide an effective pathway for SHSU students to earn a bachelor's degree in selected engineering fields thanks to a new partnership agreement.
SHSU Provost and Vice President for Academic Affairs Jaimie Hebert and UT Tyler Provost Amir Mirmiran signed the memorandum of understanding on the SHSU campus on Aug. 18.
Through the agreement, SHSU students will be able to begin their study in Huntsville taking lower-level courses through SHSU's engineering technology program and complete their engineering degree with The University of Texas at Tyler, at either the main campus or through the course offerings at the UT Tyler Houston Engineering Center.
The agreement is a win-win for both universities, as well as SHSU students, according to College of Sciences Dean John Pascarella.
"As SHSU offers pre-engineering courses as part of its engineering technology degrees, this agreement will develop a seamless pathway for students who wish to complete a degree in civil, electrical, or mechanical engineering at UT Tyler," Pascarella said. "We also look forward to potential collaboration on research projects that could involve faculty from both institutions."
Students also will benefit by being able to earn an engineering degree at a lower cost than other available options in the area, as well as by decreasing the time to complete an engineering degree than might otherwise occur when students transfer from one institution to another.
"The partnership is a benefit for both institutions, and especially for students," said UT Tyler College of Engineering Dean James Nelson. "A key advantage for students will be in cost savings as a result of the partnership. Also, students find that an engineering degree generally pays off quickly, since the starting annual salary of many entry-level engineers is over $60,000."
"This partnership is a great example of the state's universities working collaboratively to contain the cost of education and provide greater access to engineering for students," said UT Tyler President Rodney H. Mabry.
The partnership also will serve to increase the number of students enrolled at both institutions in an area of critical need. Several estimates indicate that the State of Texas will need 80,000 more engineers by the year 2025 to support its increasing technical economy.
"Increasing the engineering enrollment for both institutions through a seamless pathway will allow both four-year institutions to supply Texas with its needed engineers, meeting the greater needs of the state at large," Hebert said.
- END -
This page maintained by SHSU's Communications Office:
Director of Content Communications: Emily Binetti
Communications Manager: Mikah Boyd
Telephone: 936.294.1837
Communications Specialist: Campbell Atkins
Telephone: 936.294.2638
Please send comments, corrections, news tips to Today@Sam.edu