Dance Faculty To Showcase New Works In 'Drift'
April 8, 2015
SHSU Media Contact: Jennifer Gauntt
The Sam Houston State University Department of Dance will present the Spring 2015 Spectrum Dance Concert, "Drift," April 16-18 in the James and Nancy Gaertner Performing Arts Center Dance Theater.
Performances of faculty-choreographed works will begin at 8 p.m. each day, with an additional 2 p.m. Saturday matinee.
"Drift" will include new works by Elijah Gibson, Dana Nicolay, Andrew Noble, Dionne Sparkman Noble, Jennifer Pontius, and Brittany Thetford Deveau.
Visiting professor David Deveau also created a dance for the camera, in collaboration with graduate student Jonathan Kinsey, that will be screened at the spectrum and a work by recent alumnus Travis Prokop.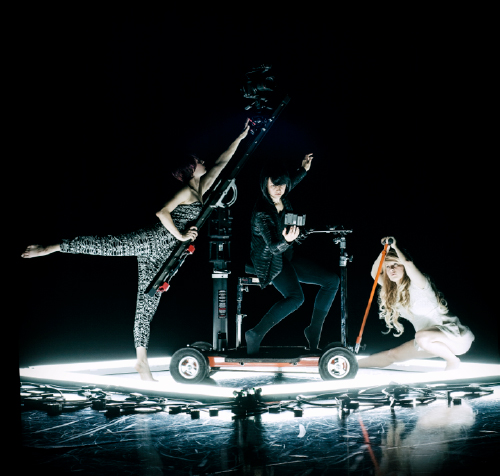 An image from the film set of David Deveau and Jonathan Kinsey's new film, featuring dancer Taryn Wilson. —Submitted photo
Prokop's "Risk in the Absence of Certainty" represented SHSU at the American College Dance Association recently held at Texas Tech University in Lubbock. The duet, performed by Jennifer Mabus and Travis Prokop, was selected for the gala performance as one of 12 out of 50 works.
"The set up for this work is a typical barbershop scene," said Sparkman Noble, assistant professor of dance. "What unfolds is a complicated relationship measuring the boundaries of trust complete with sharp scissors and dangerous partnering between the man and woman."
Andy Noble's "Flash Burns" includes the magical effect of snow falling in the dark.
"This dreamlike work, reminiscent of a wartime nightmare, focuses the eye on ghostlike images of tension and loss," Sparkman Noble said. "Light design by David Deveau and virtuosic contemporary choreography by Noble keep you at the edge of your seat."
Sparkman Noble's "Where the pulse lies" is a solo about a woman trying to remain in touch with her life's memories. A mini drama, it includes a supporting character, dialogue, and a disappearing costume designed by Barry Doss.
Jennifer Pontius's ballet, "Stars," shimmers and glistens with a scenic design of the aurora borealis and a stunning costume design by Doss.
"The effortless, ever-shifting quality of the movement transcends the stage," Sparkman Noble said.
Thetford Deveau goes baroque with her large cast of female dancers in "If it ain't baroque."
"A little bit pedestrian, a little bit ornate, this humorous choreography breathes new life into the 17th century music accompaniment," the choreographer said.
Nicolay's "Progression" brings audiences into the 20th century with his rendition of "Bolero," performed to Maurice Ravel's 1928 orchestral piece with a cast of 11 that brings to life the masterwork with 21st-century restyling.
Deveau's dance for the camera, "At One Time," pushes the boundaries of green screen creating optical illusions of its inhabitants, and Gibson's signature athletic style returns in his new work for five in three sections, according to Sparkman Noble.
"Dance Spectrum paints a portrait of the wildly diverse choreographic voices present in the department," she said. "I look forward to seeing the unique opportunities my colleagues have created for our students to sink their teeth into."
Tickets are $15 for general admission, $12 for senior citizens and $5 for students.
To purchase tickets, visit shsu.edu/boxoffice or call the GPAC Box office at 936.294.2339.
- END -
This page maintained by SHSU's Communications Office:
Associate Director, Communications: Emily Binetti
Telephone:936.294.4406
Communications Manager: Mikah Boyd
Telephone: 936.294.1837
Communications Writer: Campbell Atkins
Telephone: 936.294.2638
Thomason Building: Suite 102
Please send comments, corrections, news tips to Today@Sam.edu