Presentation To Emphasize Importance Of Job Fitness
Oct. 2, 2015
SHSU Media Contact: Beth Kuhles
The majority of law enforcement agencies require physical fitness tests as part of their job application process, and some agencies, like the state of Texas, require all commissioned officers to pass ongoing fitness assessments to remain on the job.
Lt. Greg Davis, the fitness wellness coordinator for the Texas Department of Public Safety, will discuss the importance of trooper fitness for on-the-job performance as part of a special program sponsored by the Sam Houston State University Department of Kinesiology and the College of Criminal Justice.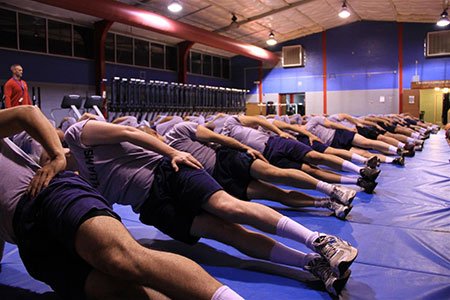 The presentation, "Law Enforcement Fitness and Performance," will begin at 2 p.m. on Oct. 8 in the Criminal Justice Center's Kerper Courtoom.
Davis handles the physical fitness development and assessment for recruits in the academy, as well as the implementation and fitness-for-duty standards among DPS personnel.
"The DPS family has enjoyed great success with our fitness program and sharing it with the rest of our state government family is an honor and privilege," Davis said.
Texas is the only state in the country that requires biannual physical fitness testing for its officers; other states, counties and local police have expressed an interest in adopting requirement that can assure that officers can handle the ongoing demands of the job.
The Texas Department of Public Safety Fitness Wellness Unit focuses on changing lives and preventing heart and obesity-related disease through training and education. The award-winning unit uses a holistic approach, educating personnel through physical fitness classes, nutrition education, sleep education, and resilience training.
The unit offers a six-week training program to prepare future fitness instructors in program management, basic training, basic anatomy and physiology, exercise leadership, injury prevention, strength training, physical fitness assessment, conditioning and functional training. In addition, the unit offers welcome seminars and fitness symposiums throughout the state.
Davis began his career in the U.S. Marine Corps as a military police officer.
Before joining DPS 14 years ago, he served as a federal police officer and instructor for the U.S. Department of Veterans Affairs Police and in the Attorney General's Office of Internal Security and Investigation. He also was a police officer and instructor at the University of Texas at Austin Police.
At DPS, he began as a trooper in the capital district and was a member of the Governor's Protective Detail before joining the fitness unit.
Davis also was a competitive athlete for 34 years, participating in domestic and international competitions in power lifting, biathlons, obstacle courses, track and field, wrestling, and Iron Cop and Tough Man competitions.
He also is pursuing a doctorate in health science, with a concentration of physical readiness testing and policy development.
- END -
This page maintained by SHSU's Communications Office:
Director of Content Communications: Emily Binetti
Communications Manager: Mikah Boyd
Telephone: 936.294.1837
Communications Specialist: Campbell Atkins
Telephone: 936.294.2638
Please send comments, corrections, news tips to Today@Sam.edu