Six Recognized For Distinguished Accomplishments, Service
Aug. 19, 2015
SHSU Media Contact: Jennifer Gauntt
Four SHSU alumni who have made names for themselves in business, the NFL and politics, and two alumni whose service to their alma mater and their communities is distinguished in itself, will be recognized during this year's homecoming festivities with the SHSU Distinguished Alumni and SHSU Service Awards.
Those who will be honored during dinner on Oct. 23 include Distinguished Alumni Carolyn Chipman Faulk, Stan Blinka and Cindy Marion; Outstanding Young Alumna Ashley Etienne Stephens; and Service Award recipients John Peltier and Alan Tinsley.
The gala will begin at 6 p.m. in the Lowman Student Center Ballroom with a cocktail reception followed at 7 p.m. with a dinner and program. Table sponsorships are available at three levels—$5,000, $2,500 and $1,500—and are requested by Aug. 28. Individual tickets are $100 per person, and the deadline to reserve a seat is Oct. 16.
For more information, contact the Office of Alumni Relations at 936.294.1841 or go online to alumni.shsu.edu.
Distinguished Alumni
Carolyn Chipman Faulk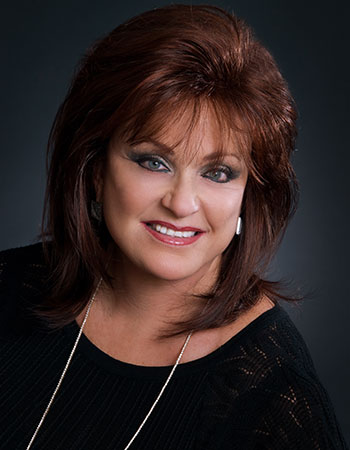 Plastic may bend and mold, but Carolyn Chipman Faulk's resolve to be a businesswoman with integrity has remained so inflexible that she has branded her company "a service business that just happens to sell plastic."
The 1970 recipient of a Bachelor of Business Administration degree established her A&C Plastics, Inc., in Houston, in 1973, with only a $5,000 investment and a "never give up" attitude.
This mentality has served Faulk well over the years and her hands-on involvement in every aspect of the company has led A&C to become an international resource in a predominantly "male" industry, as well as the single largest plastic distributor in the U.S., with locations in Texas, Colorado and Illinois. A&C Plastics has been recognized as a top 50 woman-owned business and as one of the fastest growing private companies in the country.
"She has been widely recognized as a businesswoman who competes with energy and determination, but always with fairness, in building a small plastics company into one of the largest and (most) respected distributors in the country," a nominator said.
She also now serves as president and CEO of Faulk Properties, LLC, and president of Marco Plastics.
Her work ethic has earned her accolades among Forbes magazine's "100 Most Powerful Women in Texas" (twice), a top 10 leader in Houston, one of the Houston Business Journal's "Women Who Mean Business," and "Entrepreneur of the Year" by Ernst & Young.
Faulk's devotion to service does not end at the doorway of her companies. She has spent more than 40 years working with the Houston Livestock Show and Rodeo, served on SHSU's alumni board for three years, served with the President's Circle and Athletics Advisory Council for four years, and is "always willing to support a worthy cause with her time, talent and treasures."
She also is a member of Second Baptist Church in Houston.
"The City of Houston and citizens throughout the state have benefited from Carolyn's leadership and contribution," a nominator said. "Carolyn has helped hundreds of young people reach college who would not otherwise have had the chance.
"Her Faulk Foundation (supporting children with devastating diseases and their families) touches lives in a powerful way, which helps open opportunities to many deserving people. She contributes time, energy and money to a wide variety of community activities, all of which are better because of her."
Faulk has two children, Katie and Brian, and four grandchildren.
Stan Blinka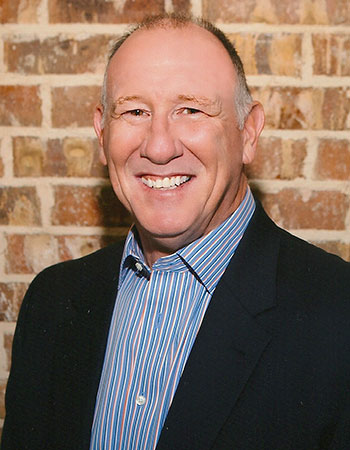 As an SHSU football linebacker, he defended Bearkat territory on Pritchett Field.
And though Stan Blinka left the football and track fields in 1979 for the field of Shea Stadium in New York, his legacy can still be found at Bowers Stadium, where he continues to "defend" his athletic records.
More than three decades after earning his Bachelor of Business Administration degree and his Master of Business Administration degree (1979 and 1984, respectively), Blinka still holds the Bearkat career records for the for most tackles in a game (24), season (211) and career (536). He is also the former school record holder in the discus.
The 1976-78 NAIA All-American in football and 1979 NAIA All-American in track was drafted by the New York Jets in 1979 and was the starting middle linebacker, leading the team in tackles for two years. He finished his football career with the Denver Gold in the USFL in 1985.
"Stan is truly an ambassador for Sam Houston," said one nominator. He is respected by all who deal with him, and he contributes to many of SHSU's causes."
Blinka now divides his time between his homes in Irwin, Pennsylvania, and Huntsville and frequently attends SHSU events. He is the owner of Interstate Batteries of Pittsburgh.
Blinka and his wife, Katherine Steele Blinka, a 1977 SHSU graduate, established the Blinka Family Scholarship, presented annually to the outstanding football scholar-athlete.
In the early 2000s, his son Clinton, following in his father's footsteps, lettered in track at SHSU. Clinton earned his bachelor's degree in 2005 and his master's degree in 2008.
"His activities have surely brought recognition on a national level to his alma mater," another nominator said. "Stan has always been proud to be a Bearkat and has continued to support Sam both monetarily and through his service to the university."
"Stan is, and always has been, a true Bearkat," another nominator said.
Cynthia "Cindy" Marion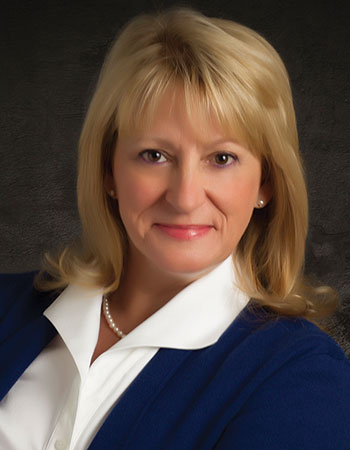 Houston marketing and advertising chief executive officer Cindy Marion may sell products and services to people around the globe through her award-winning MMI agency—which has been tapped nationally and internationally to create multi-million-dollar ad campaigns—but those who know her say Marion, herself, is a walking advertisement for integrity.
"I have personally seen her pay vendors, even when clients have not paid us, because she says she wants to be able to look them in the eye when she runs into them at the grocery store," one nominator said.
"Cindy not only possesses the rare combination of savvy, craft and ethics that professionals should aspire to, but she lives them every day," another said. "Through the years I've watched Cindy make tough decisions and continue to inspire her team to deliver excellence without compromise tot the strictest of business ethics."
Marion started MMI 29 years ago and has shepherded the company from a startup to Houston's third-largest marketing and advertising agency, with more than 85 employees housed in their own building on Pease St., near Toyota Center in Downtown Houston, and more than $20 million in revenue.
Among its clients have been MD Anderson Cancer Center, NRG and AIG, and the agency was responsible for the Greater Houston Partnership's "Houston: City with No Limits" campaign.
For her work, Marion won an Emmy award from the Academy of Television Arts and Sciences in 2008 for a national public service campaign produced for the National Military Family Association and the U.S. Family Health Plan. She also has twice been a finalist for the Gulf Coast E&Y "Entrepreneur of the Year" Award and has been recognized as a finalist three times in the NAWBO "Woman Business Owner of the Year."
MMI's marketing strategies and creative works also earned the firm 33 Addy Award wins this year from the Houston Advertising Association, including 12 Gold Awards.
Marion married her SHSU sweetheart, Don Marion, who also graduated with a bachelor's degree in radio, television and film. They have raised three daughters and focus their time, energy and resources on helping high school and college students, especially those who lack parental support and guidance.
"It's not enough to say that Cindy has grown a successful company. It simply doesn't do her justice. Her current and past employees and clients routinely seek out her council, which she tirelessly (and often thanklessly) provides," a nominator said. "They're better for it, as am I."
Outstanding Young Alumna
Ashley Etienne Stephens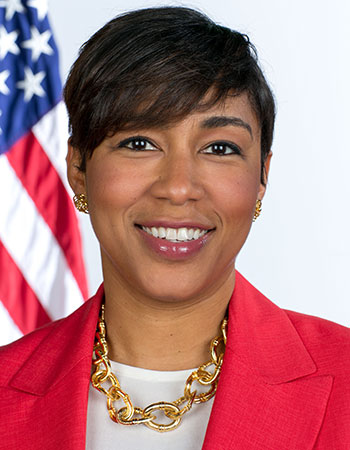 In an era in which any or all activities by a government official may be plagued with scandal or embarrassment, SHSU alumna Ashley Etienne Stephens has worked behind the scenes to manage the communications efforts on some of the country's most pressing public policy issues and national political campaigns for the nation's top elected officials.
Since 2014, Stephens has served as the special assistant to President Barack Obama and White House communications director for the cabinet.
In this role, she coordinates press operations and media outreach among the White House, federal agencies and departments and the people who run them, as well as keeping tabs on news stories or developments coming out of the departments that the White House might consider embarrassing or troublesome, according to Washington Post writer Ed O'Keefe.
Stephens, a 2000 SHSU graduate, is no stranger to the political realm. She previously served as deputy communications director and spokesperson for House Democratic Leader Nancy Pelosi (D.-Calif.), overseeing communications strategies on such topics as immigration reform, raising the minimum wage, and Pelosi's "When Women Succeed America Succeeds" policy initiative, created to draw attention to economic issues affecting women and families.
"She's been integral in the formulation and rollout of our women's economic agenda, regional strategy on immigration reform, and many other critical initiatives," Pelosi was quoted as saying about Stephens.
Before working for Pelosi, Stephens previously served as communications director for House Democrats on the oversight and government reform committee, led by ranking member Elijah Cummings (D-Md.) from 2011-2013. In that position, she was responsible for leading the communications response to congressional investigations targeting the administration on issues such as the September 2012 attacks at the U.S. diplomatic outpost in Benghazi, Libya, as well as on the ATF's botched gun-running operation "Fast and Furious."
Stephens also has served as a spokesperson for the Corporation for National and Community Service; in communications roles for Texas Congressman Al Green and former Congressmen Chris Bell and Ken Bentsen; and was a spokesperson in Virginia for President Obama in 2008.
At SHSU, she was the recipient of the Sammy Award for "Outstanding Sophomore Leader" and the McDermett Memorial Award for outstanding female senior. She also was the vice president for the Kappa Mu Chapter of Delta Sigma Theta sorority.
A Houston native, Stephens also earned her master's degree from Johns Hopkins University.
Service Awards
John Peltier
The founder, CEO and partner of Peltier Brothers Construction, John Peltier has made a name for himself as a builder of things that go well beyond the facilities his company creates.
Since the inception of his now multi-million-dollar organization in 1978, Peltier has constructed a reputation that incorporates integrity, humility, a strong work ethic, and, above all, service.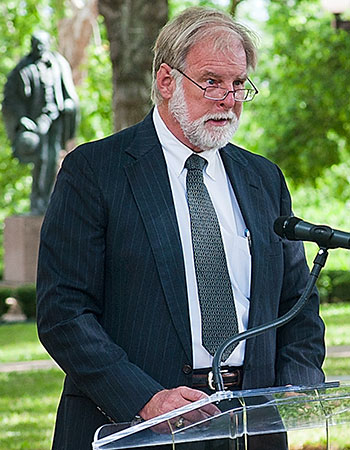 "John is the epitome of success in every aspect of his life, but he is a strong, unselfish and unassuming person, always working quietly behind the scenes, steadfastly doing things in selfless service to others," a nominator said. "He works very diligently to direct recognition of service to others, rather than himself."
Peltier's history of service began upon graduating high school, when he immediately enlisted in the military and served as a medic during the Vietnam War. Through the Medical Civil Action Program, he worked with a team that went to villages, schools, orphanages and refugee centers several times a week and provided medical and dental services to the Vietnamese civilian population living in rural areas.
As one of 12 siblings, he was able to utilize his GI Bill to attend SHSU, where, while working to obtain his bachelor's degree in 1972 in industrial technology and photography, he supplemented his income as a correctional officer with the Texas Department of Criminal Justice, while also serving as a member the Pi Kappa Alpha fraternity.
Since graduating, the attributes he developed in his strong Christian family have carried over into his service at SHSU as a supporter of Bearkats in Business and presiding over the 2012 memorial service of alumnus Fred Pirkle, as well as in his home in Tomball as a visible family and church leader.
In 1974, Peltier married his college sweetheart, Janie, to whom he points as his compass in negotiating life's many failures and successes.
Their involvement with TOMAGWA Healthcare Ministry, for example, has aided in the provision of quality health care and restoration dignity to uninsured, low-income families and individuals in the Tomball, Magnolia and Waller areas. His Grace Foundation also benefits the Texas Children's Hospital.
But Peltier's service extends beyond the boundaries of Greater Houston area, and even beyond the SHSU campus; his work has touched the lives of people around the globe.
"John's passion is best demonstrated by his dedicated hard work to demonstrate the love of God and take Christ to the poor, needy, and oppressed by serving alongside the poorest of the poor to drill water wells, build churches and homes, and provide for the care and education of children," another nominator said.
Alan Tinsley
In the trials and tribulations of life, 1971 graduate Alan L. Tinsley uses his expertise to advocate for those in need, while still maintaining a successful career.
Despite the busy life of an estate and probate attorney and CPA—at his firm Alan L. Tinsley, P.C., in Madisonville—Tinsley has not slowed down when it comes to serving others, according to a nominator.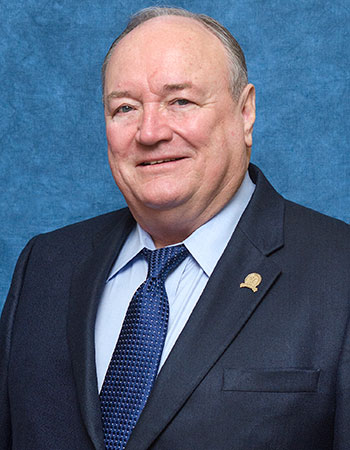 "Mr. Tinsley is compassionate, dedicated to purpose, loyal and selfless," his nominator said. "On numerous occasions, he places the needs and desires (of others) above his own."
This includes avid support of his fraternity, Sigma Chi, as well as the SHSU Alumni Board, President's Circle, Let's Talk, and the SHSU Athletic Advisory Board.
He devotes many hours mentoring SHSU students and provides thousands of dollars annually in financial support to future college students through the Madison, Leon, Walker and Houston Fair Associations.
In addition to volunteering as a commencement speaker at SHSU's summer 2014 ceremonies, Tinsley was recently named by Gov. Greg Abbott to the Texas State University System's Board of Regents, for which he currently serves as chair of the finance and audit committee.
He uses his legal knowledge to provide pro bono assistance to those who cannot afford representation. In his work with wounded veterans, he serves on the board of directors for the Wounded Warrior Banquet and as an advisory director for the Lone Survivor Foundation, working on myriad issues for those organizations. He also serves on the board of directors and as a member of the armed forces appreciation committee for the Houston Livestock Show and Rodeo.
"Alan Tinsley is making Sam Houston a better place. He continues to have a profound and meaningful effect on people's lives, whether a Bearkat or a person in need," a nominator said. "His love for SHSU and his civic engagements have no boundaries."
A graduate of the South Texas School of Law and Bates College of Law at the University of Houston, Tinsley's benevolence has not impeded his professional career; he was appointed by the Texas Board of Legal Specialization to the Exam Commission for Estate Planning and Probate Law, essentially grading exams of attorneys desiring to become board certified in that area of specialty.
"His character is of the highest order and he's been a great ambassador for the university," another nominator said. "He has given back to the university in every measurable way."
- END -
This page maintained by SHSU's Communications Office:
Director of Content Communications: Emily Binetti
Communications Manager: Mikah Boyd
Telephone: 936.294.1837
Communications Specialist: Campbell Atkins
Telephone: 936.294.2638
Please send comments, corrections, news tips to Today@Sam.edu