Study Identifies Partner Violence Victims Barriers
May 20, 2015
SHSU Media Contact: Beth Kuhles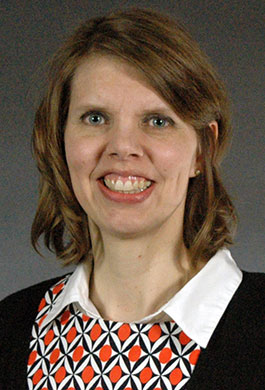 CVI assistant director Lisa Muftić served as lead author of the study.
Texas has a shortage of beds for survivors of intimate partner violence, and although alternatives may be offered, survivors may find themselves isolated from much-needed services, such as crisis intervention, legal advocacy, support groups, medical advocacy, individual counseling and others, according to a study by the Crime Victims' Institute at Sam Houston State University.
The shortage of bed space also affects how long survivors can remain in a shelter, with the average stays lasting from six to 50 days, according to "A Statewide Survey of Family Violence Shelter Directors in Texas," by CVI assistant director Lisa Muftić and Jonathan Grubb, a recent doctoral graduate from SHSU's Department of Criminal Justice and Criminology.
"IPV is considered a global social problem, significantly impacting the physical and mental health of survivors and their family members," Muftić said. "As a whole, this study provides an important step forward in recognizing the expansiveness of services to a variety of underserved populations, while also acknowledging that multiple barriers continue to limit survivors' utilization of shelter services."
The study was based on a survey of shelter directors across the state.
While the State Council on Family Violence identified 81, 24-hour emergency shelters in the state, the study was based on responses from 27 shelter directors who completed online surveys. According to directors surveyed, their shelters served between 20 and 1,633 survivors in 2013, with an average of 366 per facility, including an average of 186 children and 10 men.
Among those seeking shelter services, most were women, with more than one-third married to their abuser, more than one-third having sought prior assistance from the shelter, one-quarter having sought assistance from another shelter in the preceding 12 months, and one in 10 being pregnant at the time of intake. In addition, 4.7 percent were minors seeking shelter independently.
Of the shelters whose directors participated in the survey, all provided basic services in crisis management, legal advocacy, support groups, and community education and awareness; the majority also offered medical advocacy, individual counseling and other services.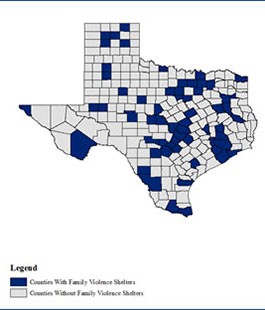 However, shelter directors identified three main barriers for survivors to access their services, including language, family issues and the lack of finances.
Directors indicated that many survivors remain in fear of their husbands or partners and future abuse, as well as concerns that their children will be taken away from them. Others don't have transportation, child care or money to be able to leave. Still others face citizenship issues, cannot speak English or fear deportation.
"Historically, survivors have been viewed as having a choice as to whether they leave or remain in an abusive relationship," said Muftić. "This dichotomy, however, downplays the many constraints survivors typically encounter when trying to leave a violent relationship and seek safety. A better awareness of these barriers is necessary to understand not only the non-use of shelter services, but how these services may be improved to increase access for survivors."
The CVI is a research and advocacy center that studies the impact of crime on victims, their relatives, and society as a whole. The institute evaluates the effectiveness victimization policy issues have on the criminal justice and juvenile justice systems and shares its finding with the Texas Legislature, agencies, and the public.
The latest report on intimate partner violence and family violence shelters, along with research on other victim issues, can be found at crimevictimsinstitute.org/publications.
- END -
This page maintained by SHSU's Communications Office:
Director of Content Communications: Emily Binetti
Communications Manager: Mikah Boyd
Telephone: 936.294.1837
Communications Specialist: Campbell Atkins
Telephone: 936.294.2638
Please send comments, corrections, news tips to Today@Sam.edu