Annual Festival To Feature Contemporary Music
April 1, 2015
SHSU Media Contact: Tammy Parrett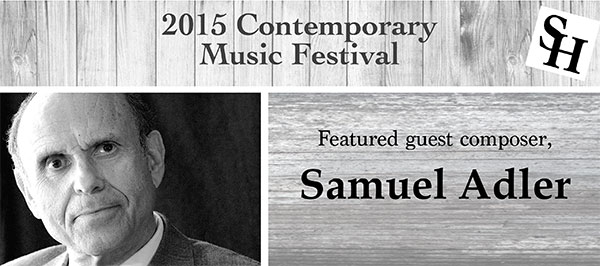 The SHSU School of Music will celebrate the creation and performance of new music with the 53rd annual Contemporary Music Festival April 9-11 in the Gaertner Performing Arts Center.
The festival will include a series of master classes and concerts featuring SHSU performers, as well as this year's featured composer Samuel Adler, professor emeritus from the Eastman School of Music.
Adler has composed more than 400 published works, including five operas, six symphonies, 12 concerti, nine string quartets, five oratorios and many other works and songs that have been performed all over the world. He was inducted into the American Academy of Arts and Letters in 2001, and the American Classical Music Hall of Fame in 2008.
"Samuel Adler is truly one of the most important figures of our time in the world of music composition," said Kyle Kindred, associate professor of theory and composition at SHSU. "He is known not just for his prowess as a musical artist, but a prolific teacher, having taught composition to Pulitzer Prize-winning composers and written one of the definitive modern texts on the subject of orchestration."
On Thursday (April 9) Adler will lead "Discussions of Orchestration with Samuel Adler" from 8-9:20 a.m. and "Potpourri: Performance, Pedagogy, and the Chamber Works of Samuel Adler" from 11 a.m. to 12:20 p.m. in the GPAC Recital Hall.
The student-led Old Main Brass Choir and the SHSU Horn Choir, led by Peggy DeMers, will present works by Adler as well as SHSU student and faculty composers, at 7:30 p.m. in the GPAC Concert Hall.
During the concert, the Phi Mu Alpha Fisher Tull Student Composition Award will be presented to one SHSU student composer, and the Texas Emerging Composers Competition will acknowledge the best and brightest high school composers from throughout the state of Texas, with a special performance of the first-prize winning composition.
Friday's activities will begin with "A Musical Conversation with Samuel Adler" at 9 a.m. in the GPAC Concert Hall. Professor of musicology Sheryl Murphy-Manley will moderate the discussion.
That evening, the SHSU Faculty Chamber Music Recital will feature faculty performers and composers in more intimate settings and will include works by Adler and SHSU faculty composers Joseph Patrick, Kyle Kindred and B.P. Herrington at 7:30 p.m. in the GPAC Concert Hall.
The SHSU Sinfonietta and professor of piano Ilonka Rus will also perform.
On Saturday, Adler will host a composition master class from 2:30-4:30 p.m. in Music Building Room 219.
The festival will wind down that evening with the SHSU Chorale, Orchestra, Symphonic Band, and Wind Ensemble Concert, featuring works by Adler, at 7:30 p.m. in the GPAC Concert Hall.
"This festival is a unique opportunity to experience firsthand Adler's insights about performance, music history, composition, orchestration, the creative process, and much more as he interacts with our faculty and students at SHSU," said Kindred. "His music fits a diverse array of styles, moods, and occasions and will no doubt challenge and delight our audiences. We are also humbled and excited to feature the compositions of SHSU faculty and student composers along-side performances of Adler's works."
All CMF events are open to the public and are free, with the exception of the Friday and Saturday evening performances. Tickets for these performances are $15 for adults; $12 for seniors; $12 for non-music faculty and staff; and $5 for students and children.
For more information, contact Kindred at 936.294.1377.
- END -
This page maintained by SHSU's Communications Office:
Associate Director, Communications: Emily Binetti
Telephone:936.294.4406
Communications Manager: Mikah Boyd
Telephone: 936.294.1837
Communications Writer: Campbell Atkins
Telephone: 936.294.2638
Thomason Building: Suite 102
Please send comments, corrections, news tips to Today@Sam.edu