Criminal Justice Establishes Goforth Scholarship
Sept. 21, 2015
SHSU Media Contact: Beth Kuhles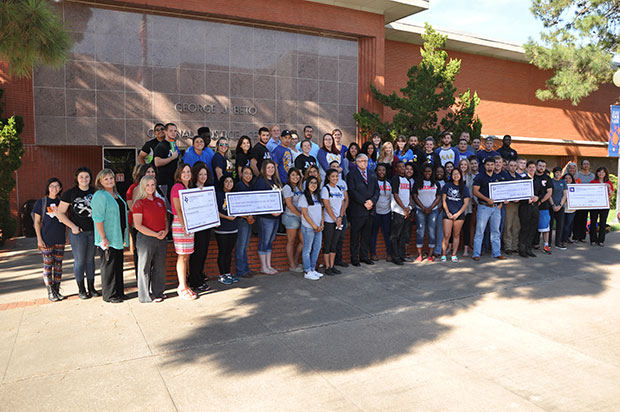 Student and professional groups within the College of Criminal Justice and Criminal Justice Center have established a scholarship in memory of Deputy Darren Goforth, who was killed in the line of duty in August.
Several groups of Sam Houston State University students, some of whose members will one day be wearing a badge themselves, have joined to establish a scholarship fund in memory of Deputy Darren Goforth of the Harris County Sheriff's Office, who was killed in the line of duty last month.
Student organizations within SHSU's College of Criminal Justice—with additional support from SHSU's Law Enforcement Management Institute of Texas and Correctional Management Institute of Texas—presented checks to the college on Sept. 14 for a scholarship that will help criminal justice majors at SHSU pursue careers in law enforcement.
"The death of Deputy Darren Goforth resounds deeply and painfully for criminal justice students at Sam Houston State University, as the misdeed occurred in our backyard to one of the brothers of our discipline," said Aaron Valadez, president of Lambda Alpha Epsilon, the largest criminal justice student organizations at SHSU.
"As students, we can honor the fallen by kindling an inextinguishable flame for their memory by assisting in the creation of a scholarship. We pray for Deputy Goforth's relatives, friends and department for healing and peace, and we hope that this flame will flare brightly in remembrance of our late heroes to illuminate the future for peace officers."
"This tragic loss of Deputy Darren Goforth through a senseless murder struck at the very heart of the criminal justice system," said Phillip Lyons, dean of the college and director of the Criminal Justice Center. "Through this scholarship, authorized by the Goforth family, Darren's legacy will live on in the good work done by future generations of law enforcement officers whose education will be supported in his name."
Acknowledging that the law enforcement community was particularly hard hit by Goforth's death, LEMIT and CMIT also contributed to he scholarship fund.
"Deputy Goforth is now known as a peace officer who dedicated his life to serving others," said Rita Watkins, executive director of LEMIT. "He is a reminder of the risks of the job, but it doesn't diminish the role of a peace oficer serving others. That is the legacy Deputy Goforth has given us."
Donations are being accepted in Deputy Goforth's name through the Division of University Advancement, Sam Houston State University, Box 2537, Bobby K. Marks Administration Building, Suite 120, Huntsville, Texas, 77341-2537. For more information, contact the office at 936.294.3625.
The College of Criminal Justice at Sam Houston State University is one of the oldest and largest programs in the United States, educating undergraduate and graduate students in pursuit of careers in law enforcement, corrections, victim services, forensic science and homeland security. In addition to its academic programs, the college hosts several professional institutes that advance research and practices in the field, including LEMIT, CMIT, the Police Research Center, the Crime Victims' Institute, and the Institute for Forensic Research, Training and Innovation. It has been recognized as a national leader for setting standards in criminal justice.
- END -
This page maintained by SHSU's Communications Office:
Director of Content Communications: Emily Binetti
Communications Manager: Mikah Boyd
Telephone: 936.294.1837
Communications Specialist: Campbell Atkins
Telephone: 936.294.2638
Please send comments, corrections, news tips to Today@Sam.edu