Texas Poet Laureate To Visit SHSU
Sept. 21, 2015
SHSU Media Contact: Tammy Parrett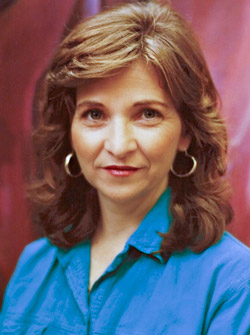 In honor of Hispanic Heritage Month, the SHSU Department of History is teaming up with the Department of English and the College of Humanities and Social Sciences dean's office to bring State of Texas poet laureate Carmen Tafolla to campus, to share a number of her poems and motivational messages.
Her first stop will be on Wednesday (Oct. 7) at 6 p.m. in The Woodlands Center Room 110.
Her presentation, entitled "Where Ink Does Not Show: The Voices, Lives and Legends of Latino Culture," will feature a combination of poems, dramatic performance characters, and motivational messages about being Latina in today's world, as well as a discussion on the benefit of a mestizo experience which blends and celebrates the best of different cultural roots in encounter.
The following day, she will visit the SHSU main campus for a repeat presentation at 11 a.m. in Academic Building IV Room 220.
"The Latino experience is often overlooked in East Texas despite the fact that Spanish has been spoken here for almost 500 years," said George Díaz, assistant professor of history. "Part of Hispanic Heritage Month's purpose is to highlight how we have helped shape the cultural landscape of the United States. This celebration and Tafolla's presentation isn't just a celebration of Mexican American identity; it's an opportunity to highlight the richness that is the multi-ethnic American experience."
Tafolla, a San Antonio native and former San Antonio poet laureate, is an internationally acclaimed Chicana writer and associate professor of education at the University of Texas at San Antonio. She graduated with a bachelor's degree in Spanish and French from Austin College in 1972 and a master's degree in education in 1973. She published her first collection of poetry, "Get Your Tortillas Together," in 1976.
She served as the poet laureate for San Antonio from 2012-14 and was appointed poet laureate for the State of Texas in 2015. As part of her position as state poet laureate, she hopes to "plant seeds" of poetry across Texas with her "Poet Trees" initiative, which is designed to bring poetic awareness to 20 K-12 institutions that have predominantly low-income student populations.
"This event provides the opportunity to hear a reading from one of the most renowned authors in Texas," said Díaz. "Tafolla's poetry reflects Mexican Americans' lives beautifully through her stories. Her poetry isn't about something far away; she writes about her home and growing up in Texas. It's a story many of us can relate to and will find familiar."
After Tafolla's performance, a reception will be held, where guests can enjoy refreshments and a book signing by Tafolla.
The first 10 students to arrive will receive a free copy of her book "This River Here: Poems of San Antonio."
For more information, contact the history department at 936.294.1475.
- END -
This page maintained by SHSU's Communications Office:
Director of Content Communications: Emily Binetti
Communications Manager: Mikah Boyd
Telephone: 936.294.1837
Communications Specialist: Campbell Atkins
Telephone: 936.294.2638
Please send comments, corrections, news tips to Today@Sam.edu