SHSU Update For Week Of Aug. 31
August 28, 2015
SHSU Media Contact: Tammy Parrett
SHSU To Receive National Award For 'Be The Match' Organization
Each semester, Sam Houston State University holds a four-day registry drive encouraging students and members of the community to step up and 'Be The Match' for those in need of bone marrow transplants. Since 2012, more than 2,500 new and committed donors have been added to the registry through SHSU.
This dedication to serving others, combined with the leadership and passion exuded by advisers and health services and promotion department faculty members Courtney Wallace and Susie Stone, has earned SHSU the 2015 Leadership Award from the National Marrow Donor Program.
The award is presented to an individual or group that demonstrated vision, guidance and initiation, resulting in significant achievements that advance the mission of the NMDP and Be The Match, according to Jeff Chell, CEO of the NMDP.
Wallace and Stone will receive the award Nov. 6 at the 2015 NMDP Be The Match Council Meeting in Minneapolis.
"Be The Match has been a great organization to be involved with," said Wallace. "Their mission is very honorable and the time we've put forth has been completely worthwhile. The accomplishments that have been made would not be possible without all the students and staff who volunteer their time and show such dedication to such a worthy cause."
Of the 2,500 donors who have been added to the list from SHSU, 42 members have come forward to complete confirmatory typing, four have donated Peripheral Blood Stem Cells and two donated bone marrow, according to Benita Davis, community engagement representative for the Gulf Coast Marrow Donor Program, who nominated SHSU for the award.
"We as a university are so pleased that our joint efforts benefit so many patients in need of bone marrow transplants," said Wallace.
For more information on Be The Match, contact Wallace at cnw008@shsu.edu.
'Still Summer' To Build Memory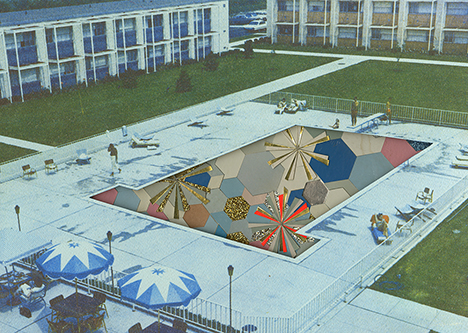 Houston artists Debra Barrera and Kelly O'Connor will showcase their recent work curated by Melissa Mednicov, assistant professor of art history at SHSU, in the exhibit "Still Summer," held from Thursday (Sept. 3) to Oct. 16 at the Gaddis Geeslin Gallery.
An opening reception also will be held Thursday from 6-7 p.m. at the Gaddis Geeslin Gallery.
"Still Summer" offers a range of works in video, installation and collage; each medium and individual work reminding us of the ways our own past and memories are continual sources of myth making.
"The works in the exhibition evoke a sense of memory, both of one's own part and a collective nostalgia, suggesting a shared past, perhaps a past that never existed," said Mednicov.
O'Connor's work emphasizes the role mass culture plays in building memory while Barerra's work considers personal memory as it relates to her childhood experiences involving sports.
"'Still Summer' is an opportunity for the SHSU and Huntsville community to see works by two artists who invite us to consider our own memory and history through their artworks," said Mednicov.
O'Connor will host an artist's talk on Thursday at 5 p.m. in Art Building E Room 108, and Barerra will host an artist's talk Sept. 29 in the same room.
The 3G is located at 1028 21st St., in Art Building F. The gallery is open from 10 a.m. to 5 p.m.
All events are free and open to the public.
'Jeans' Day To Recognize Genetic Disorder
In medical school, many aspiring doctors learn the saying, "when you hear hoof beats, think horses, not zebras," teaching them to focus on the likeliest possibilities when making a diagnosis, not the unusual ones.
Sometimes, however, physicians need to look for a zebra.
Primary Immunodeficiency patients are the zebras of the medical world, according to Yvette Shorten, program specialist for the Law Enforcement Management Institute of Texas at SHSU, whose sons, Deidrick, Wesley and Jerry were affected by primary immune deficiency diseases.
In an effort to teach the world about "zebras," while raising funds to help promote awareness of these diseases, SHSU's College of Criminal Justice and LEMIT will host a "Blue Jeans for Healthy Genes Day" on Wednesday (Sept. 16.)
In recognition of the day, participants are asked to donate $10 to the foundation and wear blue jeans. In honor of the "zebras," participants also are encouraged to wear their favorite zebra print top, cap, tie or scarf, along with their jeans.
Those who register before Sept. 16 will be invited to a reception that day, from 11 a.m. to 1 p.m. in LEMIT Building Room 102.
There are approximately 250,000 people in the United States diagnosed with a Primary Immune Deficiency Disease.
There are about 200 different PIDDs, which can take the forms of an absence of T-cells, B-cells, NK cells, thymus, tonsils or lymph nodes, all of which are needed to combat viruses and bacteria infections.
"Like 'the boy in the bubble,' David Vetter, my first born son, Deidrick, also lived his short but precious life a germ-free sterile environment due to SCID,'" Shorten said. "While not contagious, these diseases are caused by hereditary or genetic defects, and although some disorders present at birth or in early childhood, the disorders can affect anyone, regardless of age or gender. "
For their donation, participants also will receive a primary immune deficiency disease button pin and sticker, as well as a tax-deductible receipt.
For more information or to sign up for "Blue Jeans for Healthy Genes Day," contact Shorten at wys001@shsu.edu or 936.294.3851, and for more information on PIDD or the Primary Immune Deficiency Foundation, visit www.primaryimmune.org.
SHSU Recognized As Southern 'Best Bang For Buck' College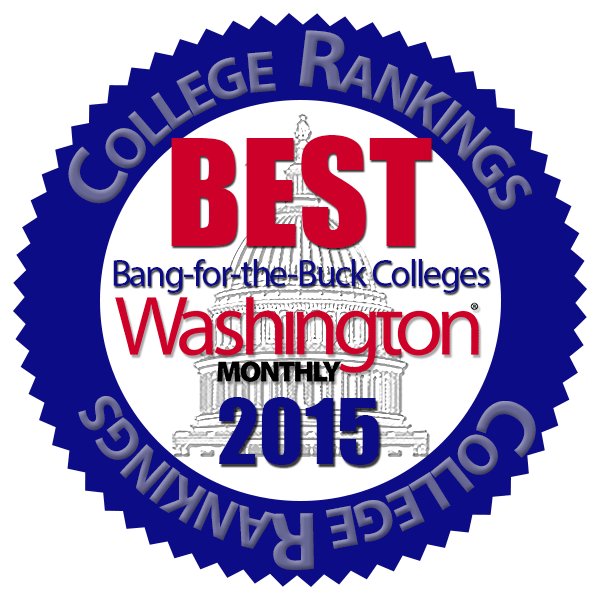 Sam Houston State University students are getting more than just a reasonably priced education; they're getting the "best bang for the buck," according to a new ranking released by Washington Monthly magazine.
The magazine's 2015 College Guide announced Monday (Aug. 24) that SHSU is the No. 8 university in its "Best Bang for the Buck Colleges in the South" category.
Washington Monthly's college rankings rate institutions based on three criteria: social mobility, research and civic engagement, as well as colleges that are doing the best job of helping non-wealthy students attain marketable degrees at affordable prices.
Among the magazine's other results include that 16 out of its listed top 20 institutions are public universities and that several schools that the U.S. News and World Report doesn't rank make Washington Monthly's top 30. Berea College in Kentucky was named the university that provides the "best bang for the buck" in the South, and two University of California schools top the national list.
SHSU previously was recognized as the most affordable online university in Texas, and the fourth most affordable in the nation by AffordableCollegesOnline.org.
Founded in 1969, Washington Monthly is a bimonthly nonprofit magazine covering politics, government, culture and the media.
The complete 2015 college rankings and feature stories can be found at washingtonmonthly.com/college_guide/rankings-2015/national-universities-rank.php.
SBDC Director Named 'State Star' For Gulf Coast Region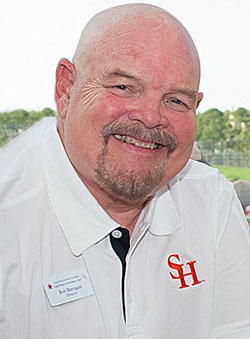 Bob Barragan has served as director of the SHSU Small Business Development Center since 1992, and this year, he will be recognized as the Texas Gulf Coast SBDC "State Star."
Barragan will be honored at the America's SBDC National Conference Sept. 8 in San Francisco. The ceremony will recognize State Stars representing each of the 63 SBDC networks across the country.
He was chosen as the 2015 Texas State Star by the University of Houston SBDC, regional headquarters for the Texas Gulf Coast, based on the center's outstanding performance in achieving the highest level of job creation within the region.
"I am extremely honored to be recognized as a state star," said Barragan. "I accept the honor on behalf of my staff, who made this program a success and were instrumental in my being selected for the award. This award verifies that we have a good formula for moving forward; it proves that we have the right talent and professional skills to assist those individuals determined to be successful entrepreneurs."
SHSU SBDC is a non-profit organization designed to advise small and medium sized business owners and managers through individual consultations and training seminars.
Alumni Association To Bus Fans To Piney Woods Game

The SHSU Alumni Association once again will go on the road with the Bearkats for the 90th "Battle of the Piney Woods," chartering a bus for football fans to travel to Houston.
The bus will depart from the Bowers Stadium parking lot at 10:30 a.m. on Oct. 3 and will return immediately following the game.
Once at NRG Stadium, participants will have the opportunity to participate in all the tailgating festivities. The Alumni Association will provide food for the first 1,000 fans to visit the alumni and university colleges tailgating area, which will be in the Blue Lot 18.
Bus seating is limited.
The cost is $30 per person, which does not include a game ticket. Reservations are requested by Sept. 30.
"There are many alumni and friends in Walker County and nearby who do not want to fight the traffic in Houston and the parking and crowds at NRG Stadium," said Charlie Vienne, director for Alumni Relations. "With the charter bus, the Alumni Association is providing another opportunity to our alumni to show there are advantages to staying connected to the university and being an active Alumni Association member.
"At only $30 per person for the round-trip bus ride, this is an economical opportunity to make it to the game and cheer on the Bearkats," he said.
Kickoff for the annual Sam Houston vs. Stephen F. Austin rivalry game is 3 p.m.
Every year, more fans should fill the lower bowl of NRG Stadium, a trend that is expected to continue.
Approximately 26,000 tickets are available starting at $15 in the lower bowl, and can be purchased online at gobearkats.com/tickets.
For more information, or to reserve a seat, call the Office of Alumni Relations at 936. 294.1841, or go online to alumni.shsu.edu.
Today@Sam Seeks Experts, Story Ideas
Are you an expert in a topic might be of interest to reporters? Or even a unique topic? Would you like to have your research interests highlighted or discuss your expertise with reporters seeking interviewees?
The university Communications Office is collecting information and story ideas for its ongoing projects, including the online SHSU Experts Guide, the SHSU home page and Today@Sam.
The SHSU Experts Guide was established as a resource for the media, who turn to university experts lists for potential interviewees for news stories. Faculty who are interested in being a part of the university's database of experts can submit their biographical and personal information, as well as their areas of expertise, through the Experts Guide Submission Form available online at shsu.edu/dept/marketing/experts/submit-info.html.
Other story ideas, both news and features on faculty or student research and accomplishments can be sent to today@sam.edu or jenniferg@shsu.edu. For news stories, please include the date, location and time of the event, as well as a brief description and a contact person.
All information, including news story ideas and update items for Today@Sam, should be sent a minimum of a week in advance of the event in order to make necessary contacts and write a story. Feature story ideas for the SHSU home page ("sliders") should be sent a minimum of two months in advance.
To see a full list of the Today@Sam submission guidelines, or to access submission forms for news and feature stories or hometown releases, visit shsu.edu/~pin_www/guidelines.html. For more information, call 936.294.1836.
- END -
This page maintained by SHSU's Communications Office:
Associate Director, Communications: Emily Binetti
Telephone:936.294.4406
Communications Manager: Mikah Boyd
Telephone: 936.294.1837
Communications Writer: Campbell Atkins
Telephone: 936.294.2638
Thomason Building: Suite 102
Please send comments, corrections, news tips to Today@Sam.edu