SHSU Update For Week Of April 5
April 5, 2015
SHSU Media Contact: Tammy Parrett
Public Relations Professional To Engage With Students
Roxann Neumann, a Houston-area public relations professional, will speak to students on Tuesday (April 7) at 4:30 p.m. in the Dan Rather Communications Building Room 319.
During the event, sponsored by Sam Houston State University's student-run public relations firm, Priority One, Neumann will share her experiences in the field and offer insight to mass communication students.
Neumann currently serves as the senior vice president of corporate affairs for Silver Eagle Distributors, Houston distributer of Anheuser-Busch products. In this role, she is responsible of public relations, internal and external communications, government affairs, media relations and more.
"Roxann Neumann has a breadth of professional experience in corporate, agency and special event PR that should provide most useful insights into the profession for our students," said Peter Roussel, her former business partner at Neumann Roussel Public Relations. Roussel is now a professor of public relations at SHSU and Phillip G. Warner Chair in the Department of Mass Communication.
The event is free and open to all SHSU students.
For more information, contact Priority One member Cody Lewis at 972.795.3077.
Fraternity To Host Cook-Off Benefit
Sam Houston State University's Kappa Alpha Order will host its inaugural BBQ Cook-Off on Saturday (April 11) at 4 p.m. on Bearkat Alley.
The event, benefitting the Muscular Dystrophy Association, will kick off with a charity walk around Bowers Stadium before the competition begins.
"This event is a great way to bring together SHSU and the community in support of an outstanding organization that helps fund research and helps people affected by muscular dystrophy," said Jason Dornak, KA president.
Contestants will be judged on three different dishes: brisket, ribs and chicken.
Judges for the event will include SHSU football head coach K.C. Keeler, Huntsville Mayor Mac Woodward, Huntsville Police Chief Kevin Lunsford, and assistant dean of students for Greek life Jerrell Sherman.
Teams can enter to compete for $50, and those who wish to attend can purchase tickets for $5, with all proceeds going to the MDA.
For more information, or to enter the contest, contact Dornak at jad050@shsu.edu.
'Terrorist's Son' To Discuss Experience, Peace
Two-time TED Talk speaker Zak Ebrahim will share his stories and experiences of growing up as the son of a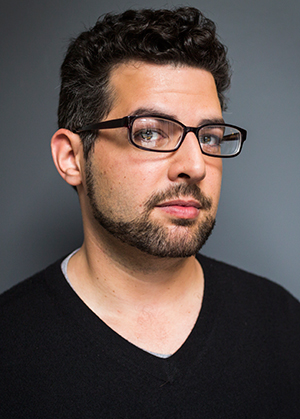 terrorist and the path he took in preaching the message of peace on Tuesday (April 7).
"The Terrorist's Son: My Path to Peace," a Sam Houston State University Global Center for Journalism and Democracy guest speaker series presentation, will begin at 5:30 p.m. in the Lowman Student Center Theater. The presentation will also be livestreamed to SHSU's The Woodlands Center Room 110.
On Nov. 5, 1990, Ebrahim's father assassinated Rabbi Meir Kahane, leader of the Jewish Defense League. Although initially acquitted of the murder, he was later convicted for his involvement in the 1993 bombing of the World Trade Center plot.
As an adult, Ebrahim realized the only way to overcome the challenges of his past was to help others understand that hatred only produces more hate, but belief in non-violence heals. Those cycles of violence, no matter how old, do not have to continue forever.
Ebrahim has written a book on his experiences, "The Terrorist's Son: A Story of Choice," which will be on sale during and after the lecture, and he will sign books for a limited time following the lecture.
For more information, visit shsu.edu/zak-ebrahim, email gcjd@shsu.edu, or call 936.294.2479.
Officer To Get 'Real' For Lecture Series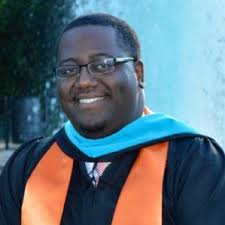 Alfred Bryant, supervisor with the Family Based Safety Services Program of Child Protective Services, will discuss his experiences with the program and provide tips on landing a job in the victim services field on Wednesday (April 8) from 2-3 p.m. as part of the College of Criminal Justice's Real Talk w/CJ series, in the Criminal Justice Center's Hazel B. Kerper Courtroom.
Bryant, who has spent his career in the field of victim services, oversees services to children and families with substantiated claims of abuse and neglect.
"We allow them to maximize their strengths and alleviate the risk of future harm to their children and families," he said.
Prior to joining the Family Based Safety Services Program, Bryant served in several different roles with the CPS agency, including the Centralized Placement Unit, Preparation for Adult Living, and the Conservatorship Program.
Admission to the program is free.
For more information, contact Beth Kuhles, publications officer for the College of Criminal Justice, at 936.294.4425.
Exhibit To Examine 'Vehement Beasts'
Senior art student Corinne Goyette will showcase her works in an exhibit titled "Vehement Beasts" from April 7-11. An opening reception will be held Thursday (April 9) from 6-8 p.m.
The exhibit, on display at the SHSU Satellite Gallery, uses creature illustrations and paintings to explore her personal response to her own negative emotions, according to Goyette.
"Like me, the creatures I've created want to escape the fear and frustration," she said. "However, they are unable to do anything but sit there, lurking in the emptiness that is their home. These monsters are a part of my being."
The SHSU Student Satellite Gallery is located at 1216 University Ave., in downtown Huntsville.
For more information on the exhibit, contact Goyette at ceg013@shsu.edu.
Dance Recital To Explore Range Of Styles
The SHSU Department of Dance will present "ROYGBIV: It's Good To See You Again," the Master of Fine Arts dance candidate spring choreography concert, on Thursday and Friday (April 9-10) in the Gaertner Performing Arts Center Dance Theater.
The concert is comprised of 11 new and original works choreographed by the graduate candidates and performed by undergraduate students, with styles ranging from experimental to contemporary dance.
"ROYGBIV" is an independently produced show hosted by the graduate students once a semester and provides candidates with an outlet to display their works for the community.
"'ROYGBIV' is a prime example of groundbreaking work that is occurring in the dance world, and it is exciting that it starts here in Huntsville through Sam Houston's graduate dance program," said Jaime Frugé, MFA dance candidate.
The show will feature collaborations with visiting assistant professor of dance David Deveau and adjunct professor Travis Prokop.
Many pieces performed in "Its Good To See You Again" are shaped from the current research of the graduate students, including new research and new explorations in choreography, dance and technology, the study of sleep, and politically inspired statements, according to Frugé.
"The evening always proves to be entertaining, exciting, and thought provoking, and the audience leaves with a new impression of dance and its place in our world," said Frugé.
Tickets are $12 for the public, $8 for students, and $7 for senior citizens and can be purchased through the GPAC Box Office at 936.294.2339.
For more information, call the dance department at 936.294.1875.
Senior Exhibit To Examine Family Tales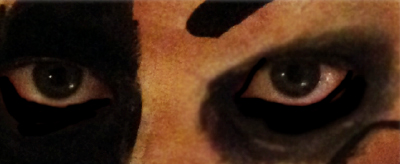 Art major Brittany Bennett will present the visualization of stories told to Bennett by her parents in her exhibition "Mystic Faces," on display Tuesday (April 7) in the SOFA Gallery.
An opening reception for the exhibit will be from 6-8 p.m. that day in the gallery, located in Art Building A at the Art complex. The artist will also speak about her work at 6:30 p.m.
Bennett's exhibit pulled inspiration from her family cultures, featuring the Cherokee and Celtic folk tales, expressing those tales through wood burnings, paintings, and photography.
Bennett focused on folk art throughout her college career and now as a senior at SHSU, presenting her final series before graduating.
The SOFA Gallery is open Monday through Friday from 8 a.m. to 5 p.m.
Students To Explore What 'We All Become'
The SHSU Student Satellite Gallery will host the work of two students in "we all become…," on display from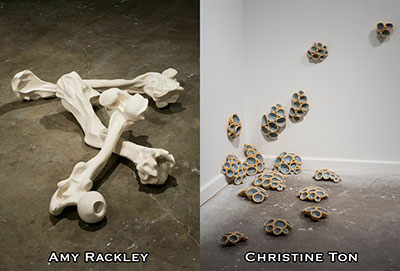 April 9-11. An opening reception will be held Thursday (April 9) from 6-8 p.m., with artist talks beginning at 6:30 p.m.
The exhibit will feature the works of senior art students Amy Rackley and Christene Ton, who explore ideas of what becomes of living things after they die.
Rackley's work consists of bones, while Ton's work focuses on fungus and bacteria. Both artists highlight the beauty of these unsung heroes, according to Ton.
The SHSU Student Satellite Gallery is located at 1216 University Ave., in downtown Huntsville.
For more information on the exhibit, contact Ton at tine1992@gmail.com.
Student Receives Prestigious Study Abroad Award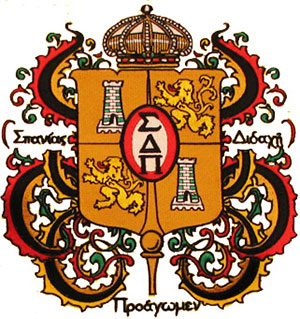 Claudia Ramirez, a member of the local Kappa Zeta chapter of Sigma Delta Pi, the National Collegiate Hispanic Honor Society, recently received a prestigious Sigma Delta Pi Undergraduate Award.
Ramirez, who currently serves as the treasurer of the local chapter of Sigma Delta Pi, will receive a stipend of $2,500 to study with the SHSU Spanish Field School in Santa Ana, Costa Rica, in June. She will take advanced Spanish courses with Debra Andrist, professor of Spanish at SHSU.
After her study abroad is complete, she will write an essay sharing her experiences with fellow members, to be published in Sigma Delta Pi's annual journal "Entre Nosotros."
Sigma Delta Pi has more than 368 active chapters in the U.S., with membership limited to students who have demonstrated high scholarship in general and excellence in the academic study of Spanish.
Submit Update Items Here
In order to assist members of the Sam Houston State University community in publicizing events, the SHSU Communications Office (Today@Sam) is now requesting that students, faculty and staff submit information about events, accomplishments or ideas for feature stories online.
Submission criteria and guidelines, including deadlines, have now been placed online, at shsu.edu/~pin_www/guidelines.html. This information is also accessible through the "Submissions" link in the right-hand navigation on Today@Sam.
From there, those submitting ideas can access forms that will allow them to provide detailed information about their idea, as well as attach event calendars, vitas/resumes or photos, depending on the type of submission.
Ideas submitted to the SHSU Communications Office are directly utilized in several ways: as news stories, "slider" or SHSU home page stories, hometown releases, and on the Today@Sam calendar.
If your submission qualifies for distribution, we will either contact you for more detailed information, or we will edit the information using SHSU/journalistic style and forward the final release to the appropriate media.
All information is verified before release, so please provide complete, accurate and timely information. Please type all responses in appropriate upper and lower cases.
For more information, contact the Communications Office at 936.294.1836 or today@sam.edu
- END -
This page maintained by SHSU's Communications Office:
Associate Director, Communications: Emily Binetti
Telephone:936.294.4406
Communications Manager: Mikah Boyd
Telephone: 936.294.1837
Communications Writer: Campbell Atkins
Telephone: 936.294.2638
Thomason Building: Suite 102
Please send comments, corrections, news tips to Today@Sam.edu