Junior Shares Insights On 'Assimilating' As Transfer
Aug. 4, 2015
SHSU Media Contact: Jennifer Gauntt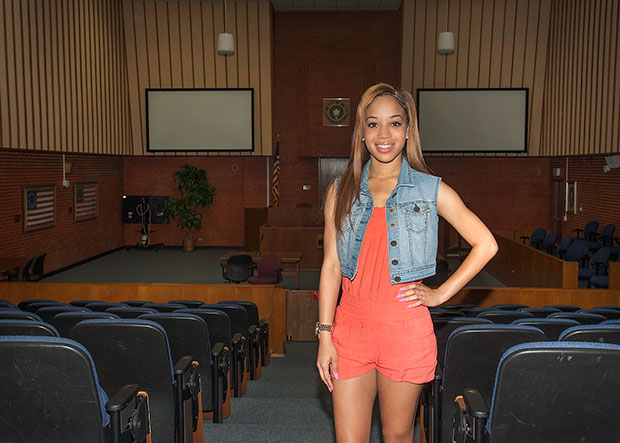 Criminal justice major Jasmyn Vallier got involved in activities both within her college as well as across campus, to help her feel more at home at SHSU after transferring in as a junior. She believes getting involved is the best way for other transfer students to acclimate to campus. —Photo by Brian Blalock
Editor's note: Every summer, students share some of their experiences and offer advice to SHSU's newest cohort of Bearkats. In addition to junior Jasmyn Vallier's insights on transferring from a junior college last fall (below), you can read other students' perspectives, including pre-nursing major Emmanuel Adebogun, here; accounting major Kaitlyn Tyra, here; and criminal justice major Trey Taylor, here.
Dear Newest (Transfer) Bearkats,
I came to Sam Houston State University last fall as a transfer student. I started off at a junior college in Houston, attending Wharton County Junior College for two years because it was very inexpensive compared to going straight to a four-year college. I also got a chance to work and stay at home while I attended junior college, so I saved up a lot of money. I wanted to attend SHSU because of the wonderful criminal justice program; the College of Criminal Justice is a top criminal justice school in the nation. SHSU also was close to home, which is very convenient because I get to visit family and close friends in Houston.
When I came to Sam Houston State University, I threw myself into campus life. In the fall, I got a chance to volunteer at the food pantry. The food pantry is an organization that provides food and drinks to students who may need extra assistance. While volunteering there, I got the chance to pack up the food and distribute it out to the students. It was a great experience, and it definitely showed me how it important it is to get involved on campus. In the spring, I immediately became a contestant in the Lady DuBois Scholarship Pageant, hosted by the Exceptional Men of The Talented Tenth, Inc. Being part of this experience allowed me to meet so many great individuals whom I call my pageant sisters.
Throughout the year, if there was something that I could do, I tried it. I pushed myself, and in doing so, I became friends with so many inspiring people here. I also made sure I talked to my professors and got involved within the college to create a more academic environment that would aid me in potential graduate school opportunities. Overall, I've learned so much about myself since I transferred here from Wharton County Junior College.
So if I can offer any advice to other transfer students, it's to get involved! Check your email and the calendar for upcoming events. Get a job! I found, through Jobs for Kats, an on-campus position that has helped me learn new people and skills. Talk to your adviser and professors! Everyone should do their best while in school and enjoying an active social life with friends and creating memories will make your time here more meaningful.
There were a few challenges I faced once I got to SHSU; I did not know many people and I had to learn my way around campus and town on my own, but by putting myself out there and taking advantage of the many opportunities available here, the transition was much, much easier.
If there is anything this first year had taught me, it is to stay focused and to never give up. I love being a Bearkat because it was my dream and now my life.
Eat'em up, Kats!
Jasymn Vallier
- END -
This page maintained by SHSU's Communications Office:
Associate Director, Communications: Emily Binetti
Telephone: 936.294.1836; Fax: 936.294.1834
Communications Manager: Wes Hamilton
Telephone: 936.294.1837; FAX: 936.294.1834
Communications Writer: Hannah Haney
Telephone: 936.294.2638; FAX: 936.294.1834
Thomason Building: Suite 102
Please send comments, corrections, news tips to Today@Sam.edu
---