Mass Communication
,
Bachelor of Arts
Available: On Campus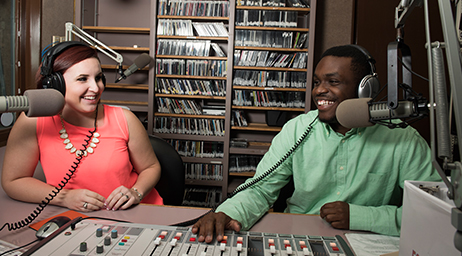 The Bachelor of Arts in mass communication (MCOM) offers emphases in multi-platform journalism, broadcast production, film production, and public relations and advertising. The department also offers a Bachelor of Fine Arts degree in film and TV production*. Graduates can enter a variety of fields, including but not limited to video production, print and television news, broadcast and cable sales, media management, advertising, digital media production, promotions/public relations, and corporate media. In addition, students may supplement their degrees with educational requirements that allow them to become certified media-specialists in public school systems with a concentration in mass communication teaching.
Internships
Junior- and senior-level students who meet requirements may enroll in semester-long professional internships. MCOM students have interned at national media outlets, regional media outlets, and at specialized institutional sites such as the Texas State Senate.
Requirements
Students in mass communication should select a specialized area of free electives compatible with their professional goals by discussing their career plans with an advisor. For example, electives in management and marketing are desirable for public relations & advertising. History, English, foreign languages, art, theatre, sociology, and other social sciences and fine arts are helpful to all emphases. Students with a multi-platform journalism emphasis could benefit from free electives in political science or history.
All students in the mass communication program will complete a departmental four-course core that provides a foundation for success in a variety of media fields. All majors and minors must earn a grade of 'C' or better in each mass communication course and successfully pass the departmental required competency writing and production tests.
Careers in Mass Communication
Mass media
Public relations firms
Corporate communication programs
Non-profit agencies
High schools
Program Breakdown
Brief breakdown of the type, or types, of degree(s) available, their length, available enrollment, and estimated cost.

| Category | Degree Summary |
| --- | --- |
| Catalog Entry | |
| Length | 120 Credit Hours |
| Enrollment | Fall and Spring |
| Tuition/Costs | Rates Per Semester |
View the Mass Communication BA brochure (.pdf)
Undergraduate Application Deadlines
Fall: August 1
Spring: December 15
Summer: May 15