Education
,
Bachelor of Science
Available: On Campus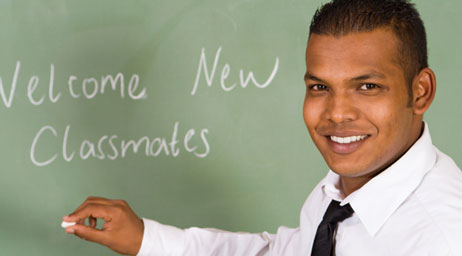 Founded as Sam Houston Normal Institute in 1879, Sam Houston State University was the first teacher preparation program in Texas.
The BS in Education offers ideal class sizes and personal attention from a highly qualified faculty.
Locations
The Education degree is offered at the main campus in Huntsville and many classes are offered at The Woodlands Center.
Careers in Education
Teacher
Principal
Administrator
Coach
Superintendent
Professors
Or continue your education with a graduate degree.
Coursework
The first step to becoming a teacher is deciding which grade level you want to teach as this will determine your degree plan.
Students interested in teaching elementary school; Early Childhood – 6th grade (EC-6); will major in Education and minor in EC-6 Core, Special Education (EC – 12), or Bilingual-Spanish (EC – 6).
Students interested in teaching grades 4 - 8 will major in Education and will minor in the preferred teaching field; Science, Mathematics, Social Studies, English Language Arts, or Core (Generalist)..
Students interested in teaching grades 7-12 will double major in Education and their preferred subject (content area); Mathematics, Science Composite, English Language Arts, History, Journalism, Spanish, Kinesiology (P.E.) or Agriculture.
Students who plan to teach Music, Theatre or Art will pursue a BFA degree with Teacher Certification (see an academic advisor for details).
All students are required to participate in field experiences in public schools.
Program Breakdown
Undergraduate Application Deadlines
Fall: August 1
Spring: December 1
Summer: May 15