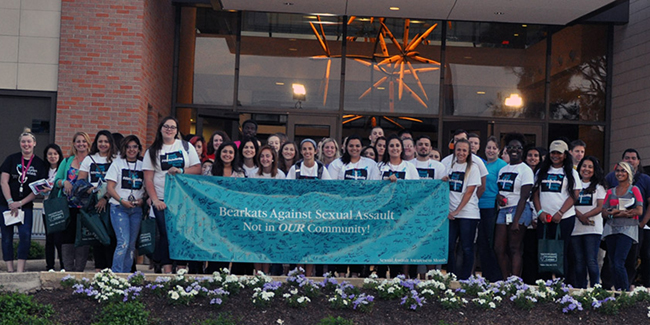 By Alicia Canchola
SHSU kicked off Sexual Assault Awareness month with an evening of entertainment, information and activism. Ignite the Night, held at the Gaertner Performing Arts Center on Tuesday April 5th attracted more than 130 Bearkats. The evening got started with a moving presentation from University Police officer Keith Underwood, who told attendees about his first encounter with a sexual assault survivor.
The audience also heard from representatives from the SAAFE House, and the Montgomery County Women's Center which both provide support for survivors of sexual assault. Nicole Rogers, who runs the SHSU student health center spoke to students about services the center can provide to victims.
The night was dedicated to stopping sexual assault, and supporting survivors. Toward that end, the nationally known CoMeTry presented an evening of comedy, and performance poetry. The Houston based NobleMotion dance troupe performed two numbers; Trust and a small place. Both pieces were inspired by the issue of sexual assault. Attendees were also entertained by the Austin based, award winning percussion group Rattletree.
"It was a neat integration of the purpose, victims and abuse", said Angela Knittle, a sophomore victim studies student.
The night wrapped up with a march across Huntsville in support of sexual assault survivors to the county courthouse. Many who participated also donated items for the SAAFE House and the Montgomery County Women's Center. As many as 1 in 5 women, and 1 in 16 men are sexually assaulted while attending a college or University.
Both Walker County and the city of Huntsville participated in proclaiming April Sexual Assault Awareness Month at the end of March. Under the direction of the Global Center for Journalism and Democracy, more than 25 campus and community organizations joined together to raise awareness about the issue. This years theme, "Start By Believing", focuses on changing the way we respond to survivors.
"It's something that needs to be participated in…we need to bring more awareness", said Sarah Reyes, a senior english major.
---
Global Center for Journalism and Democracy
Dan Rather Communications Building, Room 201, Huntsville, TX 77340
Phone: (936) 294-4399