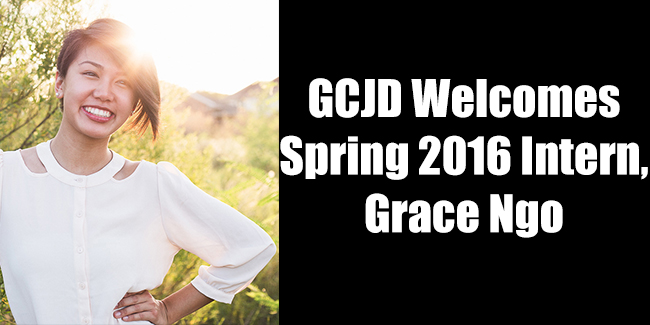 GCJD welcomes Grace Ngo, who has been chosen as the Spring 2016 intern. Interns play a vital role at GCJD and are engaged in many aspects of center business.
Grace is a Mass Communication major with a minor in Middle Eastern Studies. She is socially conscious and is dedicated to serving the community through her involvement with the Girl Scouts of America and Active Minds. She is the treasurer of the Arabic Language and Culture Club, an Honors College Ambassador, and an Alternative Spring Break leader.
Last year, Grace was a part of GCJD's Academic Community Engagement workshop and was so pleased with the center's positive impact that she returned as a GCJD intern. She believes that the Global Center "raises her awareness of the world to a whole new level", keeping her informed about issues on a national and global scale. Grace intends to refine her skills as a "journalist and a citizen of the world". "It makes me proud to be part of an outstanding organization that truly cares", she says.
---
Global Center for Journalism and Democracy
Dan Rather Communications Building, Room 201, Huntsville, TX 77340