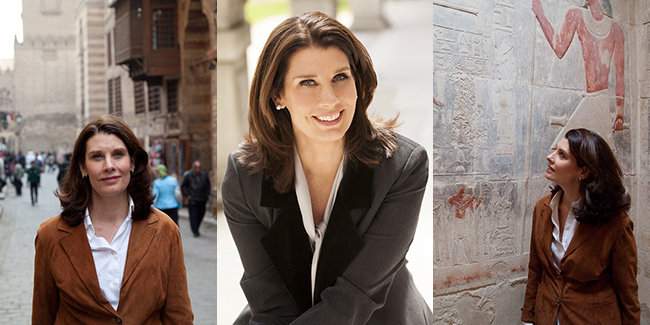 By Connor Hyde
More people tuned in to hear Jon Stewart's opinion on the Syrian conflict than tuned into any traditional news show, according to Nielson ratings.
In fact, studies have shown Stewart has been ranked among the most respected news anchors and journalists in the United States, sitting with Dan Rather, Tom Brokaw and Anderson Cooper.
But Stewart is not a journalist. He's a comedian.
Cue the journalism outrage. Except that not all journalists think this is a bad thing.
Kitty Pilgrim, former CNN anchor turned author is among them. She'll be speaking at the Global Center for Journalism and Democracy this fall.
Pilgrim argues news as entertainment can be just as effective at informing the public as any other venue.
The author of "The Explorer's Code" and the "The Stolen Chalice," Pilgrim has made a similar journey. She spent 24 years at CNN tackling hard news. But now, she educates readers through romance novels.
"We're in a really interesting transition right now because a lot of our information is coming through an entertainment product," Pilgrim said. "The human capacity for curiosity continues, and people will self-select how they get their information; and I don't think that's a problem."
Pilgrim goes into the field much as she did as a reporter. She asks tough questions and turns to experts when accuracy counts. For example, she interviewed world health experts to find out how they would respond to a biochemical attack.
"I put it in a thriller plot line, and it's the same information [that would be in a news package,]" she said. "Now if people learn all of that in a thriller or in a news package what's the difference?"
Pilgrim said despite the decline of traditional news viewers, there are so many other ways to remain informed, and that's the key.
"I think news as entertainment, and entertainment as news has the same number of eyeballs looking at information sources, but the same number of people are going somewhere else to find out what's going on in the world," she said. "I think you can find something to suit your taste."
During her final year at CNN, Pilgrim said the "The Explorer's Code" was conceived during her subway trips home from work. After seven months, the initial manuscript was completed when she sent her copy to book agent Morton Janklow.
"I told him 'tell me if it's garbage or not,'" she said. "He said "I think you should quit your job at CNN and start your career as a novelist."
Since her departure from CNN in 2009, Pilgrim has since published two fact based fiction novels centering on the exploits of a world famous archaeologist and his love interest who is an oceanographer.
NEWS CAREER
Pilgrim launched her career with CNN in 1986 after seeing the news network in the U.S. Embassy cafeteria in Belgium. She returned to New York and "banged on the door until they would talk to me and demanded a job."
After landing a job as a production assistant, Pilgrim worked her way up the ladder to become a news correspondent. She also filled in as an anchor on the award winning show Moneyline.
The Columbia University graduate said through her journey with CNN, the newsroom's culture helped mold her writing and editorial style.
"When you worked with people you worked with the entire organization," she said. "You didn't work with Lou Dobbs or Wolf Blitzer or Larry King. You worked with the entire organization."
Pilgrim won an Emmy, Peabody, DuPont and Overseas Press Award as well as others during her time at CNN.
Pilgrim will visit Sam Houston State University to deliver her presentation on October 22 at the Gaertner Performing Arts Center in Huntsville.
---
Global Center for Journalism and Democracy
Dan Rather Communications Building, Room 201, Huntsville, TX 77340
Phone: (936) 294-4399