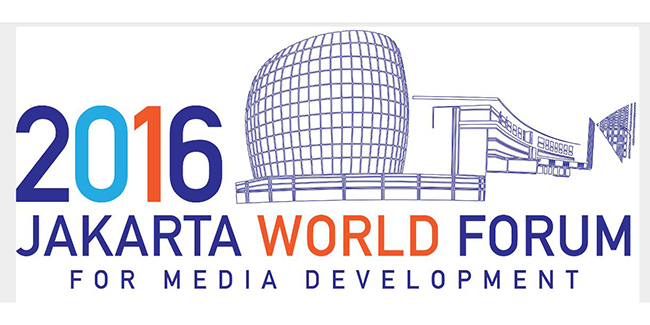 The news industry is rapidly transforming, as digital technology redefines the field. For organizations like GCJD that promote independent media, the changes offer exciting opportunities to help professional journalists, students, and civil society to deliver accurate and relevant information to the public.
In late September, GCJD's executive director, Kelli Arena participated in the the Global Forum for Media Development (GFMD) World Forum for Media Development. It provided an opportunity for GCJD and other entities to share best practices, new technology and research to help find solutions for challenges and to explore ideas to enhance news coverage and access of information. The conference was held in Jakarta, Indonesia and hosted journalists, academics, development and media specialists from around the globe.
Arena moderated a panel devoted to how millennials are forcing change in both content production and consumption that was live streamed by CNN Indonesia.
SHSU's Dr. Robin Johnson led a workshop on video games for story telling. The session explored how character representations in video games negotiate gender norms, social mores and a continuously evolving digital media landscape.
GFMD is an international membership network of media assistance groups that share a common goal; to foster free, professional and pluralistic media, leading to more open societies, greater transparency and enhanced freedom of expression.
---
Global Center for Journalism and Democracy
Dan Rather Communications Building, Room 201, Huntsville, TX 77340
Phone: (936) 294-4399