The GCJD Academic Community Engagement Class hosted a series of events to raise awareness about immigration issues. This project was branded #ImmigrationNation. All events were hosted in the LSC Mall starting on October 22nd and went through November 11th. The events lead up to November 17th with GCJD guest speaker, Sonia Nazario, an author and Pulitzer Prize Winner.
The events kicked off with the game Two Truths & A Lie. Students were asked a series of questions and had to determine the truths from the lies about immigration facts.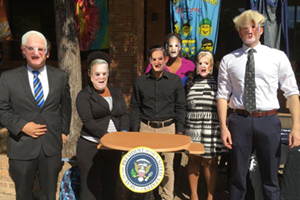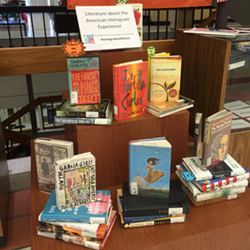 Next, students hosted Candidate's Corner in which the top 6 "presidential hopefuls" discussed their plans for immigration reform.
There was also a book display in the Library of featured immigration books that students recommended.
To spark engagement, the GCJD class hosted a demonstration. SHSU students were asked to break the stereotypes commonly given to immigrants. Students replaced a negative labels with more positive words.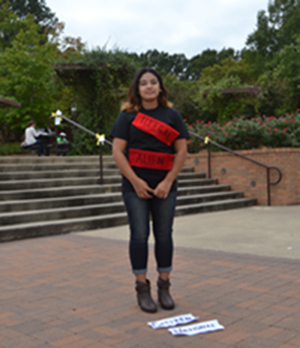 The events wrapped up with an international coffee tasting when students had the opportunity to sample coffee brought from immigrants all around the world.
In addition, GCJD invited students to submit their stories about their personal immigration experience. The Houstonian featured a special section for these stories in their November 11th edition. Check out the articles below (PDF).
A Word From GCJD: Why Cover Immigration? by Kelli Arena
Those Who Built This Nation by Jose Medina
My Upstream Journey by Khoi Nguyen
I am an Immigrant: My Journey to Texas by Luis Gaitan
The Two Sides of the Table by Jesse Starkey
---
Global Center for Journalism and Democracy
Dan Rather Communications Building, Room 201, Huntsville, TX 77340
Phone: (936) 294-4399