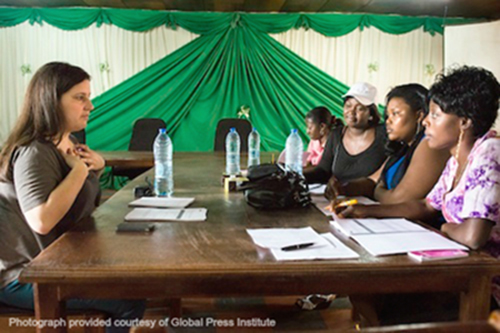 Cristi Hegranes, the founder and Director of the Global Press Institute met with Mass Communication students and faculty to discuss women in the media, the importance of diversity in story telling and her efforts to provide news coverage from under covered regions.
The Global Press Institute is an award-winning organization that teaches and empowers women in developing worlds to produce high-quality news coverage and to generate social and global awareness to help create a positive change. GPI has trained and employed 159 journalists across 26 developing countries, including Guatemala, Cameroon, India, Democratic Republic of Congo, Mexico and Sri Lanka.
Hegranes founded GPI in 2006 to provide a new venue for international journalists, to correct the gender disparity in the media, and to show a more complex view of developing countries in media coverage. Hegranes has received a number of awards for her work with GPI, including the Grinnell College Young Innovator for Social Justice Prize, the Jefferson Award for Public Service along with many others. "Her time with us was inspiring and very informative. I never thought about journalism as a development tool before. It really makes a lot of sense. I am even more satisfied with the profession I've chosen after listening to her", said SHSU Mass Communications major Jacqueline Garcia.
Hegranes was also a keynote speaker for SHSU¹s second annual Global Education Issues Conference. She discussed the role of journalism in community education and democracy building around the world.
Global Education Issues Conference>>
---
Global Center for Journalism and Democracy
Dan Rather Communications Building, Room 201, Huntsville, TX 77340
Phone: (936) 294-4399