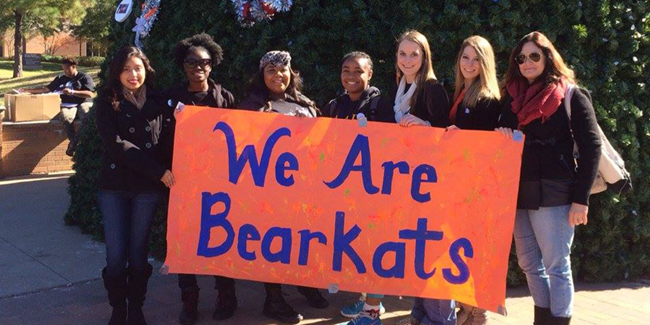 Students this semester were focused on tolerance and unity. The Global Media Communications class spent much of the semester working on the issue of immigration. In cooperation with the Bearkat Common Reader program, students spent many hours trying to educate and inform their fellow Bearkats about immigrants, and immigration policy.
Students engaged the larger Huntsville community by writing articles about their personal journeys for GCJD's website and the Houstonian. They also put together a social media campaign, and hosted a presentation by Sonia Nazario, the author of the book Enrique's Journey, which was open to the public.
"It felt great to be involved and to raise awareness about such an important issue. It was especially important to share accurate information with the SHSU community because there is so much bad information out there," said senior Jacqueline Garcia.
Members of the Academic Community Engagement class were also inspired to launch a new campus event; Hands Across Sam. Students, staff,faculty, and community members all gathered on the SHSU mall to join hands in support of racial tolerance and unity on campus as they were entertained by a student saxophone ensemble led by Professor Masahito Sujihara. SHSU senior Teashia Harrison summed up the semester, "We need to keep discussing important issues, even if they make us uncomfortable".
---
Global Center for Journalism and Democracy
Dan Rather Communications Building, Room 201, Huntsville, TX 77340
Phone: (936) 294-4399