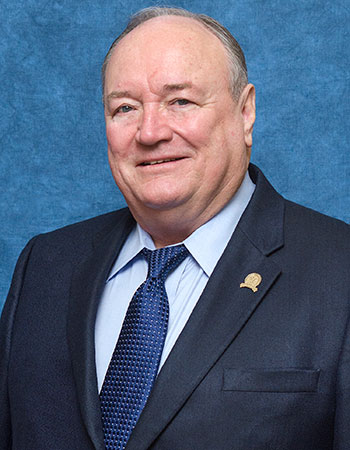 Alan Tinsley '72
Alan Tinsley
In the trials and tribulations of life, 1971 graduate Alan L. Tinsley uses his expertise to advocate for those in need, while still maintaining a successful career.
Despite the busy life of an estate and probate attorney and CPA—at his firm Alan L. Tinsley, P.C., in Madisonville—Tinsley has not slowed down when it comes to serving others, according to a nominator.
"Mr. Tinsley is compassionate, dedicated to purpose, loyal and selfless," his nominator said. "On numerous occasions, he places the needs and desires (of others) above his own."
This includes avid support of his fraternity, Sigma Chi, as well as the SHSU Alumni Board, President's Circle, Let's Talk, and the SHSU Athletic Advisory Board.
He devotes many hours mentoring SHSU students and provides thousands of dollars annually in financial support to future college students through the Madison, Leon, Walker and Houston Fair Associations.
In addition to volunteering as a commencement speaker at SHSU's summer 2014 ceremonies, Tinsley was recently named by Gov. Greg Abbott to the Texas State University System's Board of Regents, for which he currently serves as chair of the finance and audit committee.
He uses his legal knowledge to provide pro bono assistance to those who cannot afford representation. In his work with wounded veterans, he serves on the board of directors for the Wounded Warrior Banquet and as an advisory director for the Lone Survivor Foundation, working on myriad issues for those organizations. He also serves on the board of directors and as a member of the armed forces appreciation committee for the Houston Livestock Show and Rodeo.
"Alan Tinsley is making Sam Houston a better place. He continues to have a profound and meaningful effect on people's lives, whether a Bearkat or a person in need," a nominator said. "His love for SHSU and his civic engagements have no boundaries."
A graduate of the South Texas School of Law and Bates College of Law at the University of Houston, Tinsley's benevolence has not impeded his professional career; he was appointed by the Texas Board of Legal Specialization to the Exam Commission for Estate Planning and Probate Law, essentially grading exams of attorneys desiring to become board certified in that area of specialty.
"His character is of the highest order and he's been a great ambassador for the university," another nominator said. "He has given back to the university in every measurable way."