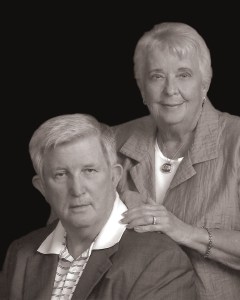 2014 Service Award Recipients
Jon and Barbara, both members of the class of '61, are often the ones "behind the scenes" of some of Sam Houston State University's most recognizable activities.
They were active in their Seabrook community when they were raising their children, and they've been active with SHSU since their return to Huntsville 20 years ago.
From furnishing meals for the football players after each home game to throwing parties in their back yard to celebrate the recipients of SHSU alumni awards through the years, the Brights have earned the reputation of being the best Bearkat hosts around.
A teacher before her retirement, Barbara also served on the City of El Lago council. Since living in Huntsville, she has served on the Children's Protective Services board and volunteers with the Boys & Girls Club. She also served 10 years as secretary of the SHSU Alumni Association board, as well as on the association's scholarship, golf, awards, and gala committees.
During the work week, Jon spends time servicing his financial advising clients but on weekends, he can be found feeding approximately 150 football players following home games at Bowers Stadium.
In addition, the Brights are active members of First United Methodist Church in Huntsville, where they served as a mentoring couple for Warren Methodist Chapel in Walker County.
"'The measure of a Life is its Service,' is not only the motto of our grand old university, but exemplifies the lives of Jon and Barbara Bright," said Susan S. Lenamon, '73, 2013 Alumni Association president. "They were active college students and that has continued, particularly with SHSU activities. The bottom line is Jon and Barbara are pure orange."