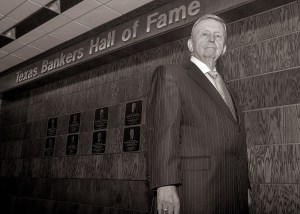 2014 Service Award Recipient
Did you know that James B. "Jim" Bexley, chair holder of the Smith-Hutson Endowed Chair of Banking and professor of finance at SHSU, has a passion for cruising the open roads in a finely-crafted, high-performance car? And whether he is behind the wheel, lecturing in the classroom, or sitting at the boardroom table, Jim is "driven" to help others.
His deep roots in the banking and financial institutions industry honed his understanding of the importance of service and the tremendous impact it can have on individuals, businesses, and communities alike. With more than 40 years in senior management positions, he now applies his considerable experience and knowledge in the classroom, educating new generations of service-oriented banking professionals.
Jim developed a banking curriculum at Sam Houston State that now includes the only four-year accredited BBA degree in banking and financial institutions in the United States and an accredited, web-based MBA degree, also in banking and financial institutions. He teaches banking courses and directs an internship program that produces approximately 40 banking interns each semester.
During his tenure at the university, he also served on the board of directors for the Federal Reserve Bank for the 11th District in Dallas and served the Fed District as chairman of the audit committee and as a member of the executive committee.
Jim has been active on campus helping to lead and promote the annual faculty-staff campaign that raises hundreds of thousands of dollars each year with an approximately 80% participation rate. As the faculty athletics representative, he has been very generous with his time and support of the program and SHSU student-athletes.
"With his leadership, Sam Houston State has the nation's only accredited banking degree, which is highly regarded throughout the state and nation. Through his service on the board for the Federal Reserve Bank, 11th District, and international consulting activities, he has helped others while elevating the stature of our university," said Frank Holmes, vice president for University Advancement at SHSU.
The community, university and students have benefited from his focus, abundant energy and commitment to serving others.