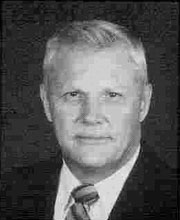 Maurice Carl Cook serves as Senior Ranger Captain for the Texas Rangers, a division of the Texas Department of Public Safety. The Texas Rangers are the oldest law enforcement agency with a statewide jurisdiction on the North American continent. In recent history, only three other people have held the Senior Captain's position.
Cook replaced former Senior Captain H.R. "Lefty" Block in 1992. For the past 25 years, Cook has worked in various positions within the Rangers.
He worked as a Ranger in Houston, San Augustine, Livingston and Midland before becoming Senior Captain.
Before he joined the Texas Rangers, Cook worked for six years in other areas of the Department of Public Safety, including as a criminal intelligence agent and a highway patrolmen.
Prior to his service in the Department of Public Safety, Cook was a member of the U.S. Air Force, serving as an air policeman in South Vietnam.
Cook received his Bachelor of Science in law enforcement and police science from Sam Houston State University in 1975. He went on to earn his master of arts in political science in 1978, from Stephen F. Austin State University.
After completing his education at the university, Cook went on to graduate from the FBI National Academy and the Police Staff and Command School at Northwestern Traffic Institute, held at Northwestern University. He was simultaneously working his way up the ranks of the Department of Public Safety.
While at Northwestern University, Cook received the Franklin M. Kreml Leadership Award.
Cook, a LaPorte native, now resides in Round Rock with his wife, April Robbins Cook, and 21-year-old son Marcus Ray. His other son, Maurice Carl Cook, Jr., is 25 years old and lives in Austin.
As profiled at October 29, 1993 Distinguished Alumni Banquet