Larry Loizer Jr. (BFA '08)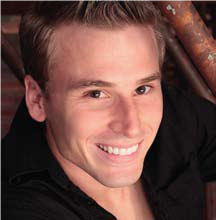 After hearing about SHSU's nationally renowned musical theatre program, Larry Lozier came to the university and earned a degree in musical theatre with a minor in dance.
Following his graduation, he became a featured dancer and singer/actor in "Cool Vibrations," a Matt Davenport Production for Sea World San Antonio. He then signed a contract as a specialty production dancer with Celebrity Cruise Lines. In addition to dancing, he performed aerial harness routines and trained in silks and trapeze.
"As part of the contract, I was able to visit destinations throughout the Mediterranean Sea, such as Egypt, Italy, France, Portugal, France, Spain, Turkey and Greece, as well as several Caribbean islands," Lozier said.
Once the contract with the cruise line was complete, Lozier came back to the states and performed in two productions at Theatre by the Sea in Matunuck, R.I.—"A chorus Line" and "Hello Dolly" with Tony Award winning actress Cady Huffman.
Lozier then returned to Texas and performed in "Joseph and the Amazing Technicolor Dreamcoat," directed by Fosse's
Josh Rhodes. "Soon after my time in Texas, a dream of mine came to fruition, as I was cast in the longest and only touring Broadway
production of 'Cats,' the musical," Lozier said. "Working alongside original Broadway company members in this historic musical, I've toured all over the United States and Canada and have performed in prestigious venues, including the Hobby Center as the featured character Skimbleshanks, the railway cat." Last summer, he again returned to Texas and performed in the Theatre Under the Stars' production of "Urban Cowboy," which helped him achieve eligibility to join the actors union Actors Equity Association.
Lozier recently relocated to New York City and is under contract with the only currently running tour of "Cats." "I'm a swing, covering nine diverse roles, and have been given the opportunity to recreate the role of Coricopat," he said. "I'm also serving as the assistant dance captain and assistant stage manager." "Cats" is celebrating its 30th anniversary this year, making it the longest-running national tour in American history. After the tour is completed, Lozier plans to return to New York City and work toward his dream of being cast on Broadway.
An avid sports fan, he enjoys following soccer and volleyball in addition to developing his interest in photography, movies, and traveling.