Jerry Prosise (BBA '79)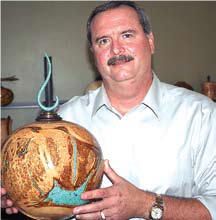 Jerry Prosise came to Sam Houston State University as a student because "I received a full scholarship to play football, plus Sam had a reputation for being a fun school that still had an emphasis on academics." He moved to Tennessee in 1981, where he married his wife, Kathy. They now have four children. He has worked as the vice president of a major financial services company, chief operating officer for a mid-size
manufacturing company, and is now vice president of sales and marketing for a division of Wyndham Worldwide. "My first job was in the management training program at the former Joske's of Houston, and I got that job through the career placement office at Sam Houston," he said.
In addition to his career as a business executive, Prosise is also an accomplished Tennessee woodturner. He has been awarded two educational scholarships and the "People's Choice" award at two Tennessee Association of Woodturners symposiums. "I began my fascination with woodworking in general more than 30 years ago and became proficient in building simply designed furniture and utilitarian objects," he said. "Only within the last 10 years have I become addicted to artistic woodturning." For Prosise, creating his woodturned art
is a great escape. "When I stand at my lathe with a 50-pound hunk of freshly cut wood whirling around at great speed, I am able to transcend into a creative state that allows me to concentrate on nothing but the raw 'canvas' that has been
placed before me," he said.
Prosise's work is displayed in art galleries, and he offers his services to demonstrate at local woodturning clubs and various organizations, as well as private mentoring.