Jayne Simmons Edison (BAT '78)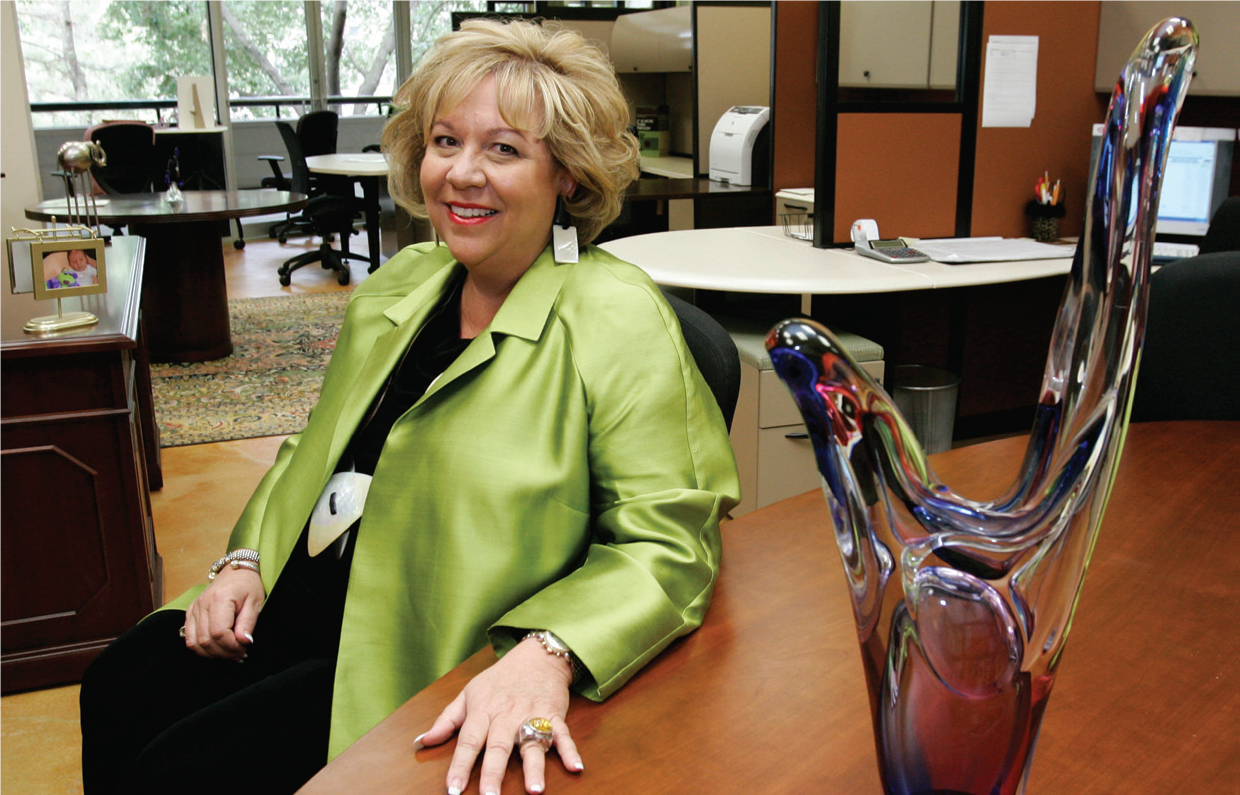 Jayne Simmons Edison is the president and CEO of OFI-Office Furniture Innovations, LLC, a Houston-based, full-service office furniture dealership.
While a student at SHSU, Edison managed the Spanish Keys apartments. She, along with her roommates Lori Harkins McGinnis and Melinda Hilliard Hammond, also worked at Waterwood Country Club.
"We considered ourselves 'rich' college students because we could each make as much as $500 working on the weekends," she said. Today, all three women are still close, with McGinnis and Hammond now working with Edison at OFI.
The week after she graduated from SHSU, Edison began working at Spring Branch Driving school. After two years, she switched to a career in sales.
Office Depot recruited her in 1996 to develop their commercial office furniture division. While there, she worked for two years on a bid for the Harris County Criminal Justice Center but at the last minute Office Depot decided not to submit because the margin was too small.
"I had worked so hard and it was very discouraging," she said. One of the vendors, The Lowe Group, encouraged her to bid on the job herself.
"I was recently divorced, had just moved my ill mother into my home to take care of her, and was flat broke," she said.
The Lowe Group agreed to loan her $15,000, Sterling Bank loaned her $15,000, and she mortgaged her house for a total of $75,000. With the help of the architect PGAL, Edison convinced the HCCJC group that she could do the job and save them money. OFI saved the taxpayers over $250,000.
"I won the bid and OFI was born," she said. "I have never looked back and it has been the greatest gift I have ever received."
The highlight of her career has been outfitting the Federal Reserve Bank on Allen Parkway in Houston and working with architect/designer Michael Graves. Graves, identified as one of "The New York Five" in the architectural world, has become a household name with his designs for domestic products sold at Target stores.
OFI has outfitted some of the most prestigious buildings in the Houston Metro area including the African American Library, Stewart Title, Aker Solutions, Harris County Criminal, Civil and Juvenile Justice Centers, and the Galveston Justice Center.
This year, she closed a project with Marek Brothers Construction, which will take her to her lifelong goal of being a $25-$30 million company.
The Houston Business Journal recognized OFI as the "Fastest Growing Woman-Owned Business" in 2006 and the seventh "Largest Office Furniture Dealership" in Houston in 2007. The National Association of Women Business Owners named Edison their "Business Woman of the Year" in 2010. The West Houston Chamber of Commerce gave the Star Award to OFI in 2012. Known for her philanthropic endeavors; Edison chairs several events a year raising money for such organizations as Dress for Success, the Bridge Over Troubled Waters, and the Pink Ribbons Project benefitting breast cancer research.