Charles Ellison (BS '59)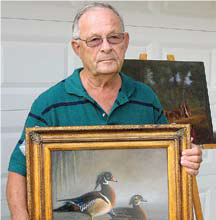 Although Charles Ellison was a Photoengraving major and Photography minor at Sam Houston State, he spent some of his time as a musician playing in Trinity for rush parties and at Press Capades—an all-college talent show held at Old Main. Following his graduation, he worked for Knight Publishing in Charlotte, N.C., before joining his father in construction, building houses and boat docks.
The retail business caught his attention, and he opened and ran Ellison's Western Wear in Franklin, Texas for 30 years. During that time, he also opened and operated an ad specialty company, which had exclusive rights to soft goods with the Texas High School Rodeo finals, Louisiana High School finals, Texas Youth Rodeo Association, Working Cowboy finals, and others.
He now works with his company, Ellison Marine, which builds stationary and floating fishing piers in five states. While working professionally, he continued his interest in music. "I started playing music when I was 16 years old," he said. "When I moved back to Franklin, I started playing again in 1966 at the New Baden Jamboree that my daddy, Hardy Ellison, started in 1954. It's still operating today on the first Saturday night of every month. We were playing for dances in all the honky tonks in Texas by 1970," he said. "I went to Nashville and recorded in 1973. Johnny Gimble and his recording group were the musicians. This promoted our business some, and we landed jobs in all the larger places and played with several stars including Mel Street, Johnny Rodriguez, Freddy Hart, Cal Smith and Bill Mack. We also shared stages with Hank Thompson, Willie Nelson, Jack Green, Jeannie Sealy, Darrel McCall, George Chambers, and more."
Ellison has been interviewed for a book entitled "Texas Dance Halls" that is scheduled to be released in 2013. He got out of the music business in 1981 but still sings occasionally at special events. In 2000, Ellison began painting oils and is now in many larger art shows in Texas and Louisiana. His story and his paintings can be found at www.texas-artists.net. As well as being an artist, musician, and businessman, Ellison has served as the mayor of Franklin for 27 years. He and his wife, Shirley, have a daughter, Jennifer, who also attended SHSU.