Carol Roach (MFA '98)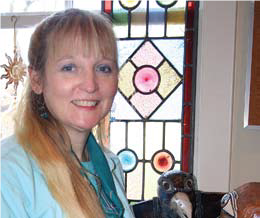 Carol Roach's unique and diverse creative talent is matched by her love of teaching individuals how to express themselves through art. Throughout her life's journey, which has literally taken her around the globe, she has shared her artistic passion, both as an artist and a teacher. An Iowa native and 1981 graduate of University of Iowa with a Bachelor of Fine Arts degree in metal smithing, she began her career in Houston as a fabric store manager. Her love of fabrics, talent and experience would help her grow to the level of district manager. She received her Master of Fine Arts degree in watercolors from Sam Houston State University in 1998. Before and since receiving this degree, her career as artist and teacher has enlightened many around the world. In addition to living in several states in the U.S., she, her husband and two children have lived in England, Norway and Singapore. In each place she lived, Roach absorbed the culture and shared her creativity with children and adults not only through teaching but also art exhibits and theatrical set design and creation. In recent years she lived in the Dallas area and was active in the community through the United Way and painting murals around the metroplex. She held showings at the Art & Clay Art Studio on the Barton in Grapevine and continued her love of teaching with both adult and children's art classes.
In late 2009, Roach and her family moved to the Heights neighborhood in Houston, known for art galleries, historic architecture and eclectic shops. "I hope to very quickly re-establish my art career—this time with both old and new friends in Houston," Roach said.