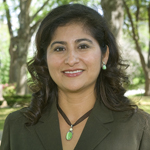 When Consuelo Malecek was a little girl playing in the rain forests of Belize, she assumed that she would follow the established pattern of other young girls in the area.
In a culture where education for girls was considered optional, she thought she would go to school until she was 12 or 13, get married around the age or 14, and begin a family. It was what her mother and grandmother had done, and what most of her classmates planned to do as well.
As the second oldest in a family with 13 children, she would sometimes miss school for a couple of months in order to help care for her siblings.
However, her outlook on education changed when her fourth grade teacher found a way to spark her interest.
"There was a garden outside the classroom," Consuelo said. "I took a special interest in tending the garden, and my teacher gave me a little certificate that said that my garden was the best. It inspired me to become an agriculture science teacher.
Although, the desire was there, obtaining her dream of becoming a teacher seemed impossible.
Loading the player ...
Rural students in Belize must leave home to attend high school, much in the way that American students leave home to attend college. They pay to go to high school as well.
"My father was greatly opposed to me going," she said. "He believed that by keeping me home, he was protecting me."
Also, her older brother was already attending the high school, and her parents had no money for another child to go.
However, the principal, who had been Consuelo's fourth grade teacher, was finally able to convince her father to at least allow her to take the entrance exam. She made the second highest score, which made her eligible for federal grants and scholarships to cover her books, fees, uniform and boarding.
The grants and scholarships she received allowed Consuelo the opportunity to go high school, but she still had to be extremely frugal.
"I had two uniforms that I wore the entire four years I attended," she said. "My mom preserved them and gave them to me 20 years later. They are so transparent after all the washing and wearing. But they are among my greatest treasures now, because they remind me of the time I was in high school."
Consuelo excelled as a student, and her desire for more education led her, as a junior, to apply for every scholarship she could find in Central America, England, the United States, Honduras and Costa Rica.
She qualified for a Fulbright International Scholarship, and she was identified as a student who would be good to learn leadership skills that would impact Belize. With her scholarship award, she had the opportunity to meet with recruiters from several universities who were interested in attracting bright students.
One of the recruiters was from Kirkwood Community College in Iowa.
"I didn't know the difference between a two-year college and a four-year college," she said. "I was recruited by four-year universities—one was the University of California, Berkeley—but the recruiter from Kirkwood showed me something I could relate to. He showed me brochures with pictures of corn, beans and pigs. Now that was something I understood."
Although she could have attended a more prestigious university, Consuelo says that she is very grateful for ending up at a small Midwest community college.
"Given my background, I needed that kind of environment in order to thrive," she said.
Even so, the experience was a tremendous culture shock for her.
"I did not appreciate the snow," she said. "I would walk to class with wet hair and arrive with icicles dangling. Fortunately, someone introduced me to a blow dryer and told me to dry my hair before going out into the frigid weather."
Leaves falling from trees in autumn also frightened her.
"I had grown up in a rain forest where leaves stay attached to their limbs," she said. "I asked my host family in Iowa, 'Can you assure me that the leaves will come back?' which they did, of course. Even then, I would peel the bark off the tree trunks to make sure it was surviving."
While attending school, she met her future husband, Mark. Today, they are the parents of two sons.
Two years after she arrived at Kirkwood Community College, Consuelo graduated with an associate's degree in farm and ranch technology, food science technology, and beef production. She returned to Belize and taught science and Spanish at her old high school.
She was now aware of opportunities for advanced education, so she began looking at schools where she could get a bachelor's degree. She found one, again in the Midwest, that was known for its agricultural science program. In 1995, she graduated from Southern Illinois University with a bachelor's degree in agricultural science education.
"Once I graduated, I realized there was not a great need for ag science teachers, but there was a tremendous need for bilingual education teachers," she said.
She began teaching migrant students in southern Illinois, most of whom were from Texas. She conducted summer programs and worked with parents in the migrant camps, teaching adult education and literacy classes. She found it rewarding to work with adults and to develop partnerships with parents for their children's education.
In 1999, the Ministers of Rural Development of Education in Belize contacted Consuelo and Mark about helping with a project.
The Maleceks moved to Belize and served as members of a task force for the establishment of a new school which became known as the Julian Cho Technical High School was built. The Maleceks taught there from two years before returning to Iowa.
"At that time, teachers were being laid off in Iowa. But in Texas, bilingual and technical education teachers were being recruited," she said.
She and Mark were both offered jobs at Kings Manor Elementary and White Oak Middle School in the New Caney I.S.D. and moved to Texas in 2002.
While working as a bilingual/ESL teacher, Consuelo's principal, Gloria Hammack, told her about Sam Houston State University's Project TRIAD (Teachers and Administrators Improving Reading for Limited English Proficient Students). Beverly Irby, who was chair of the Educational Leadership and Counseling Department at that time and is now the associate dean for graduate programs, and Genevieve Brown, dean of the College of Education, created the project.
The program included research-based reading instruction action research, curriculum alignment and development, mentoring, and parent assistance in reading through class time, and face-to-face and distance education. Participants were to conduct action research in their classrooms and collect data for improving English as a Second Language programs on their campuses.
The teachers who were involved not only had access to grants, stipends and workshops, but also were able to receive 12 hours of credit toward a master's degree in instructional leadership.
"I wasn't sure about taking it on," Consuelo said. "I had never contemplated the idea of getting a master's degree. I was happy being a teacher. And I wondered if I could really do everything that was required."
Her principal, who was also her mentor, encouraged her, telling her that she could be a great administrator. When Consuelo discovered she could complete most of her coursework online, she made the decision to "jump in."
"It was a wonderful arrangement. I could work and still be with my family, tuck my boys in bed every night, and do my classwork on my own schedule," she said.
She became a member of the first cohort for the online Master of Education in Instructional Leadership degree and graduated in May 2006.
"I really enjoyed working with my cohort and I appreciated how well we supported each other, " she said. "Not all of our classes were online, so we were together on several occasions. We also attended and participated in conferences together, and we did a lot of our work on projects face-to-face.
"All my professors knew me and were interested in my success," she said. "They advised me and supported me through my action research."
The action research involved establishing a parent center at her school in New Caney. Not only did she obtain funding for the center, she coordinated volunteers to help with conversational English classes. She then began meeting with parents.
Her research on the correlations between student achievement and parental involvement won first place in SHSU's Graduate Symposium that year.
The September after she graduated from Sam Houston with her master's degree, she was hired by Region VI Education Service Center as a bilingual/ESL specialist. In 2010, she was named project director for the 21st Century After-School Program in the Adult Education Department.
Today, she oversees after school programs for 130 parents and 350 students in five Huntsville schools and one school in New Waverly, which address academics, enrichment, career readiness and family engagement. She also coordinates adult education ESL/GED programs in Polk, Trinity and San Jacinto Counties.
"I'm very grateful for what Sam Houston State University did for me, " she said. "I wanted to continue my schooling, but with a career in adult education. Sam Houston has given me the opportunity to do that.
"SHSU opened doors for me, because I would never have known about a career with Region VI had I not attended and participated in conferences as a graduate student," she said. "It's a wonderful university, and it has been like a home to me. I hope to be connected to it for a lifetime."