Grand Opening Next Week!
Please see the great article by Wes Hamilton in Today@Sam for all of the details of our January 15 Grand Opening!
Updates about Your Living Room
As you walk by the facility, you may notice that the exterior of the building is almost finished--we should see outside completion within a couple of weeks. Also, all mechanical, electrical, and plumbing (MEP) is finished. The LSC staff is very excited that we can see the end in sight!
July 1 Updates
New entrance for Your Living Room coming soon. Here is the Phase 2 Architectural Rendering. We think it looks great!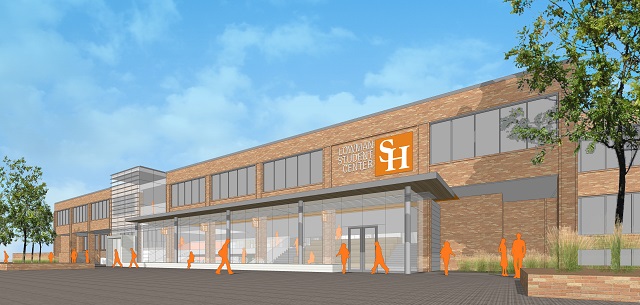 Here are a few updated photos of the Kat Klub Bowling Alley, the Atrium, the Orange Ballroom, and large conference room.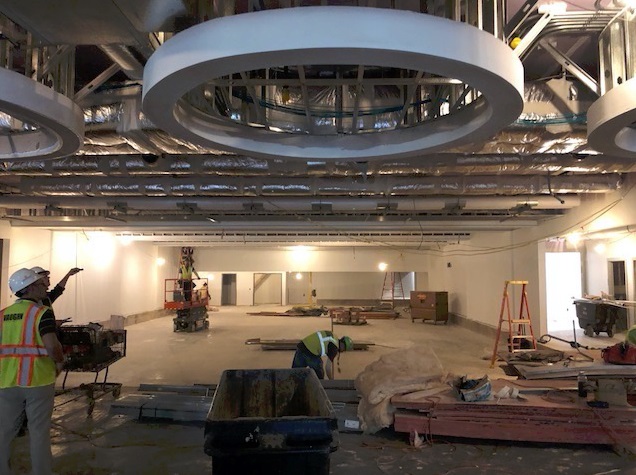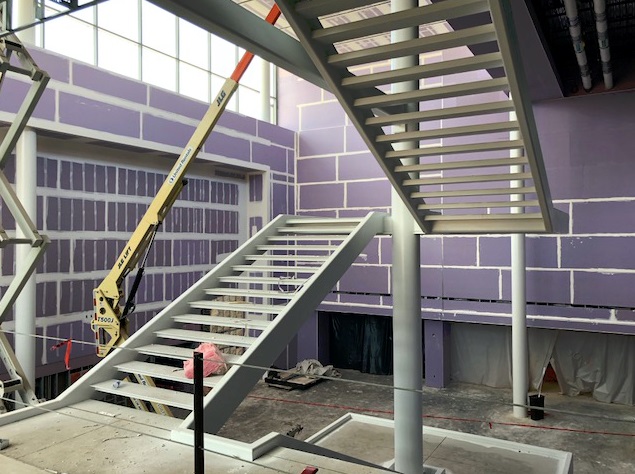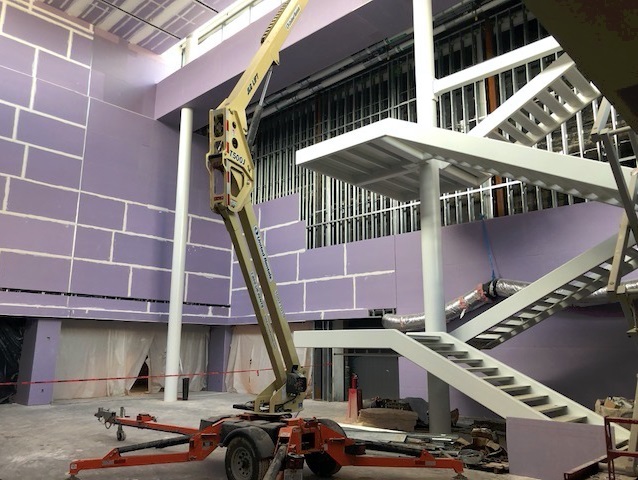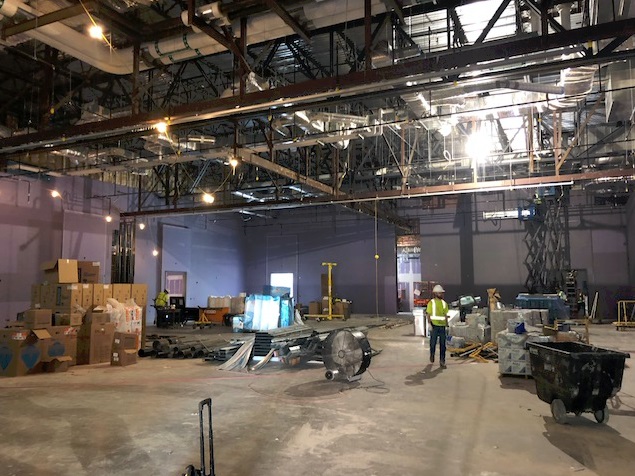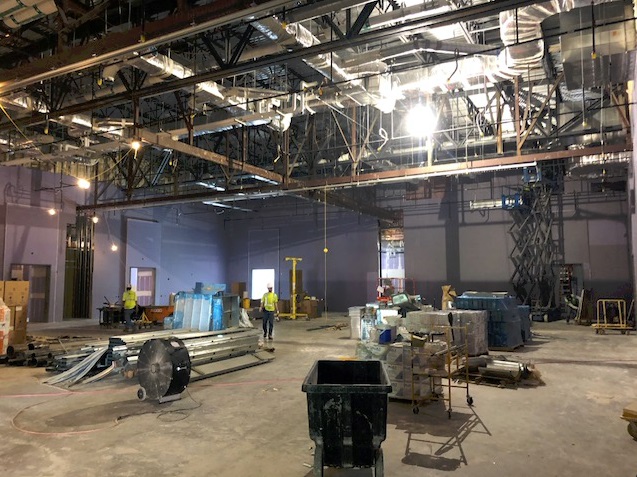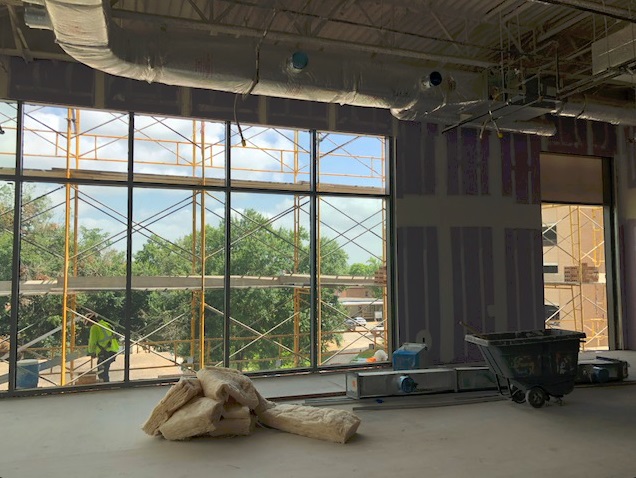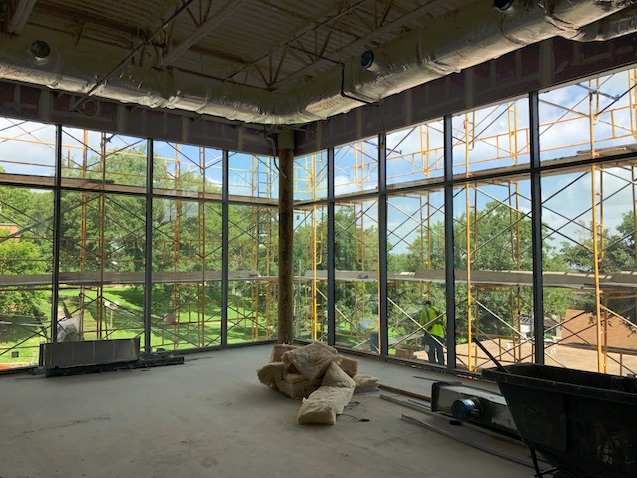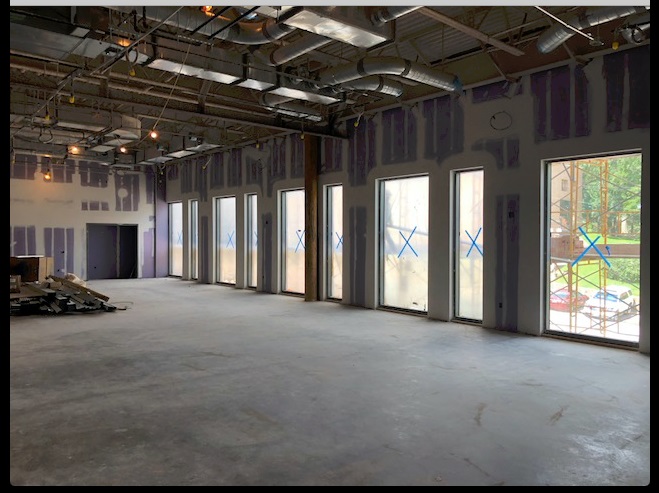 June 1 Updates
Phase 1

Brickwork on South Side of expansion has begun
Sound Ceiling in New KatKlub is complete
Roof work is complete
Framing of Phase 1 is complete
HVAC to be completed July 2
Level 3 tie-in to be complete this summer

Phase 1B

Restrooms complete
Storage room complete June 2
Knuckle steel work complete/concrete poured
East stairwell to be painted next week

Phase 2

Planning meetings have begun!
Looking toward June!
KatKlub tie-in is complete. Knuckle-work is ongoing. Phase 1B to be completed by the end of week 5/26, including ground floor restrooms and storage room. Phase 2 work sessions to be held 5/29, 6/7, and 6/8.
Glass is in! KatKlub Tie-in 5/10-5/20
The LSC expansion/renovation planning update. Steel erection and detailing are now complete. MEP and framing (in-wall and overhead) are still in progress with substantial progress made—level one work is nearly complete. Roofing work is nearing completion and dry wall work has begun as well. Waterproofing has begun and glasswork has also started. The atrium glass is scheduled for installation the first week of May. The sky bridge concrete has been poured and canopy installation will begin soon. Progress is moving along nicely and a rough dry in should be accomplished by mid- May. FFE ordering continues. Phase IB work has progressed and the scheduled turn over to ARAMARK is 5/25/18. May will be a busy month with various phases of work occurring in the Kat Klub, Ground floor service hallway, and projection room of the ballroom. Phase II planning continues with both the architect and contractor selections complete. EYP was selected as the architect and Vaughn Construction was selected as the general contractor.
Interior Photos 4/13/18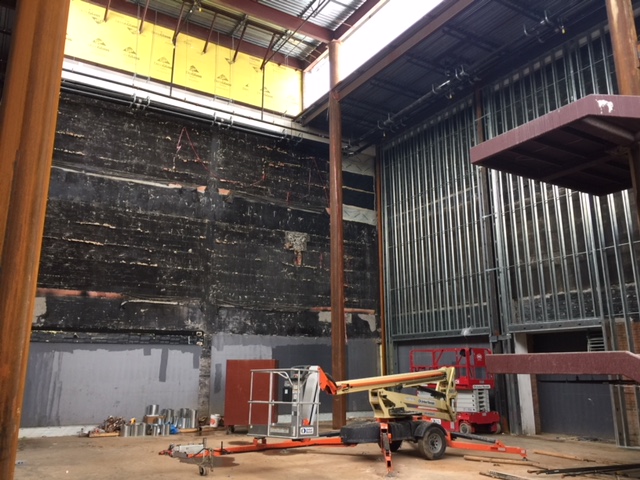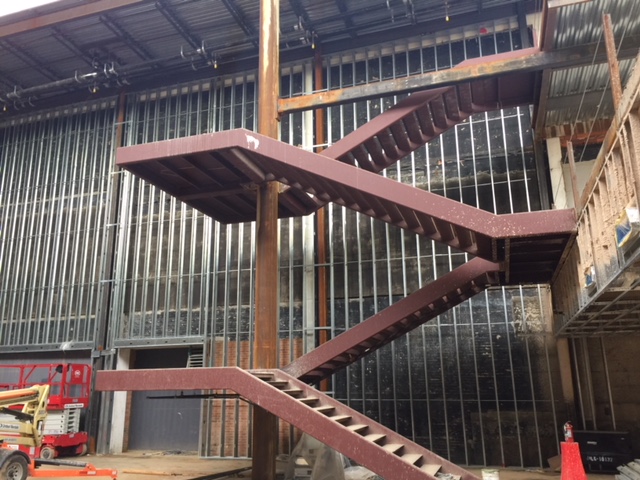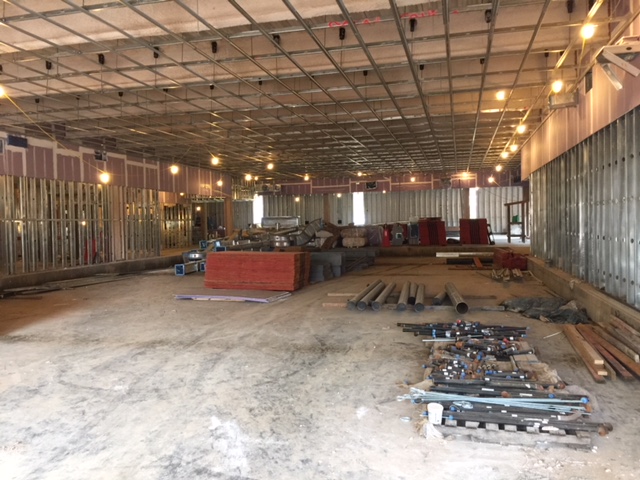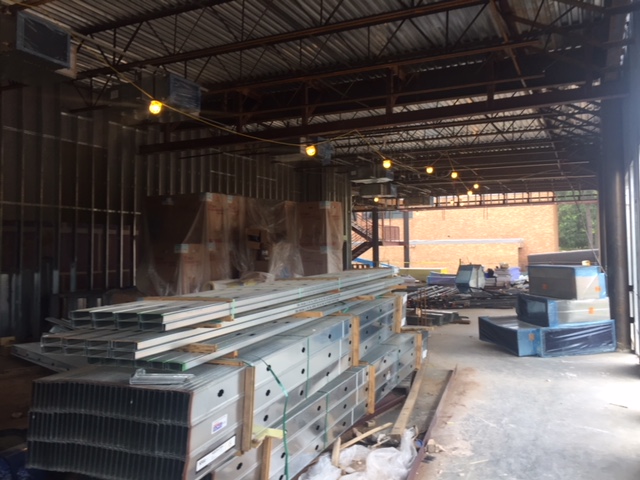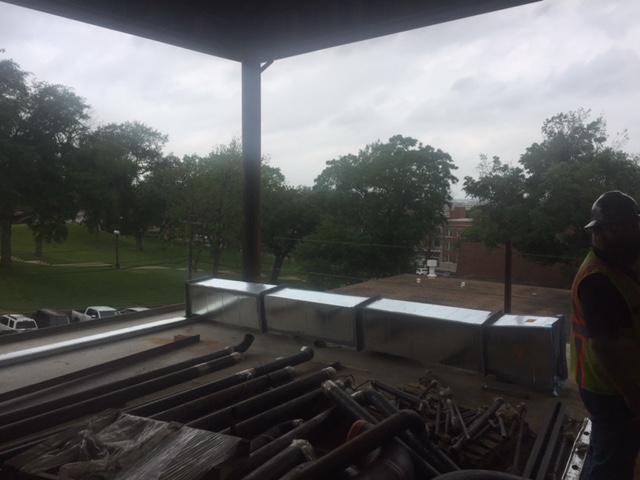 Phase 1b Demo Complete--Dry-in to be completed May
Concrete and Steel Complete
All concrete work and steel erection is complete and we are finalizing detail work. MEP (mechanical, electrical, and plumbing) and framing on level one is in progress. Exterior framing began in January and is in progress as of second week in February. FF&E (furniture, fixtures, and equipment) has been approved and is in the ordering process. Phase 1B is scheduled to begin March 18 and its scope has been increased to include a crawl space, plumbing repairs, and the dining area on Level 1. This will affect the 1st Level of the LSC, C-Store, and ground floor. All food service vendors on Level 1 will not be open. An accessibility plan is forthcoming for those spaces. Phase II planning will continue this semester with the selection of an architect and construction manager. Roofing and glazing to start later this month. Bridge beams were installed last weekend. Crawlspace and MEP almost complete.
We are very excited at the progress being made on Your EXPANDED Living Room!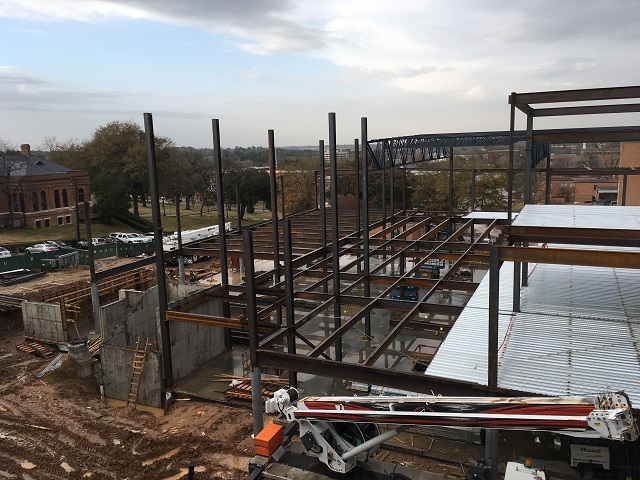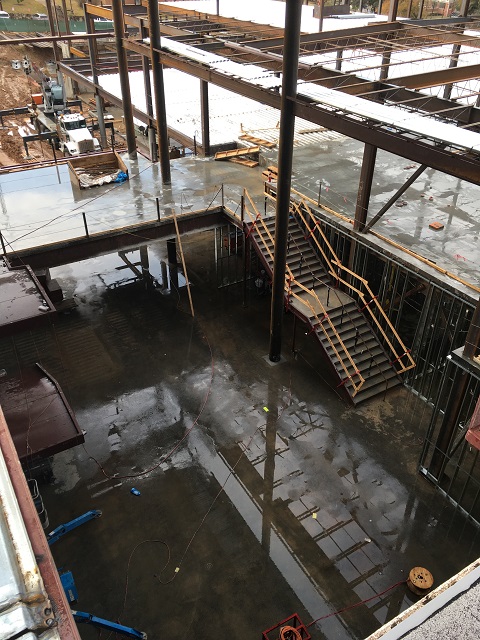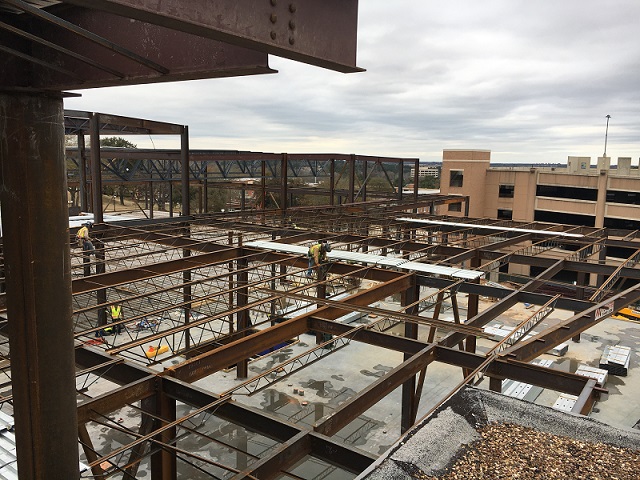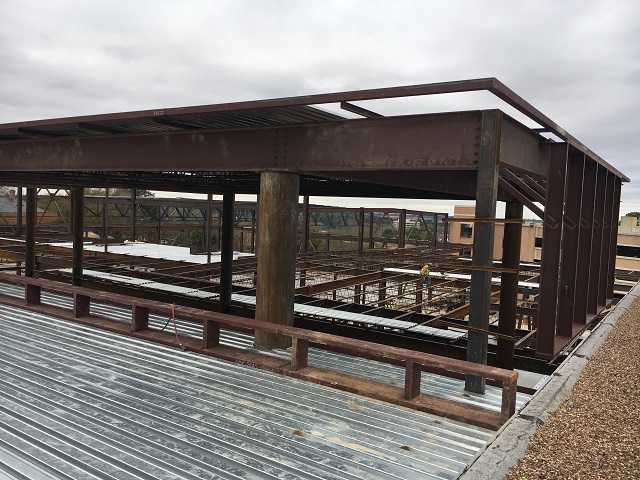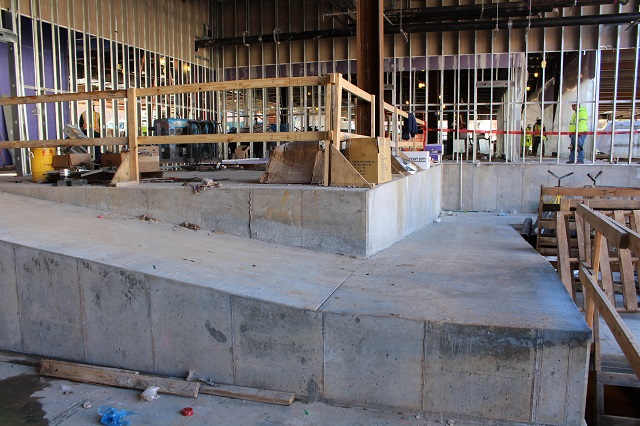 First Level almost complete
Atrium connection wall and roof beams in place, platforms for roof coming soon. Finalizing crawlspace holes and level one piers.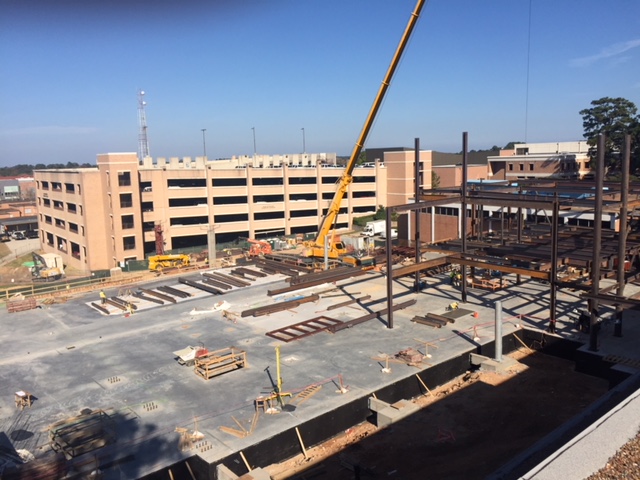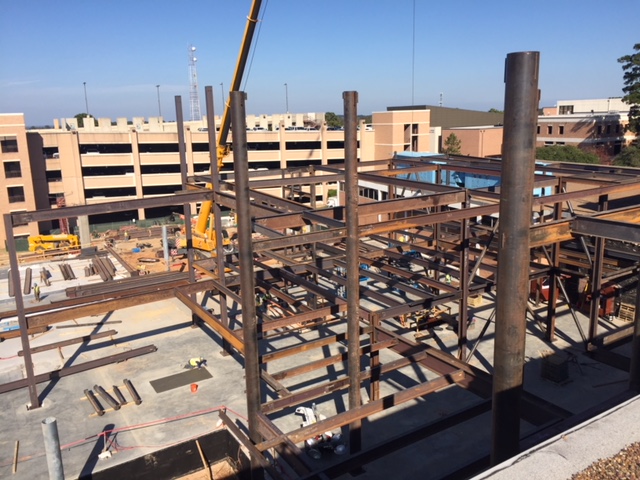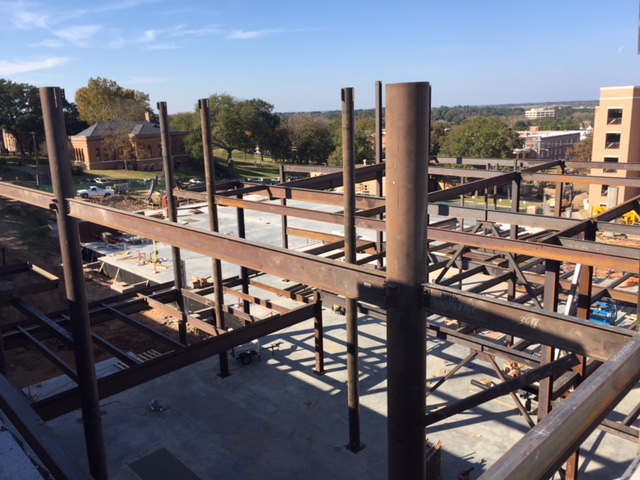 First Level concrete being poured

Piers and foundation walls poured and elevator shafts installed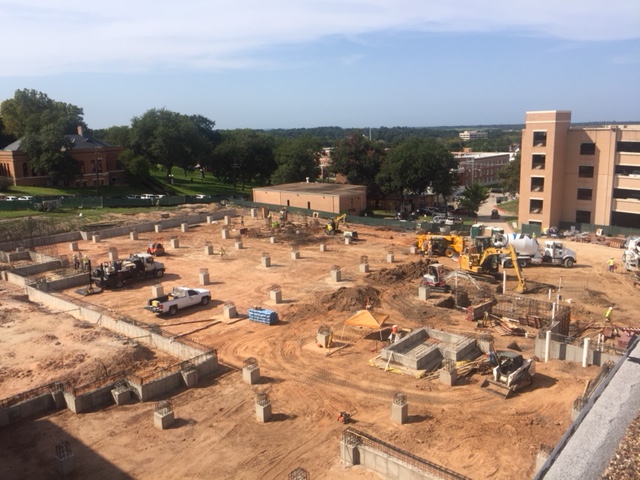 Almost finished with piers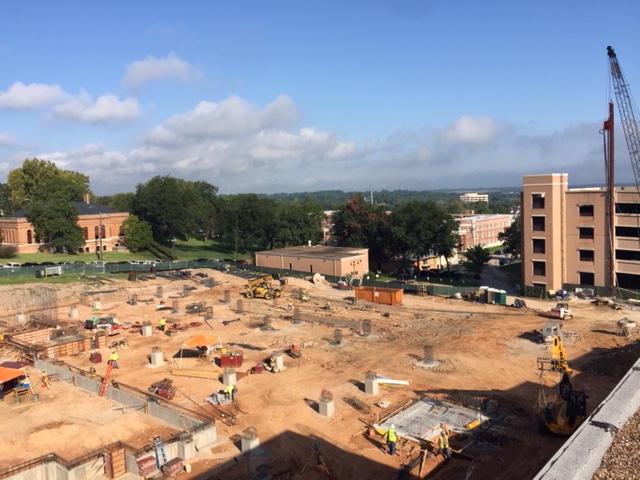 2 piers yet to be poured, 400 yards of wall up. Looking to begin installing steel late October/early November.
Harvey has passed and we are back to work!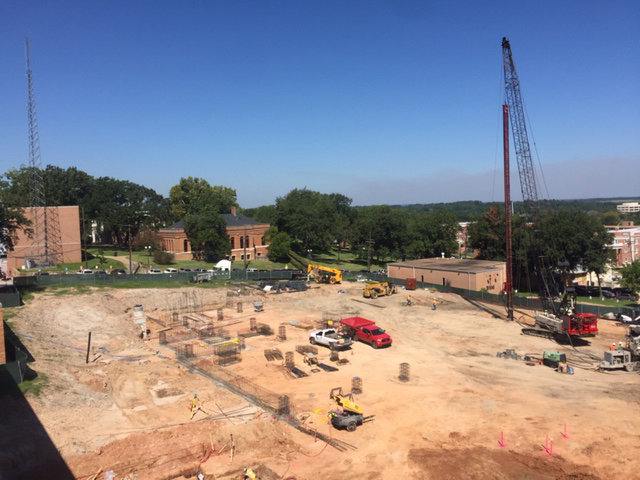 A Few New Photos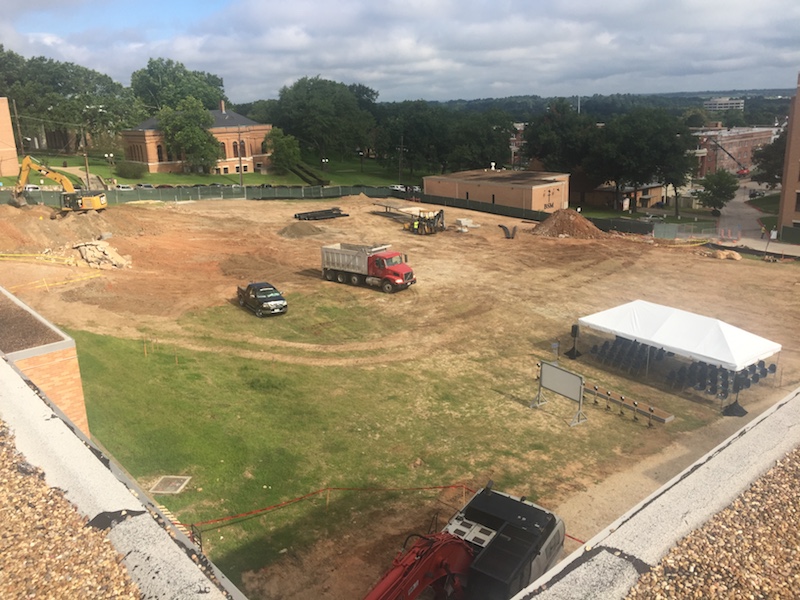 Avenue I Closed July 12 - 24
Avenue I, north of the LSC ballroom entrance will be closed for construction July 12-24; the parking lot and garage will remain open. This is the electrical and fiber run for the expansion connection.
You can see from the map below, in red, that the blocked is south of garage entrance with sidewalk access in blue.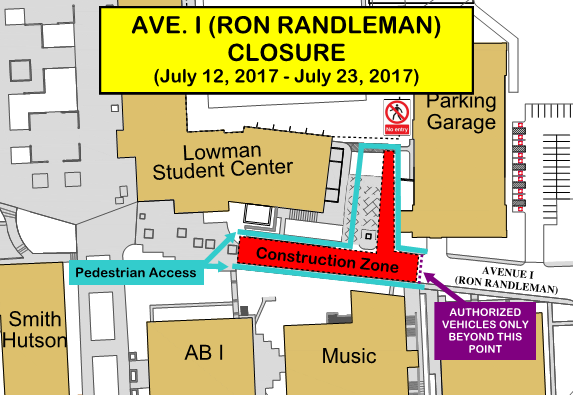 LSC Celebrates Your Official Groundbreaking!
President Dana G. Hoyt led the festivities in what was an especially exciting time for campus representatives, visitors, and the LSC staff. As you have seen from the timeline, we have been working very hard in getting to this point. We are very happy to be at this phase and are looking forward to further milestones.
President Dana G. Hoyt, VP Frank Parker, and EYP's Andy Albin addressing our Groundbreaking ceremony attendants.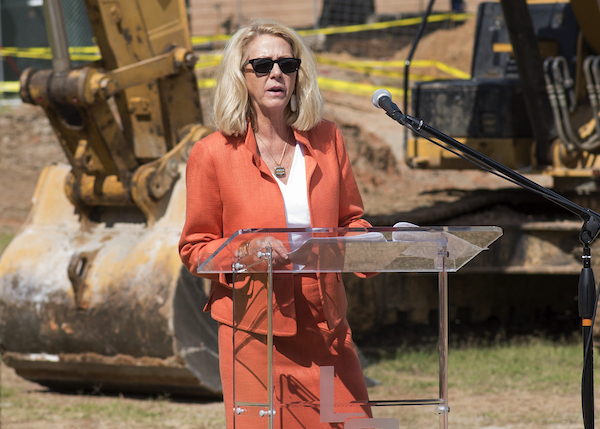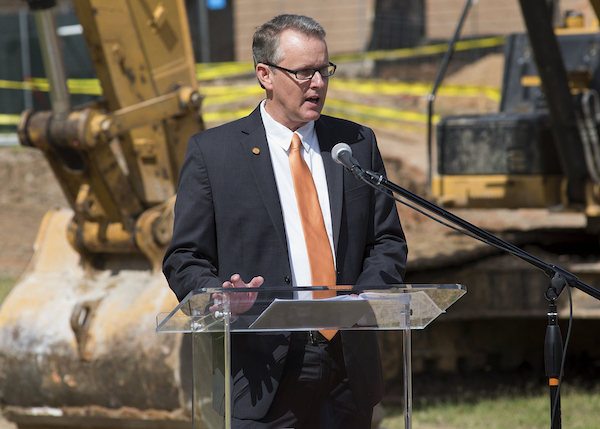 On hand to officially "kick off" construction of the new Lowman Student Center annex on Wednesday were (from left) Rob Webber, Keith Jenkins, Andy Albin of EYP Architecture, Carlos Hernandez, Frank Parker, SHSU President Dana Hoyt, TSUS Regent Alan Tinsley, and Danny Thompson of Vaughn Construction. -- Photos by Brian Blalock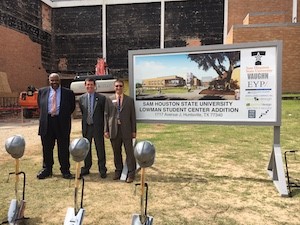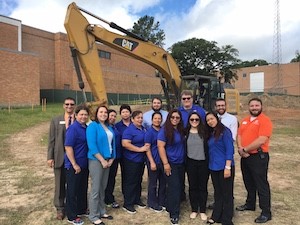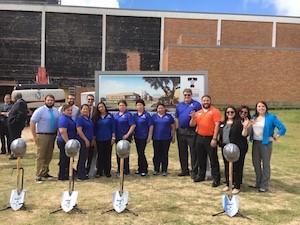 LSC Staff Celebrating
---
What's Happening with Your Expansion
Construction Notes
Our construction contractor, Vaughn, will be disconnecting the Barnacle from the fire alarm and fire sprinkler system on Friday, called "make-safe". This is behind the area where the Paw Print exit used to reside and which is now walled up as seen here.
Related to this, we are moving forward with our sewer and sanitary line where the lines are going to be rerun along the west side of the building. Too, we begin asbestos abatement along the north side of the building on Monday.
Conference room chairs!
Students from the class of 2021 during their orientation sessions are choosing replacement chairs for your conference rooms. Please join them in voting outside of the LSC Office near 308.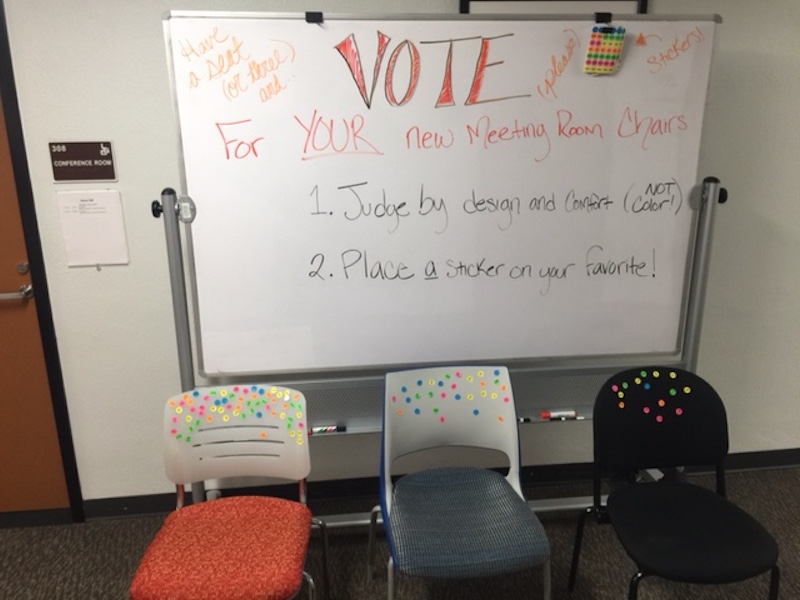 Finally also new this week, from the Vice President for Student Affairs office, this newly lit sign is located in the LSC Atrium:

---
A Bit of Expansion History
During the Fall 2012 semester, the staff of the LSC delivered referendum presentations to SGA and student groups requesting the increase of the student center fee from $60 per semester to $100 per semester towards the development of an expansion to the current facility. The LSC had last been renovated in 2000 when SHSU had a student population of 12,000. Not long after, we were running out of space for just about everything and, unfortunately, had to find other campus locations to house student groups, their events, and their meetings. The student groups in 2012 were quite generous in their support of the referendum, with the understanding that they would be investing in a building expansion that they would only know as alumni. Later that Fall, the referendum passed and during the next few years, planning, preparations, and TSUS Board approval solidified the project that you will see completed over the next 18 months.
What's Next?
Groundbreaking for the Expansion to be set in the current Green Space behind the existing LSC facility is scheduled for June 2017. We invite you to return to this page often for updates as they happen while you follow us in our growing of your Living Room. The LSC staff are excited to share the architectural drawings with you below.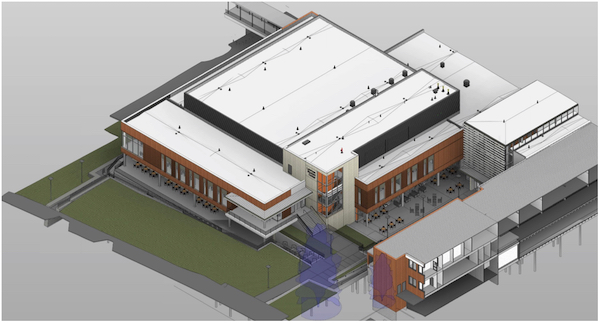 Bird's Eye view of Expansion with tie-in to current facility.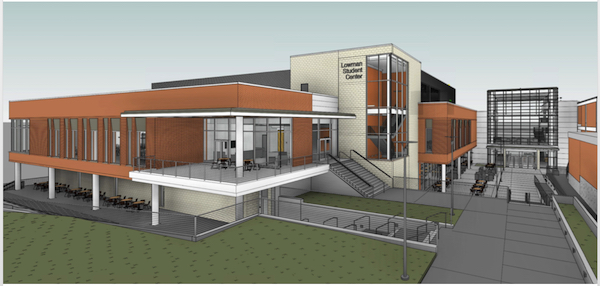 Mid-corner view of Expansion with current facility tie-in facing east.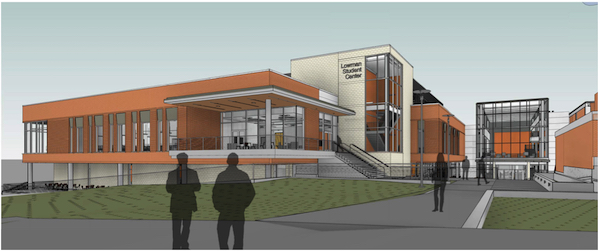 Ground-level view of Expansion facing north-east.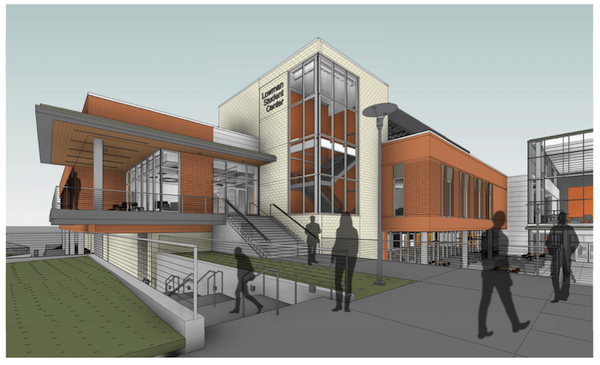 Ground-level view of Expansion facing north-east.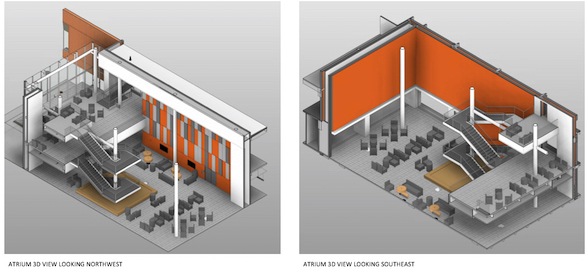 View of Atrium space at tie-in.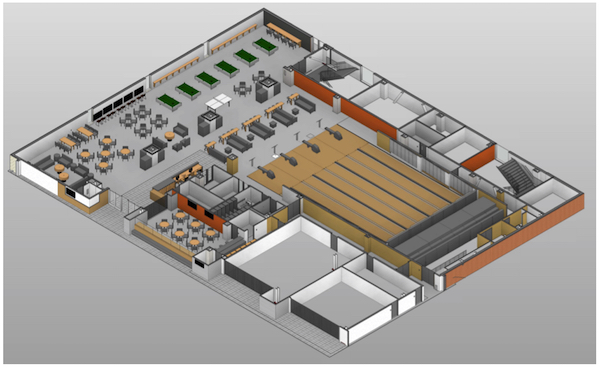 New Kat Klub game room with bowling alley and pub.