If you would like a form setup on your SHSU departmental website, please contact the Service Desk by email or call (4-HELP).
Once the form is setup, the user will input their information
You will then receive an email notifying you that you have received new form data. Click the link to go to SamWeb where the data is stored.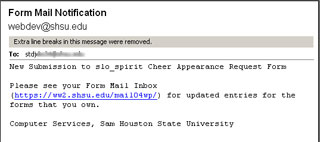 Use your SHSU username and password to log in.
Find the entry that you wish to view or download, and click on the name of the person.

Select your download type that you want to use.
For Adobe, use XML.
For Access, use comma separated values.
For Excel Spreadsheet, select Excel Spreadsheet.