Welcome New Graduate Students!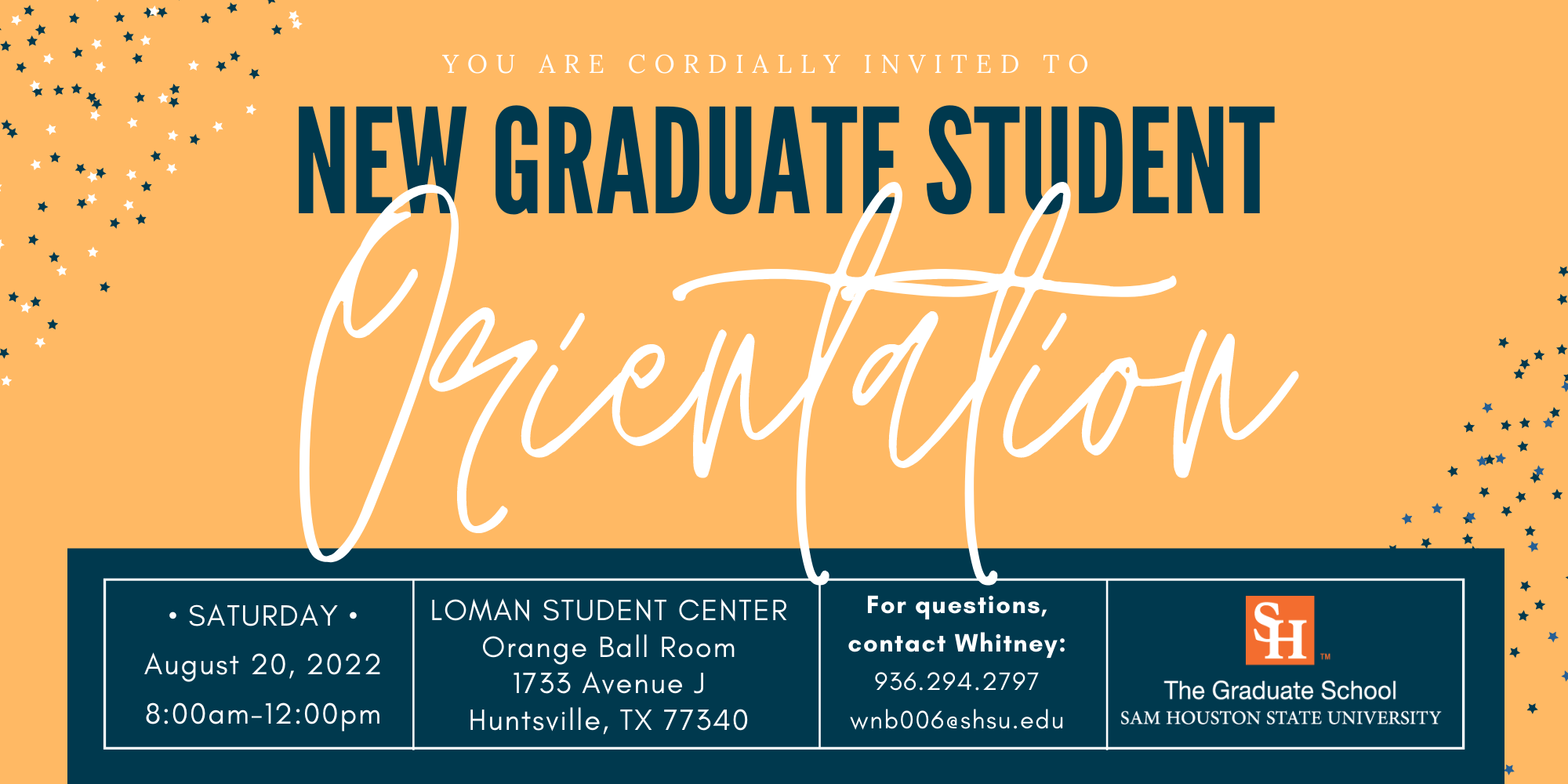 REGISTRATION CLOSED
Fall 2022 New Graduate Student Orientation will be in person and in Blackboard.
Graduate Student Orientation provides valuable information that will benefit graduate students as they continue their academic journey at SHSU. All newly accepted students will receive an email on how to access this orientation in Blackboard. We welcome you to Sam Houston State University!
--------------------
In Person
8:00 am - 12:00 pm CST
Saturday, August 20, 2022
Breakfast will be provided! We are also offering a resource/hiring fair so you can meet with different departments to get information on services they provide, collect swag and be able to ask questions in person.
Blackboard
All Semester
August 22, 2022-December 9, 2022
We know you have a busy schedule so we are offering orientation through Blackboard for your entire first semester as a graduate student at SHSU. The videos are pre-recorded to give you the information you need, anytime you need it. Make sure to fill out the survey in the New Graduate Student Organization in Blackboard to receive a welcome packet with a t-shirt and some fun TGS swag.
--------------------
Topics to be covered include:
• Student Money Management Center
• Bearkat OneCard Services
• Student Health Services
• Library Resources & Services
• Academic Success Center
• Registrar's Office
• SHSU Online/Blackboard
• Institutional Diversity & Inclusion
Please note: This orientation is not mandatory (except for new international students*), yet is recommended. It is separate from college/departmental sessions.
*International students who are new to SHSU, or who graduated from SHSU more than one year ago, are required to attend.
Are you a newly accepted graduate student? Make sure that you check out the Accepted Student Checklist here.
Please RSVP no later than August 12, 2022.
---