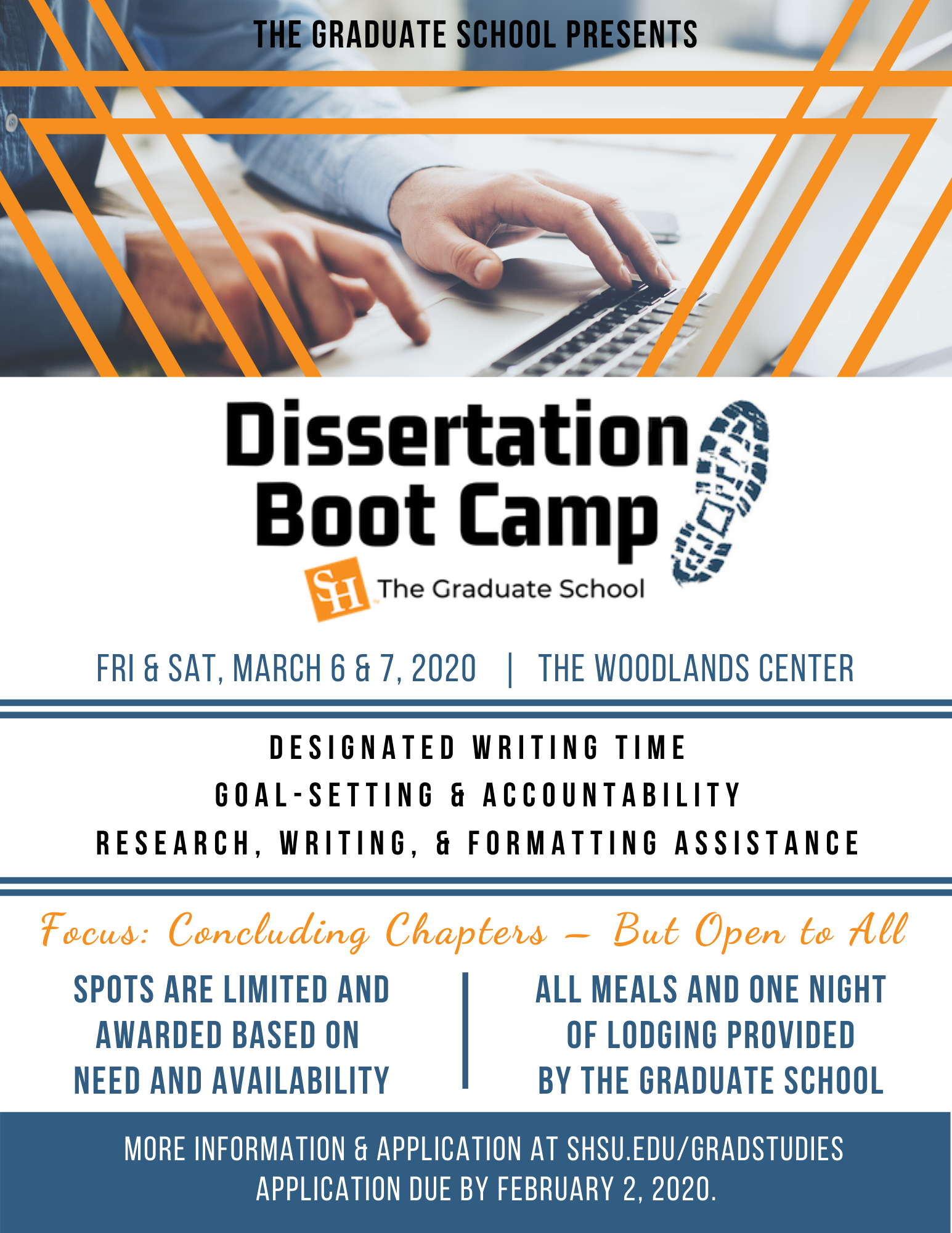 Sam Houston State University Dissertation Boot Camp and Writing Support Services
The Graduate School at Sam Houston State University is fully committed to student success. Because of our commitment, we work passionately to assist students in meeting their research and writing goals and deadlines. If you are a doctoral candidate and need help in jumpstarting or completing your dissertation, our office hosts a weekend-long event called Dissertation Boot Camp, where dedicated writing time and support services are provided.
What is Dissertation Boot Camp?
DBC is a free-of-charge, all-inclusive weekend program designed to assist post-comps scholars enrolled in any SHSU proposal or dissertation course. Services include research, writing, and statistics assistance, along with opportunities to receive individualized attention in a controlled and supportive environment. To group students completing similar portions of their dissertations, fall and spring camps are chapter-specific (Fall – introduction, literature review, methods, pre-proposal / Spring – post-proposal/pre-defense, data analysis, conclusion).
When are Dissertation Boot Camps held?
DBCs are generally held mid-semester (March during the spring term and October during the fall term). For out-of-town participants, lodging accommodations are available on a first come, first served basis. Selected students are expected to attend all camp sessions.
How are students selected to attend Dissertation Boot Camp?
To attend DBC, students must be currently enrolled in a SHSU graduate program and apply through The Graduate School. Faculty members are also encouraged to nominate students. Nominations must include students' names, Sam IDs, and email addresses, and should be emailed to thegraduateschool@shsu.edu. Camp spots are limited and are awarded based on need and open availability.
If you or someone you know is interested in or would benefit from this program, please contact your advisor, chair, or another SHSU graduate faculty or staff member.
Fall 2020 Dissertation Boot Camp
When: TBD
Time: Friday 9:00AM - 9:00PM & Saturday 9:00AM - 5:00PM
Where: Main Campus (Huntsville, TX)
Spring 2020 Dissertation Boot Camp
When: Friday, March 6 & Saturday, March 7
Time: Friday 9:00AM - 9:00PM & Saturday 9:00AM - 5:00PM
Where: Woodlands Campus (The Woodlands, TX)
Other Writing Support Services
The Graduate School encourages graduate learners to attend additional writing support events. Events such as International Student Writing Workshops, Dissertation Writing Retreats, Thesis Writing Sessions, Thesis & Dissertation Writing Recharges, and Support Groups are available. Whether you are completing a major project, research project, capstone, thesis, or dissertation, our office strives to serve you. Lunches or snacks are provided, and support staff is readily available. For the full list of upcoming writing support dates, please visit the Events Calendar.