2021 3 MINUTE THESIS PRESENTATIONS
Beata Krembuszewski: Fighting the Opioid Crisis Using Positive Psychology
Ya-Chih Cheng: Are you sure that is Marijuana?
Antonio Meza: Cranial Variation in the Genus Zygaspis
Rita Fennelly-Atkinson: Accessibility Opens the Door to Online Higher Education
Nicholas Reger: Predictive Niche Modeling for the Identification of Maize Pathogens of Greatest Concern in the US
Olajide Salawu: Predicting the Progression in Interstitial Lung Disease Using Computer Tomographic (CT) Scans- Deep Learning Approach
Marlon Young: Quantification of Psilocybin in Blood
Kintress Watson: Fentanyl Analogs in Dried Plasma Spots; A Novel Technique
Victoria Cena: Scrolling Through Life: 21st Century Gateway Drug
Daniel Doucet: Unweighted Scales: Quantifying Variation and Discerning Taxonomic Tools for Squamate Scale Morphology
Ruby Liliedahl: Expanding the Analytical Toolbox
Teria Goodwin-Pierce: Forensic Taphonomy
Jill Pagels: Identity and Language: A Study of Marshallese English
Katherine Marek: The Completion of IEP Goals Online Vs. In-Person
David Farris: Nest Box Microclimates and Incubation Behavior: A Suburban and Rural Comparison
Vanessa Renteria-Lopez: The Effects of Parenting Styles on Strong-Willed Children
Sehrish Ali: Does This Make Me Look Fat?
3 Minute Thesis Competition
Three Minute Thesis (3MT®) is a research communication competition developed by The University of Queensland (UQ). Graduate students have three minutes to present a compelling oration on their thesis and its significance. 3MT is not an exercise in trivializing or "dumbing down" research, but rather challenges students to consolidate their ideas and research discoveries to present concisely to a non-specialist audience.
Whether you're trying to raise capital, cold call or network, it's essential to have an elevator pitch, especially when describing your research. 3MT® is a competition that helps graduate students develop their verbal communication skills and helps all people understand the importance of research and how it positively affects our lives. Students, you have 3 minutes to content, clarity, and cash. Ready, set, go…
---
---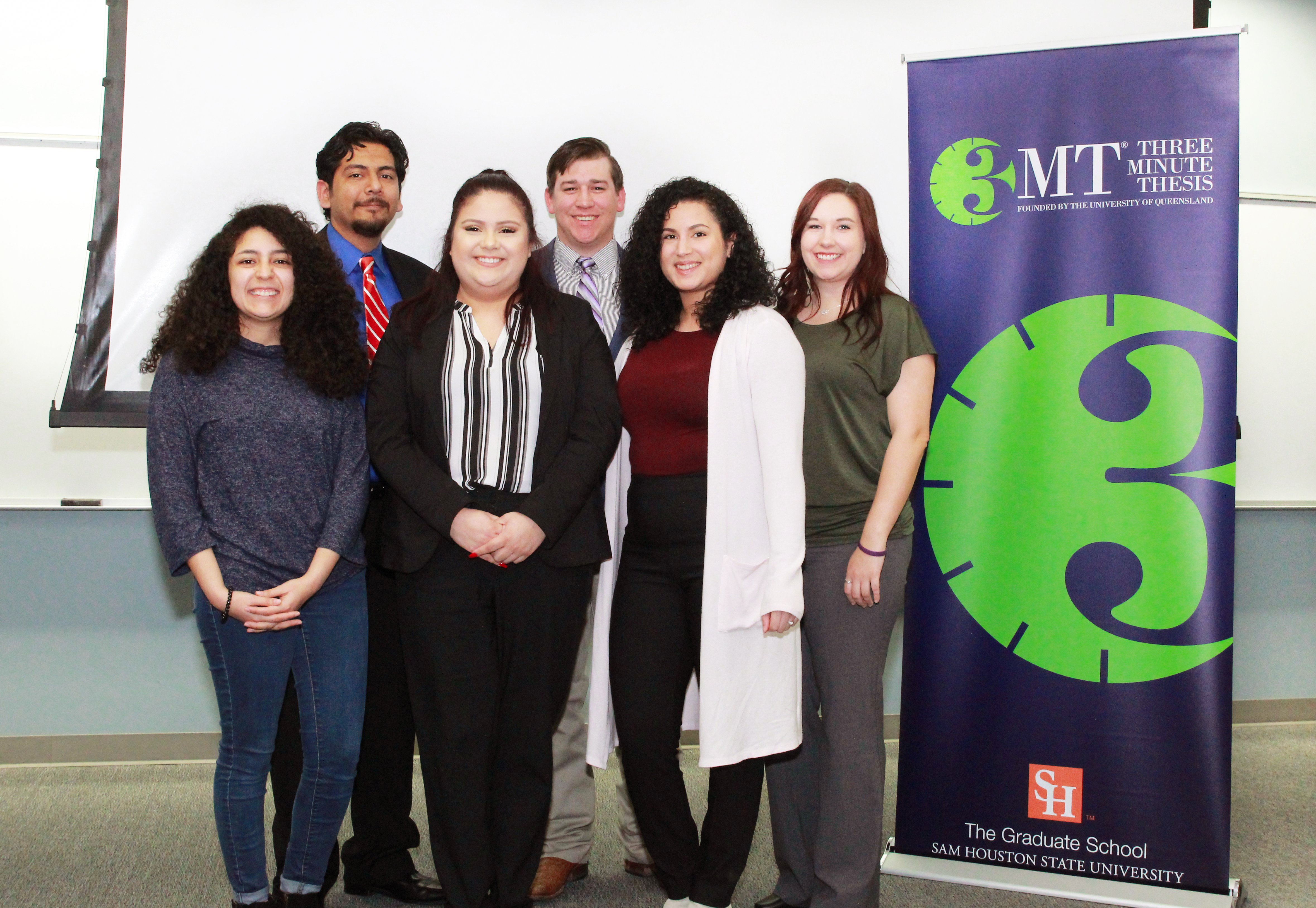 2019 Competition Winners
Grand Champion
Cassandra Bailey

Racial and Gender Disparities in Probation Conditions
Runner Up
Sun Yi Li
Superhero to the Rescue
People's Choice Award
Shamika Kelley
Investigative Effort in Sexual Assault Cases