October 2015 From the Office for First-Year Experience Issue 9
FORWARD Thinking is just for students who are former foster youth, orphans, wards of the court, or homeless students. Sam Houston State University is here to help you in reaching your graduation success. If you wonder why you are getting this email, please feel free to call our office at 936.294.3422 or drop by to see us at AB4, Suite 202. Learn more about us at www.shsu.edu/forward.
The FORWARD Program: Who Are We?
The FORWARD Program's mission is to empower former foster youth, orphans, and wards of the court by providing the support system necessary to pursue higher education and to transition smoothly through college. If you are or were a foster, orphan, or ward of the court, you may be eligible for extra resources and assistance for your college education. If you want more information or need assistance, please contact us at the Student Success Initiatives office (AB4, Suite 202), call (936) 294-3422), or email forward@shsu.edu!
---
The Bearkat FORWARD Friends (BFF) Program
The BFF Program provides one-on-one services to FORWARD students. The program encourages students to ask questions, form a plan, or get advice. BFFs will also assist in linking the student to other faculty and staff that may have expertise in a certain area (financial aid, counseling, etc.) and facilitate this meeting. Students should come into the Student Success Initiatives office (AB4, Suite 202) or call, (936) 294-3422, on Tuesdays and Thursdays from 8AM-2PM to get in touch with their BFF! Students may also email forward@shsu.edu.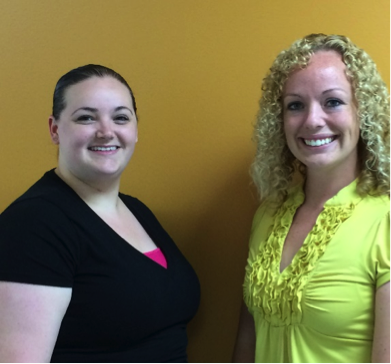 Two of our BFFs in the SSI office: Ericka and Jessi
---
Scholarships 4Kats
Do you need money for tuition? Scholarships4Kats is a new scholarship program that helps you apply for several scholarships all at once! A workshop to assist you in filling out your application is being held on October 21st from 6-7PM in the Student Service Annex, Room 129. Please bring your Bearkat OneCard and laptop. Pizza and drinks will also be provided! For more information, visit the Scholarships4Kats Workshop website or contact the Student Money Management Center by phone, (936) 294-2600, or email, smmc@shsu.edu.

---
SHSU Counseling Center Services
The SHSU Counseling Center provides individual, couples, and group therapy to students who are currently enrolled. Students can participate in up to 12 free sessions per academic year for individual and couples therapy, and an unlimited number of sessions for group therapy. Counseling services are available during normal business hours throughout the year (including breaks between semesters) except on University designated holidays. For more information, visit the Counseling Center or give them a call at (936) 294-1720.
---
SHSU Food Pantry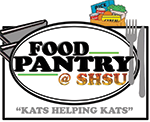 The SHSU Food Pantry is located at the Canterbury House (1614 University Ave.) and provides food to students in need. Food will be distributed twice a month and is on a first-come, first-served basis. Requests can be filled out online and must be filled out separately for each distribution date. For more information, visit the Food Pantry's website, Facebook, Twitter (@shsu-foodpantry), or Instagram (@shsu_foodpantry) pages.
---
The SAM Center's Study Skills Program
Study Skills series includes six one-hour sessions designed to address core skills essential for academic success. The sessions address procrastination, time management, taking class notes, test-taking strategies, etc. Students who have attended the Study Skills program have dramatically improved their study habits as well as improving their GPA. Contact the SAM Center, (936) 294-4444, to sign up.
---
A Look Ahead to our Next Newsletter
Stay tuned for FORWARD's next newsletter coming out later this month! Information will be provided about internships, reduced cell phone expenses, advising schedules, and additional programs or opportunities that are beneficial to FORWARD students