May 2016 From the Student Success Initiatives Office Issue 20
FORWARD Thinking is just for students who are former foster youth, orphans, wards of the court, or homeless students. Sam Houston State University is here to help you in reaching your graduation success. If you wonder why you are getting this email, please feel free to call our office at 936.294.3422 or drop by to see us at AB4, Suite 202. You can also email us at forward@shsu.edu, or visit our website at www.shsu.edu/forward.
---
Congratulations to our FORWARD Scholarship Recipients!
We want to congratulate all 5 of our FORWARD scholarships recipients for this year! These recipients will receive an annual $1,000 scholarship to SHSU that is renewable and sponsored by the FORWARD program. If you would like to apply for more scholarships here at SHSU, please visit the Scholarships4Kats website and fill out your application, which allows you to apply to multiple scholarships at one time!

---
When You're Moving FORWARD, Quitting Isn't an Option!
College is a time to focus on your future, but sometimes unplanned issues or emergencies pop up that can jeopardize your educational goals. If you are facing an obstacle in life that is threatening your academics, please come to us before deciding to pause or stop your college career! The FORWARD office services include:
Mentoring student success
Connection to the Financial Aid Office for opportunities including scholarships, grants, and part-time jobs
Housing assistance
Linking you to appropriate SHSU services, such as the Counseling Center, Career Services, the SAM Center, and more!
The FORWARD office is your ONE STOP SHOP support center, connecting you to any and all available resources and services, both on and off campus! If you have further questions or would like to know more, please contact Falasha Spruiell, our program coordinator by email. You can also call (936-294-3422), or visit us at the SSI office in AB4, Suite 202!
The Bearkat Forward Friends (BFF) Program
---
Our featured BFF for this week is Megan St. Vigne, an Associate Academic Advisor in the SAM Center. Mrs. St. Vigne received her Master's in Academic Advising and has worked in higher education for the last 5 years. As an academic advisor, Mrs. St. Vigne loves getting to work one-on-one with her students and help students stay on the right path during their educational journey.
Mrs. St. Vigne can assist you by providing appropriate courses to take in each semester and with any questions you may have about your degree plan, graduation, prerequisites, and more. When Mrs. St. Vigne is not at work, she is playing and snuggling with her 2 year old daughter, working out, enjoying a good burger, or going on hikes/walks with her family. She loves watching football, baseball, and golf and loves to bake goodies for anyone who may need a sweet treat.
For more information about the SAM Center, visit their website, call (936-294-4444), or visit them in person in CHSS, Suite 170. To reach Mrs. St. Vigne, you can stop by the SAM Center front desk and ask to speak with her, or you can reach her via e-mail or phone (936-294-4453).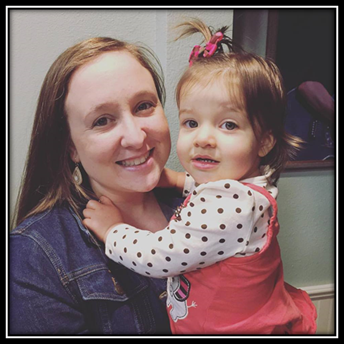 BFF Megan St. Vigne
Associate Academic Advisor
Division of Academic Affairs
Break Housing
---
Break housing is available for students during the break between Spring and Summer semesters, and FORWARD students qualify for fee waivers! To sign up for free Break housing, you must be enrolled in summer classes, and most importantly, you MUST email Katy Pelton so she can verify your status. You can also contact the FORWARD program by calling 936-294-3422, emailing forward@shsu.edu, or coming into the Student Success Initiatives office (AB4, Suite 202) so we can assist you in this process.
Need a Place to Study for Finals?
---
Are you having trouble studying because your roommate is too loud, or you just can't find that right place to study? The SHSU Program Council is hosting a "Don't Sleep on Finals" night to help students prepare for their final exams! The event is being held on May 2nd from 6-10PM in the LSC Ballroom! Students will be provided with study space, supplies, and food, while supplies last. For more information, visit the event website.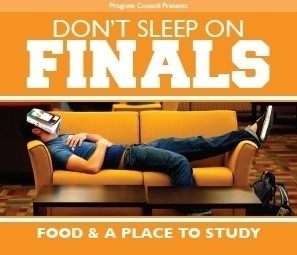 ---
Need a Way to De-Stress from Finals?
Are you super stressed out from finals week, and need a way to wind down? Take part in the Spring 2016 De-Stress Fest! The event is being held on May 3rd from 11AM-1PM in the LSC Mall Area! There will be free popcorn, hot dogs, ice cream, cotton candy, and a live DJ! In addition, prizes will be raffled every 30 minutes. For more information, visit the event website.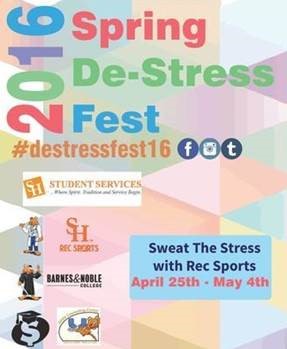 Summer Job Opportunities
---
The following job opportunities are available for this summer, and are located across the greater Houston area. Please visit each website for more information. If you need help with this process, please contact the FORWARD program by calling 936-294-3422, emailing forward@shsu.edu, or coming into the Student Success Initiatives office (AB4, Suite 202) so we can assist you!
Summer Instructor for "Mad Science of Houston"
Driver's License and Car required for traveling
Intern for Texas Children's Hospital Chief Investment Office
Healthcare or Business major
Intern for UT Health
Full-time and part-time available
Summer Camp Counselor for Kidventure
Engineering Intern for Hewlett-Packard
Summer Camp Counselor for Lifetime Family Fitness
Engineering Intern for Harris County
Summer Camp Counselor for the Redd School
Swimming counselor position available with experience
Intern for Memorial Hermann
Journalism or Communications major
The Parents' Association
---
If you have a parent or guardian who would like to be more involved on the campus then let them know about the Parents' Association! The Parents' Association is an official university organization here at Sam that is housed within the Dean of Students' office. It provides the opportunity for active participation by parents and other caregivers. The annual meeting is hosted during Bearkat Family Weekend. Special events tailored to Bearkat parents, families, and students will be hosted throughout the year, along with volunteer opportunities. Events include: Saturdays at Sam, Orientation, Apple Days, and Bearkat Family Weekend. The Parent Relations Office is currently developing new initiatives and events that will be unveiled for the Fall 2016 semester as well. For more information, please contact SHSU Parents' Association Advisor, Kalyn Cavazos, by phone (936-294-2347) or email.

From the Student Success Initiatives Office
Academic Building IV Suite 202 | Box 2335 | Huntsville, Texas 77341
Phone: 936-294-3422 | FAX: 936-294-2232 | Email: forward@shsu.edu