Early April 2016 From the Student Success Initiatives Office Issue 18
FORWARD Thinking is just for students who are former foster youth, orphans, wards of the court, or homeless students. Sam Houston State University is here to help you in reaching your graduation success. If you wonder why you are getting this email, please feel free to call our office at 936.294.3422 or drop by to see us at AB4, Suite 202. You can also email us at forward@shsu.edu, or visit our website at www.shsu.edu/forward.
---
When You're Moving FORWARD, Quitting Isn't an Option!
College is a time to focus on your future, but sometimes unplanned issues or emergencies pop up that can jeopardize your educational goals. If you are facing an obstacle in life that is threatening your academics, please come to us before deciding to pause or stop your college career! The FORWARD office services include:
Mentoring student success
Connection to the Financial Aid Office for opportunities including scholarships, grants, and part-time jobs
Housing assistance
Linking you to appropriate SHSU services, such as the Counseling Center, Career Services, the SAM Center, and more!
The FORWARD office is your ONE STOP SHOP support center, connecting you to any and all available resources and services, both on and off campus! If you have further questions or would like to know more, please contact Falasha Spruiell, our program coordinator by email. You can also call (936-294-3422), or visit us at the SSI office in AB4, Suite 202!
The Bearkat Forward Friends (BFF) Program
---
Our featured BFF for this week is John Yarabeck, the Dean of Students! In addition to overseeing the Dean of Students Staff, Dean Yarabeck chairs the Students of Concerns (SOC) Team and coordinates the Crisis Team. He also serves as the Freshmen Leaders Program (FLP) facilitator and is the Student Government Association (SGA) Advisor. Dean Yarabeck and the Dean of Students Office strive to lead, empower, advocate for, and develop students! They can assist you by resolving grievances or disputes, ensuring fair and consistent policy enforcement, and providing leadership and civic engagement opportunities.
Dean Yarabeck grew up in Denver, Colorado. He attended Colorado State University (Fort Collins, CO) receiving a BS in Human Development/Family Studies and an M.Ed. in College Student Personnel Administration. Dean Yarabeck has spent his entire professional life in student services and prior to coming to SHSU, he worked at several different colleges all over the U.S.! Dean Yarabeck enjoys attending SHSU athletic and theater events. He is also active in the Huntsville Rotary Club, University Heights Baptist Church, and serves as Vice President of the Huntsville Cruisers (classic car club).
For more information about the Dean of Students Office, please visit their website. You can contact the Office through email, phone (936-294-1785), or in person at the Dean of Students Office located in the LSC, Suite 215.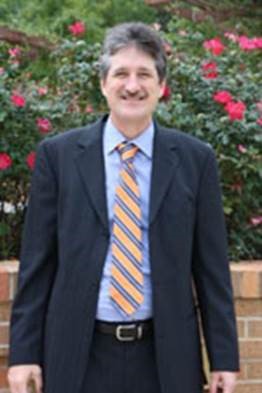 BFF John Yarabeck
Dean of Students
Division of Student Services
C. Ed Davis PAL Scholarship
---
The C. Ed Davis PAL Scholarship is for youth formerly in foster care with the Texas Department of Family and Protective Services (DFPS). This program offers scholarships of $1,000 per academic year! These scholarships are for basic non-tuition needs for students interested in the field of law and majoring in government, political science, history, or other pre-law fields. Applicants must have aged-out of the foster care system or been legally emancipated, and be in their sophomore, junior, or senior year. Applicants must be in good academic standing, enrolled full-time, and completed the Preparation for Adult Living (PAL) Life Skills Training Program. The application is due by April 15th for fall 2016 consideration. You can access the application here. If you have any questions, or would like help completing your application, please come into the SSI office located in AB4, Suite 202.
Public Health Week
---
Join other SHSU students in participating in Public Health Week! There will be a variety of guest speakers, screenings, and information about health and wellness, as well as a blood drive! Public Health Week is being held from Monday, April 4 through Friday, April 8 and the events are listed below!
Monday, April 4th
Blood Drive: Lee Drain Building Lobby 9AM-4PM
Zika Virus Presentation: Olson Auditorium (Academic Building IV)
Tuesday, April 5th
Free HIV & Syphilis Testing: Lee Drain Building Lobby 9AM-4PM
Wednesday, April 6th
COHS Health Fair: Bearkat Plaza 11AM-1PM
Free HIV & Syphilis Testing: Lee Drain Building Lobby 9AM-4PM
Thursday, April 7th
Mental Health Day: LSC Mall Area 10:30AM-2PM
Friday, April 8th
Nutrition Information Table: Rec Sports Lobby 10AM-11AM
Bearkat Breakout
---
Are you into carnivals—but not clowns? Are you ready for tons of free food, prizes, games, and more? Then join other students at the annual Bearkat Breakout event! This event is sponsored by SHSU Recreational Sports, Residence Life, and the Residence Hall Association, as well as Dodge, Tough Shirts, Kroger, Clif Bar, and Red Bull. Bearkat Breakout will be held on April 12th, from 4:30-7:30PM at the Johnson Coliseum!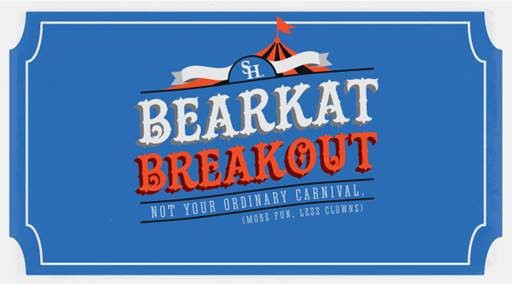 ---
SHSU Food Pantry
The SHSU Food Pantry is located at the Canterbury House (1614 University Ave.) and provides food to students in need. Food will be distributed twice a month and is on a first-come, first-served basis. Requests can be filled out online and must be filled out separately for each distribution date. For more information, visit the Food Pantry's website, Facebook, Twitter, or Instagram(@shsu_foodpantry) pages. The next registration date is April 13th and distribution will occur April 14th!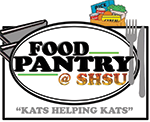 From the Student Success Initiatives Office
Academic Building IV Suite 202 | Box 2335 | Huntsville, Texas 77341
Phone: 936-294-3422 | FAX: 936-294-2232 | Email: forward@shsu.edu