We at Sam Houston State University are committed to the inclusion of all students. SHSU's Institutional Mission Statement emphasizes the importance of promoting and supporting diversity.
What is Haven?
Haven is a campus wide effort that began in 2009. It was created to promote inclusion and advocacy on campus so that faculty and staff members could provide a "safe zone" for the LGBTQ community to discuss issues without having to worry about being discriminated against or admonished for their sexual orientation or gender identity. Today, Haven has expanded to include all members of the campus community – all faulty, staff, and students are welcome and encouraged to participate in Haven programming. The overarching goal of Haven is to create a more welcoming and inclusive campus and to celebrate the diversity of sexual orientations and gender identities belonging to our campus community members. Specifically, Haven aims to:
Provide facts and correct false and uninformed information on the topics of sexual and gender identity
Recognize struggles in the environment that affect LGBTQ individuals
Identify and discuss strategies to reduce discrimination toward the LGBTQ community.
Raise awareness of the damaging impact of homophobia and heterosexism on all people
Create a network of informed, supportive advocates/allies
Celebrate and honor our LGBTQ students
What does Haven do?
The Haven Team serves the campus community and fulfills its mission in two different ways: providing trainings to create more effective allies, and organizing the Lavender Graduation Celebration.
What are Haven Trainings?
Haven Trainings are offered each semester. Training comes in two parts: Haven 101 and Haven 102. In Haven 101, participants will learn about basic vocabulary relevant to the LGBTQ community, the differences between gender and sexuality, power and privilege, risks and statistics, current laws that effect LGBTQ people, and the basics of how to be a good ally. In Haven 102, participants will learn about heteronormativity, identity development, issues related to coming out, microaggressions, how to have difficult dialogues, and how to be an active ally.
Each training is two-hours in length and combines lecture with activities and interactive discussion. Upon completion of both Haven 101 and 102, participants are awarded a Haven sticker, which they can display to designate safe space and support. For more information about these sessions, or training dates, contact us at org_haven@shsu.edu.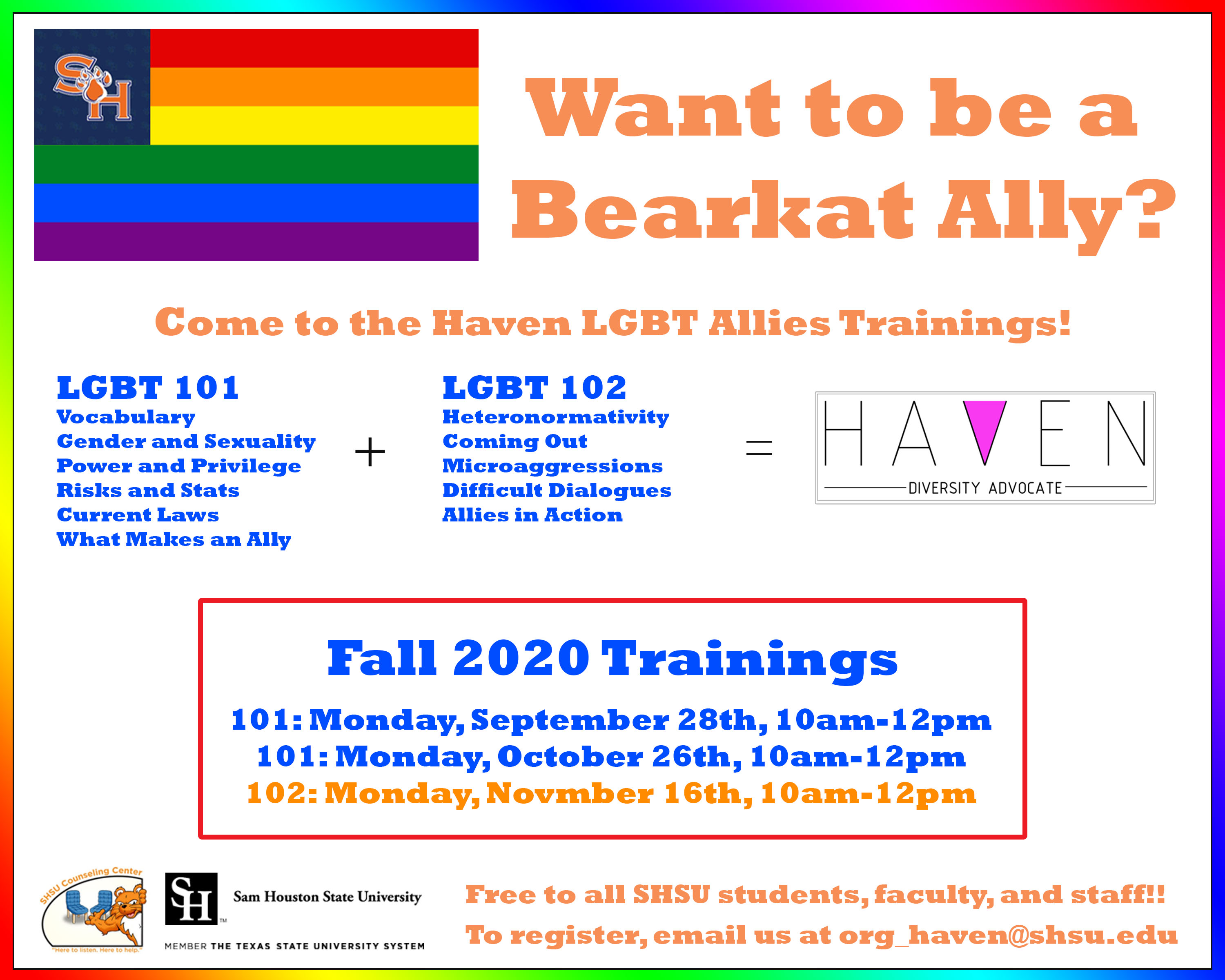 ---
Join us for Lavender Graduation
Wednesday, December 9,2020
---

---
Additional LGBTQ Resources
Gamma Sigma Kappa (GSK - Gay/Straight Kats)
GSK is a Gay-Straight Alliance is an on campus organization that serves as a political, educational, social, and support group for the LGBTIQ community and allies in the Sam Houston State University community.
SHSU Title IX Coordinator (Bias Acts, Assault, Harassment, Hate Crimes)
Lowman Student Center, Suite 215. (936) 294-3026.
Hotlines:
My Gay Houston www.mygayhouston.com
Houston GLBT Caucus www.thecaucus.org
PRIDE Houston www.pridehouston.org
LGBT Resource Center – University of Houston www.uh.edu/lgbtq
Houston's Transgender Unity Committee www.facebook.com/HoustonTransUnityCommittee
Hatch Youth – Empowering Houston's LGBTQIA Youth www.hatchyouth.org
Lesbian Health Initiative – Houston www.lhihouston.org
Transgender Center www.tgctr.org
GLAAD (Gay and Lesbian Alliance Against Defamation) www.glaad.org
Human Rights Campaign www.hrc.org
GLSEN (Gay, Lesbian, and Straight Education Network) www.glsen.org
PFLAG.org – Houston: www.pflaghouston.org Austin: www.pflagaustin.org Dallas: www.pflagdallas.org
The Intersex Society of North America www.isna.org
Intersex Initiative www.intersexinitiative.org
National Center for Transgender Equality www.transequality.org
National LGBTQ Task Force www.thetaskforce.org
Sexual Health www.sexualhealth.com
LGBTQ Nation www.lgbtqnation.com
It Gets Better Project www.itgetsbetter.org
Institute for Welcoming Resources (Faith and spirituality) www.welcomingresources.org
International Lesbian, Gay, Bisexual, Trans, and Intersex Association www.ilga.org
GLMA: Health Professionals Advancing LGBT Equality www.glma.org
Family Equality Council www.familyequality.org
Trans Student Educational Resources www.transstudent.org
Out and Equal Workplace Advocates www.outandequal.org
Straight for Equality (from PFLAG) www.straightforequality.org
RAD Remedy (National Mental/Physical gHealth Care Network) www.radremedy.org
Intersectional Identities http://uwm.edu/lgbtrc/support/integrating-identities/
A Gender Identity Glossary of Terms: https://rossieronline.usc.edu/blog/gender-identity-glossary/
LGBTQ+ Health Statistics: https://www.drugwatch.com/health/lgbtq/
We at Sam Houston State University are committed to the inclusion of all students. SHSU's Institutional Mission Statement emphasizes the importance of promoting and supporting diversity.
Sam Houston Counseling Center
1608 Avenue J., Box 209 | Huntsville, TX 77341-2059 | Phone: 936.294.1720 | Fax: 936.294.2639