Directors Debut Spring 2023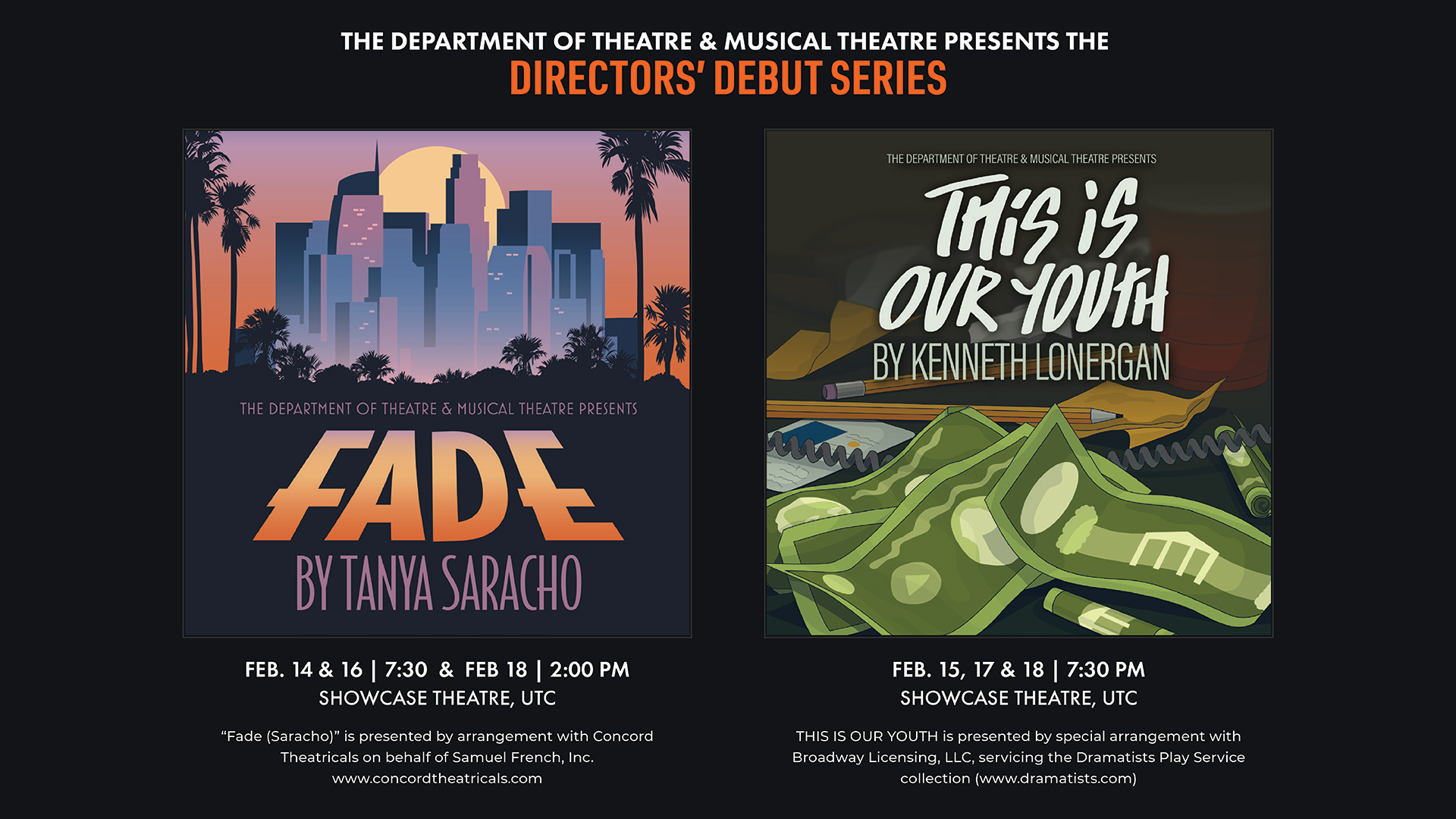 Directors' Debut Series Spring 2022
Fade by Tanya Saracho
This Is Our Youth by Kenneth Lonergan
February 14th - February 18th @ 7:30pm & February 18th @ 2pm
---
---
FADE. When Lucia, a Mexican-born novelist, gets her first TV writing job, she feels out of place on the white male-dominated set. She quickly becomes friends with the only other Latino around, a janitor named Abel. As Abel shares his stories with Lucia, similar plots find their way into the scripts Lucia writes. Fade is a play about class and race within the Latinx community, as well as at large, and how status does not change who you are at your core.
THIS IS OUR YOUTH. When Warren steals $15,000 from his abusive father, his drug-dealing friend Dennis helps him put the money to good use. Together, they must traverse the next 48 hours along with Jessica, the young woman Warren yearns for, in this funny, painful, and compassionate story. This Is Our Youth is a living snapshot of three lost souls attempting to navigate adulthood while armed only with the ideas and techniques that guided them as teenagers.
Tickets are available on the Box Office website for $12 in advance and $15 the week of the event. Season passes for $99 include 10 events of choice per year. SHSU students, faculty, and staff may redeem one free ticket per event with a valid Sam ID. Student tickets will be available the week of the event. Restrictions may apply. Contact the Box Office for details. www.shsutickets.com
The Showcase Theatre is located in the University Theatre Center at 1740 Bobby K. Marks Drive and 17th street between the Newton Gresham Library and the James and Nancy Gaertner Performing Arts Center.
BEHIND THE SCENES
Videos Coming Soon